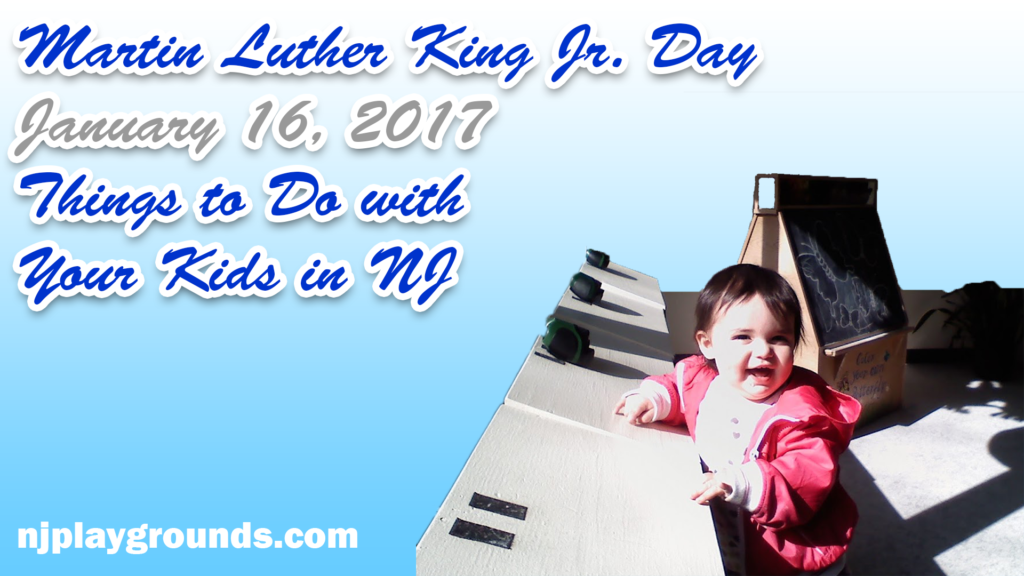 Hope everyone is having a great weekend! Martin Luther King Day is tomorrow and we've curated a fun list of things to do!
January 16, 2017
Budd Lake, NJ- Ticklez 12-7pm Open Play- Website
Edison, NJ- Rebounderz 10-9pm Website
Fairfield, NJ- Funtime Junction- 10-6pm Website
Flanders, NJ- Clown Around Open Play 186 Gold Mine Rd.- 10:30-12pm; 12:30pm-2pm; 2:30pm-4pm Website
Florham Park, NJ- Imagine That!!! A NJ Children's Museum- 4 Vreeland Rd. Open Play 10-5:30pm Website
Glen Rock NJ- My Gym- 12:30pm-3:30pm Website
Lake Hopatcong, NJ- Tagalongs– 9-7pm Open Play Website
Millburn, NJ- Chocolate Works- Join us from 12:00-1:30 Monday January 16, 2017 Enjoy a fun filled sushi making workshop. We'll teach you our "tricks of the trade" as we make a box of sushi for you to take home with you. We'll also be serving a pizza lunch and for dessert, an opportunity to make something on our yummy Chocolate car wash. $25+tax per child Please call for Reservations so we can accommodate everyone. Thank you- 973-218-9222
Newark, NJ- Newark Museum- Admission: FREE for members and Newark residents; $5 all others
noon – 4 pm – Pop-Up Family Activities
• MLK Jr. Fun Facts Scavenger Hunt
• Button making using inspirational quotes
• Spoken Word Pop Ups in the Civil Rights and Harlem Renaissance Galleries
• Community Project: Contribute your artistic "voice" to create a celebration of Newark
noon – 4 pm – Film screening of "I Have a Dream" Speech
Be inspired by the power of Martin Luther King Jr.'s message, delivered August 28, 1963 at the Lincoln Memorial, Washington, D.C.
1 & 2 pm – Premier Dance Theatre Company of Montclair
Combining both traditional and contemporary modern styles, the dance group will perform a tribute to the civil rights movement.
3 pm – Return to the Source with Junius Williams
Explore the African-American experience through a music performance repertoire that includes blues, rhythm and blues, and jazz.
Roselle Park NJ- Pump it Up- Buddy Jump 9:35-10:45am Website
Summit NJ- Reeves-Reed Arboretum, 165 Hobart Ave., Summit NJ- 9-12pm Stop by the Education Center to create a unique nature-inspired card from recycled materials. On Valentine's Day, your card will warm the heart of a patient in a local hospital. Appropriate for all ages; children must be accompanied by an adult. No registration is required.
Westfield NJ- Just Bead Yourself, 113 Central Ave., Westfield NJ- $35/child- 1:30-3:30pm- Bring your favorite doll as your guest to Afternoon Tea. You will enjoy Tea & Cookies and create matching Jewelry for both you and your doll! Website
For more fun places to go and events in the Garden State, join our mailing list!


Have we missed something? Comment Below!