Tired of going to the same playground?
Check out our biggest/best ones that have been repeatedly recommended by our readers and fans.
Make sure you also check out our descriptions below and our Central/South Jersey playgrounds too.
We update this page as we get new recommendations,
Did we miss your biggest and best playground?
Comment below so we can add it to our map!
Over the summer, we have visited quite a few playgrounds thanks to recommendations from other moms and dads from parks, and also from City Data If you'd like to see ones that got our interest, click on Featured Playgrounds
This includes: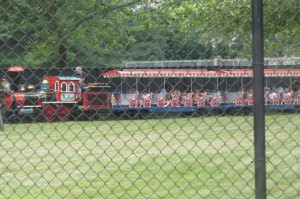 North Jersey (Bergen/Hudson): Lyndhurst Town Park – which has a great sprayground open from 11am-4 in the summer. It's open as of June 20,2009! Also it is pretty new, and it has a great wall to practice handball or your tennis swing.
Van Saun Park (Paramus), my favorite in Bergen County that has a train you can ride for a $1.50, that takes you through a dark tunnel and through part of the zoo. Yes there's a zoo, stables, a newly renovated half-finished playground, but should be done soon, and a carousel. My boys think the train is the best part. check out our link
I recently visited Ross Park in Fort Lee, which is really great for grillling and very scenic, (you drive right under the George Was by the rocks you can throw some bread to feed the ducks.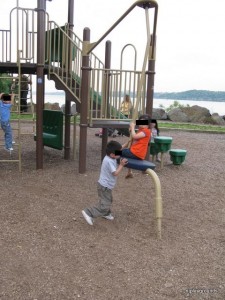 They also have the super spinner thing that the kids clamor for (see photo on right)
***Updated Section***
With the recent merge with The Playground Guide, we have been able to add alot more playgrounds, and are happy to include some great ones in Bergen County:
Votee Park– What a beautiful park in Teaneck, NJ, with 2 great play areas one in the North and one in the South.
Saddle River County Park– The Otto-Pehle section made five stars in The Playground Guide, but many will debate which section is the best since this park offers 4 separate playground areas that span Paramus, Glen Rock, Saddle Brook and Ridgewood (Wild Duck Pond Area) . This is my favorite place to bike, about 6 miles in length, and the shady trees keep you cool. Check out this link for the playground highlights collection of Saddle River County Park NJ.
Other parks added to our Bergen County favorites include our sandbox spot, Wyckoff Community Playground, Clark Field in Washington Township (with a cool pirate ship), Dahnerts Lake County Park in Garfield, Finch Park Creative Playground in Ramsey, Fireman's Field Playground in Mount Arlington, Haworth Memorial Park (great wooden castle type), and Oradell Kids Foundation Playground.
We also would like to add Overpeck County Park, it's a pretty amazing place, with lots of spiderweb structures, check it out!
North Jersey (Morris/Essex/Union):
**Updated Section 5/2011** New ones that have been added to this section/map include: Esposito Park in Clark (with skate park) and RVA Johanson Memorial Fields in Boonton,
Castle (Shunpike) Playground (Chatham), word of mouth suggestion from many many parents, when I ask what's their favorite this one comes up in the Summit/Madison/Short Hills area.
Camp Jefferson (Jefferson), great big fenced one, with a skate park. Dodge Field (Madison) – Nice fenced in one close to downtown Madison.
Gardner Field (Denville) is wonderful. There are some jumbo slides once you get past the little obstacle course.

Verona Park– Beautiful picturesque area, and great playground. Watchung Reservation– Hey, how can I forget my own county, I love Watchung, it also has a great Trailside Nature Center open from 12-5PM daily.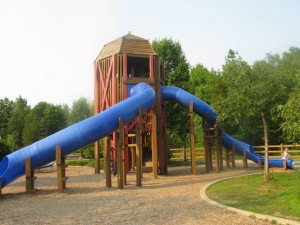 Another great one is the Community Playground in Montville that has some great structures. It is sprawling, and has great structures for all ages, including the super slides shown on the left.
If you want gigantic, you have to visit Ralston Playground in Mendham, I'll have to start getting stats for square footage, because it is getting tougher to compare big playgrounds.
North Jersey (Sussex/Warren): Finally we've added some great playgrounds to our map in the Sussex/Warren area: Byram Johnson (with interesting kid powered monorail type thing), Field of Dreams in Independence (near Shades of Death), and Hillside Park in Newton (unique old fashioned seesaw section).
North/Central Jersey (Somerset/Hunterdon): Kidstreet is a great wooden castle playground with picnic tables, wooden structures. If you are on your way to PA on Rt 22, this is a great stop.



One of the newer playgrounds in Somerset County is the Warren Township Municipal Park! This one is three stories tall, and it even boasts an old-fashioned merry go round. We plan on making a trip there in 2014 to update all the photos. Looks great and Warren is a pretty nice town too to explore.
Central Jersey (Monmouth/Ocean): Castle Park II (Toms River)– Awesome playground which is huge, fenced and very popular;
Dorbrook Recreation Center (Colts Neck) – Wow, this place is hopping in the summer with a great water table, sprinklers galore in a fenced area. The playground is also very expansive with a huge sand area with multiple sand tools available.
**Added on 5/2011** A close friend got some fabulous pictures of Seven Presidents Oceanfront Park, one of our favorites, and we are happy to share with you this perfect shore spot. Close to the beach with playgrounds for little ones and school-age kids, the park is perfect for climbing around and a change of pace from ocean play. Check out our post for video as well.
If you are searching for a park for summer sandal weather, check out our No-Wood-Chip Parks Post, it has some really nice playgrounds there as well, including some mentioned here.