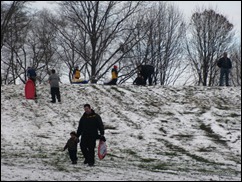 Looking for stuff to do in the winter weather? We've compiled a great post about our favorite winter spots as well as very helpful links from other sites that give you some great tips on what to do this season!
Today we focus on sledding spots in NJ!
Note: Locations below are designated sledding at your own risk.€ Please use caution.
As a mom of 3, it's a bit of a project to get the kids out in the first place. Finding the best spot of sledding can be tricky especially with a mixed crowd of older kids who need a good hill and little ones who are just beginning their sledding experience.
My own sledding experience started when they used to close down Ravine Ave, . in Hasbrouck Heights NJ (the one-way winding road with always a great kid-made snow ramp/jump) back in the eighties. No longer do they close Ravine, but there are plenty of places to go. Check out this great video from LedgerLive, that highlights Floods Hill in South Orange, the back of Ridgefield Park High School and the recently closed for sledding Camp Dawson in Montville. Fast forward many years, my family favorites in Union County/Essex have been Briant Park in Summit NJ, (perfect for first-time sledders with a gentler hill) Echo Lake Park in Mountainside, NJ (has bathroom facilities) and South Mountain Reservation has a pretty steep hill. Here is the article I had posted about these places in the Springfield Patch.
Also we loved the second hll at South Mountain reservation in Millburn/West Orange, it wasn't too steep. Check out our experience here:
Since I can't be at so many places at once, I started digging into some articles, and found that for Monmouth County, you should check out Holmdel Park that has a long gentle slope, and East Brunswick has a thrill-seeker's black diamond hill.. as recommended by the Ledger Live crew. Here is another well-done video from them via youtube: For more information on Holmdel Park sledding, check out their website and sledding video on this page from the county here. Below you have our master list of places to sled in NJ, there were some great local articles and feedback so make sure you check out the article links, that may have pictures and video! Also we included our park links when applicable so you can check out the other amenities a park may have. For a short cut, you can also peruse just parks that have sledding (20+), the summary page is here, we've added a bunch of more content to these for wintery weather, check it out!
North Jersey Sledding Places
Bergen County:
Essex County:
Hunterdon County:
Middlesex County:
| | | | |
| --- | --- | --- | --- |
| East Brunswick | East Brunswick High School | | |
Monmouth County:
Morris County:
Passaic County:
Salem County:
Somerset County:
Union County:
Warren County:
Did we miss your favorite spot? Please comment below to share with our fans and readers.