From Route 287 North take exit 47 Montville/Lincoln Park. Make a left onto Route 202. Continue on Route 202 to 1st traffic light. Make a right at this light onto Changebridge Rd. The Park is approximately a mile and ¼ on your left.
An incredibly diverse, clean, fun, well designed playground with four distinct play areas and something for everyone. It has got an 'amusement park' feel. It could be the largest playground in all of Morris County. It has a beautiful farm theme and tons of variety in the equipment. Tall tube slides are super-adventurous and there's great climbing for older kids, an imaginative play area for smaller kids and hand-cap accessible swings that can hold wheelchairs. This playground is definitely a top 10! Bathrooms next to the playground would make it perfect!
Parking: Large
Picnicking: Maybe a half-dozen tables and shelter, benches throughout
Handicap: The playground area is wheel chair accessible with ramps throughout and two swings which can accommodate chairs. You need to call the recreation center or stop by as you enter the park in order to have them un-locked. The equipment centers are not entirely wheelchair accessible and they are almost all centered in mulch.
Climbing: Ladders, suspended logs, tubes, rappellers, climbing walls, spider web rope structure, helix climb, drawbridges, tire climbs, monkey bars, ramps, rings, and more!
Merry-Go-Round: Single person
Playthings: Tubes, music center with chimes, a little mall with a dairy, log cabin, barn and silo, steering wheels, call boxes, wooden race car and train
Seesaws: Four seater, single person bunny, horse, pig and lamb bouncies
Slides: Three toddler, three chute, one corkscrew tube, two huge twisty tube slides
Sports: Soccer, horseshoe pits, bocce ball courts, beach volleyball
Swings: Two handi-cap wheel chair accessible, one chair, one tire, three full size, four toddler
Other Cool Stuff: Sun dial, community gardens, teen center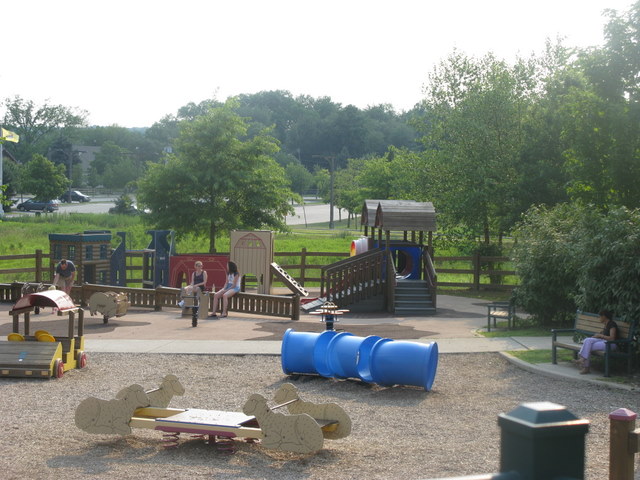 Make a Day of It
Eat at the Red Barn restaurant. Take a class or enjoy open play at an indoor place like Play Your Way in nearby Riverdale, or Kid-netic. Bring your dog to the dog park on Changebridge Rd.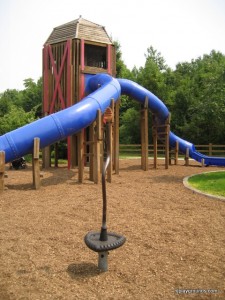 Thanks also to Sara for adding the wheelchair swing pic and spinny thing we missed that when we went