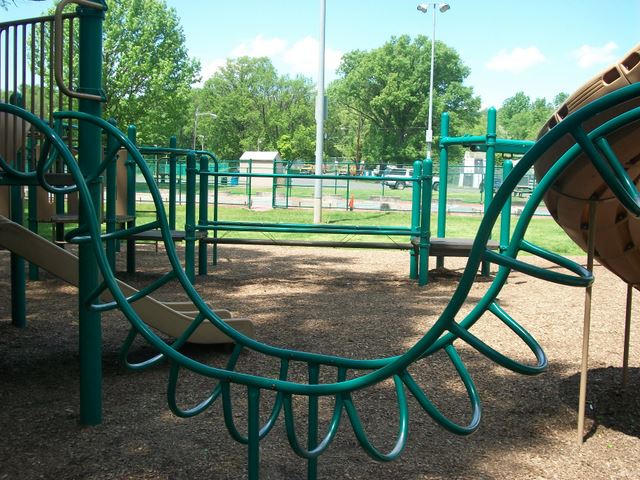 Guest Post by Sara Rall- Mountain View Park, on John F Kennedy Drive off Bound Brook Rd. (Route 28) in Middlesex, Middlesex County is a big park with a nice, though aging playground, and an astounding number of other facilities.
First there is a completely fenced, shady, toddler playground with a small climbing structure and some swings, as well as full-sized and miniature
picnic tables. Then there is the main playground, next to a picnic pavilion and tables with grills. They have a large climbing structure with some big slides, a rainbow-shaped climber, monkey bars, and a suspended bridge, as well as several swings.
Nearby are what must be enough horseshoe pits to hold the world championships, what appears to be an old model helicopter landing field with black and white observation tower. There are basketball courts, tennis courts, a street hockey court, baseball, football and soccer, even a grass volleyball court.
Adjacent is Middlesex Pool which offers memberships to non-residents and features impressive waterslides.
The whole park is shady and interlaced with paved and unpaved walking/biking/rollerblading trails. There are decent, clean, unlocked bathrooms.
McDonalds is across the street. Enjoy!