Editor's Note:  Adding a video from Play or Nay!  for the fantastic video review-  this one hasn't changed since we last wrote about it in 2011. Make sure you subscribe to his channel here, and check out the cool article from NJ Family about him and his family.
Altenbrand Ave & Mountain View Ave, Mount Arlington-
Below post originally posted in February 2011-

From I-80W take exit 30 which is Howard Blvd North toward Mt Arlington. Turn right onto Howard Blvd and follow it for 2 miles into Mt Arlington. Turn right onto Mountainview Ave and then right again onto Altenbrand Ave. Follow Altenbrand to the end and park on your left. There are stairs that lead up to the playground or you can follow the driveway/parking lot to your right.
This playground is a hidden jewel. It has lots of running around fun, cool slides, tons of bridges and walkways and some great climbing walls. It's uniquely shaded by a huge water tower and lit for evening enjoyment! The ground cover is recycled rubber and there are bathrooms next to the parking lot. Following the paved walking path at the far side of the parking lot and you will find the playging fields and basketball court.
Parking: Medium below the playground area (not adjacent)
Climbing: Two big climbing walls, lots of bridges, drawbridges and suspended walkways, bars, rings, steps, mushroom caps and stools, hanging steering wheels, climbing poles, ladders climbs
Playthings: Baseball themed tic-tac-toe, steering wheels, call boxes, solar system puzzle, spinning mazes and gear boxes, mirror, log roll, monocular
Slides: One twisty tube, one straight tube, three toddler, three chute, three bump
Swings: Two full size, one tire, two toddler
Walking Paths: Paved path to the basketball court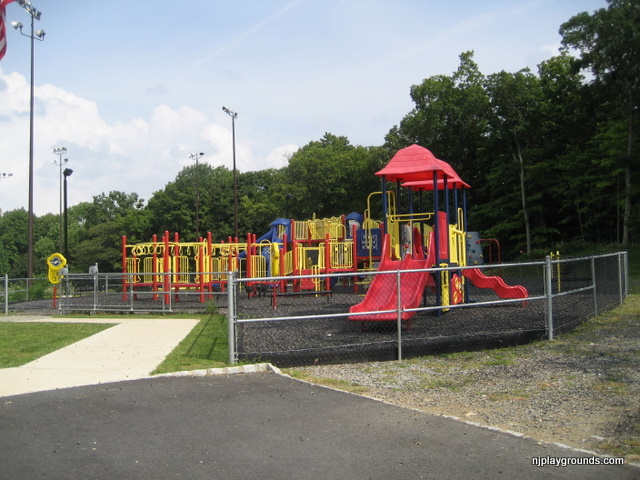 Other Cool Stuff: Located right in front of a tremendous water tower
Make a Day of It
On your way in or out stop at Davy's Hot Dogs on Howard Blvd. Visit the Mount Arlington Library just a few blocks from the playground or stop at Cracker Barrel which is in the shopping plaza you pass on your way in from Route 80.