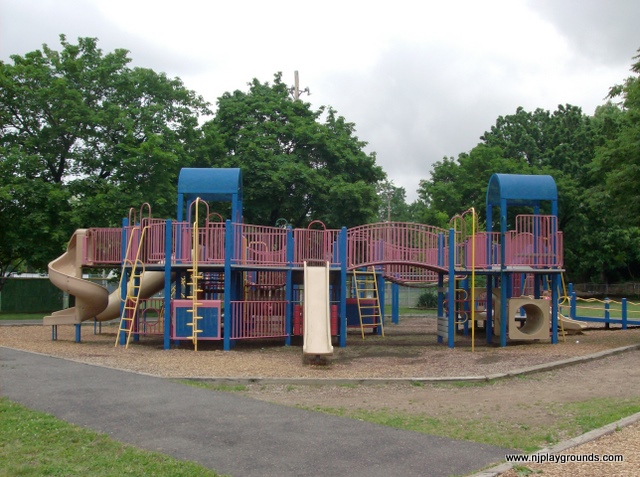 Kidspot Playground at Memorial Field in Rutherford (located on Darwin Ave.) is a huge playground at a dead end area of a town recreational complex. The playground is two stories of bridges and ramps. It is handicap accessible and has lots of small areas to maneuver and play in. There are puzzles and tunnels galore.
DIRECTIONS: NJ-3 E to merge onto NJ-21 N towards Passaic. Take exit 10B towards Passaic Park/Clifton/Rutherford. Slight right onto River Dr. Turn right onto Union Ave. Turn right onto Darwin Ave.
PARKING: Large paved lot and street parking
PICNICKING: Covered pavilion area with picnic tables
HANDICAP: Playground is handicap accessible with a large ramp and lots of things to do once you read the top. There is a large platform area to turn and maneuver a wheelchair. The base of the playground is full of little niches and playthings. The ground cover is mulched which may make it challenging to move around.
CLIMBING: Corkscrew poles, monkey bars, repellers, chain steps, wiggle poles, fireman poles, rings
PLAYTHINGS: Tic-tac-toe, matching games, steering wheels, call boxes, mirror, tunnels, store fronts
SLIDES: One large corkscrew, one chute, one tube
SPORTS: Baseball, football, soccer, tennis, basketball
SWINGS: Four full size, four toddler
WALKING PATHS: Paved around the park
OTHER COOL STUFF: Memorial path leading into playground
MAKE A DAY OF IT: There are two other playgrounds in this same recreational complex, one by the picnic area. The other is called Katie's Corner and is on West Erie Ave.