Editor's Note:  Hello!  We are honored to have a guest post from Bergen County's MiraBest creator, Mira Park!  I've known Mira since we both started our respective websites and she has been a blessing to many moms over in North Jersey looking for things to do.  Make sure you keep up with her over on her new home at Playground Talk.  Today, Mira shares a place that even Nana told us we have to visit!  World of Wings in Teaneck looks super, and we look forward to visiting ourselves soon.  
What's a more perfect time for a new venue to open (that's been 2 years in the making) in Bergen County than in the dead of winter! I heard from a mom friend that a new place had opened and I quickly arranged for a visit. My kids and I have been a little stir crazy these days and were eager to check out a new indoor spot.
 
World of Wings was the dream of one man who formerly made his mark in the jewelry business. You can see the incredible attention to detail and creativity in the displays in the museum. The museum part has lots of butterflies on display as well as a live reptile section. My kids especially enjoyed the mini turtles.
ATTRACTIONS
On the main level there is also a large gift shop with tons of cute toys and stuffed animals. We also entered the Butterfly Atrium, which has birds and butterflies along a pathway that can land on your body. I see why they added this attraction, but it isn't much different than the one at the Bergen Zoo or Bronx Zoo.
Past this, there is a semicircle of rooms–Just Bead It, Petit Chef (where kids can learn some culinary skills), Bubbles (open pits of bubble water and large wands for free play), Illusion Room (black and white checkered room):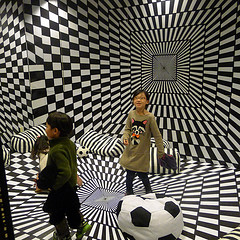 party rooms (some themes are princess and pirate–very nicelydecorated), arts and craft room and The Scoop in the middle which offers frozen and sweet treats. Even teens have their own VIP party rooms for their own, more mature parties.
Sample of Party Rooms:

In another section there is a restaurant called Embers (that people can go to without going to the museum), X Rider–a visual thrill ride that hasn't opened yet, Just Bounce–three huge bouncy structures (which also hasn't opened yet). iCafe–where you can play games or snap photos and manipulate them on a screen, kind of a glorified photo booth: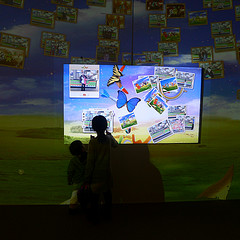 Upstairs they have a Glitter and Glam room where girls can get makeovers, manicures, and take pictures in various mock scenery after they get all dolled up (Stikus).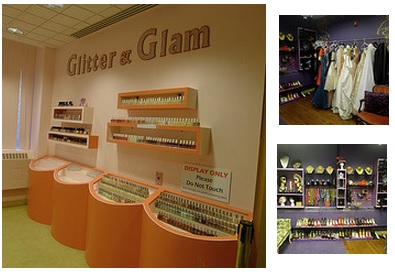 In the middle is Grub Club, where you can grab a bite to eat. There is also an attraction called Hyper Circle–a 3D virtual adventure (this wasn't open yet, as well). Up here there are more party rooms and arts and crafts rooms. They already have some arts and crafts classes on the schedule: Link here.
Beyond this is a back area which I thought was one of the best in the whole building. However, it is only for ages 4 and under. I thought it was a shame to limit it to such a young age since many of the attractions would appeal to those up to age 7 even.
Here, they have a Library, Mess Around (play area),

Snowball Crawl (blue and white ball pit),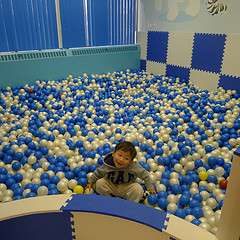 Bluescreen Room (you stand in front of a screen and you appear in the scene!),Open House (a play house that's topsy turvy),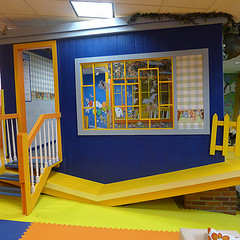 Beach Room (sand pit that was closed off right now),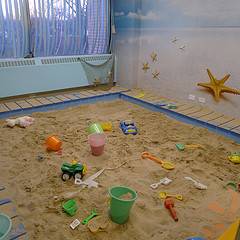 Blue room and Pink Room (boys and girls furnishings), and in the middle are modern furniture just the right size for little bodies (very cute!).
This is a must-see for moms with infants and toddlers. Admission is free to World of Wings for infants under 2yrs–so for a weekday playdate, only the mothers have to pay ($12)! It's a great deal. I liked that they had a good sized nursing room here too.
PARTIES!
If you're like me, you've been to lots of cookie cutter parties in the area. We've been due for a new party place and this one certainly fits the bill! All party packages include pizza, beverages, party favors, party room for an hour, two party hosts and a gift for the birthday child. Also, you get one hour admission to the museum before the party for guests. Parents get coffee and biscuits for food.
Available time slots are weekdays 10, 1 and 4pm; Fri/Sat/Sun/holiday only 10am available. One adult allowed per child guest and 50% off rate for parties booked Tues to Thurs, 30% off parties booked on Fridays. The basic party (explore museum and atrium) is $599 for up to 10 guests and $20 each additional guest.
These theme parties are $599 for up to 10 guests and $20 each additional guest: It's a Princess Party (makeover/princess dress up); Bead It; Just Bounce (Bounce room); Le Petit Chef(cupcake decorating). For $699 and $40 each additional you can have All You Can Play party which includes an hour in a themed party room and a daily pass.
There is also a VIP room party that costs $799, which is ideal for preteens or teens (such as a sweet sixteen party). All the details for the parties above can be found on their website: Link here.
MEMBERSHIP
They also offer yearly memberships for local families. For an individual it's $120 (additional adults are $60 per person). Children over two to age 12 are $40 and additional children are $20 per child. But, this does not include XRider, Aqua racer, Mini Rider and art classes.
ADMISSION
General admission is $12 adults and $6 children. The butterfly atrium is $22 adults and $11 children extra. There is a daily family pass which combines the admission and atrium fee and most attractions (no riders or classes). Two adults and two kids will run you $81 for the day.
Some of the attractions are still not up and running. So, it kind of makes sense to just pay for the general admission and pay for the attractions a la carte for now. When I was last there, the bouncy room and Prima Donna/Glitter & Glam area were open.
You can see the areas that are additional fees here: Link here. Prima Donna ($10), Just Bounce ($8), Hyper Circle ($8), iCafe ($5) Glitter & Glam ($5 for each service), XRider ($8).
FINAL THOUGHTS
We had a great time at World of Wings. It was a welcome escape from the winter doldrums. Their party rooms are creative and unique–and priced competitively for the North Jersey market. I think they are still ironing out some kinks (getting permits and such) so some areas are in development. But, once everything is functional I think it'll be even more of an awesome place to visit for all ages. I liked that they mixed old fashioned fun (dress up and bubble play) with modern touches like touch screens and virtual reality throughout the museum.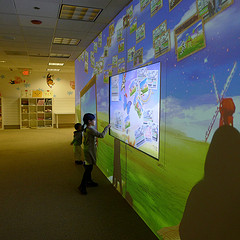 It is definitely not a museum that's stuffy and dated. I also liked the size–it's not so big (like the Please Touch Museum) where you feel overstimulated and exhausted by the end. Thank you to the visionary behind this museum: it will certainly bring lots of joy to children and families in New Jersey!
DISCLOSURE: This is not a sponsored post. We were given a tour of the facilities and usage of some areas for the duration of an afternoon. 
World of Wings
1775 Windsor Road, Teaneck, NJ
201-833-4650