Editor's Note: Hi guys! So just like going on vacation to spice up our life in NJ, we like to spice up this blog a bit using the experiences of New Jerseyans visiting cool places. So my friend Ned had such a wonderful time at this attraction in Orlando, FL he shares us his story. Â If you have some cool places that you've been to and want to share on our "Beyond Jersey" section, let us know! We love posts with descriptions for families and lots of pictures. Thanks Ned for the great post!!!
PS: Need a vacation destination idea? We post the ones we or our fans really enjoyed and took the time to make a full detailed review right here!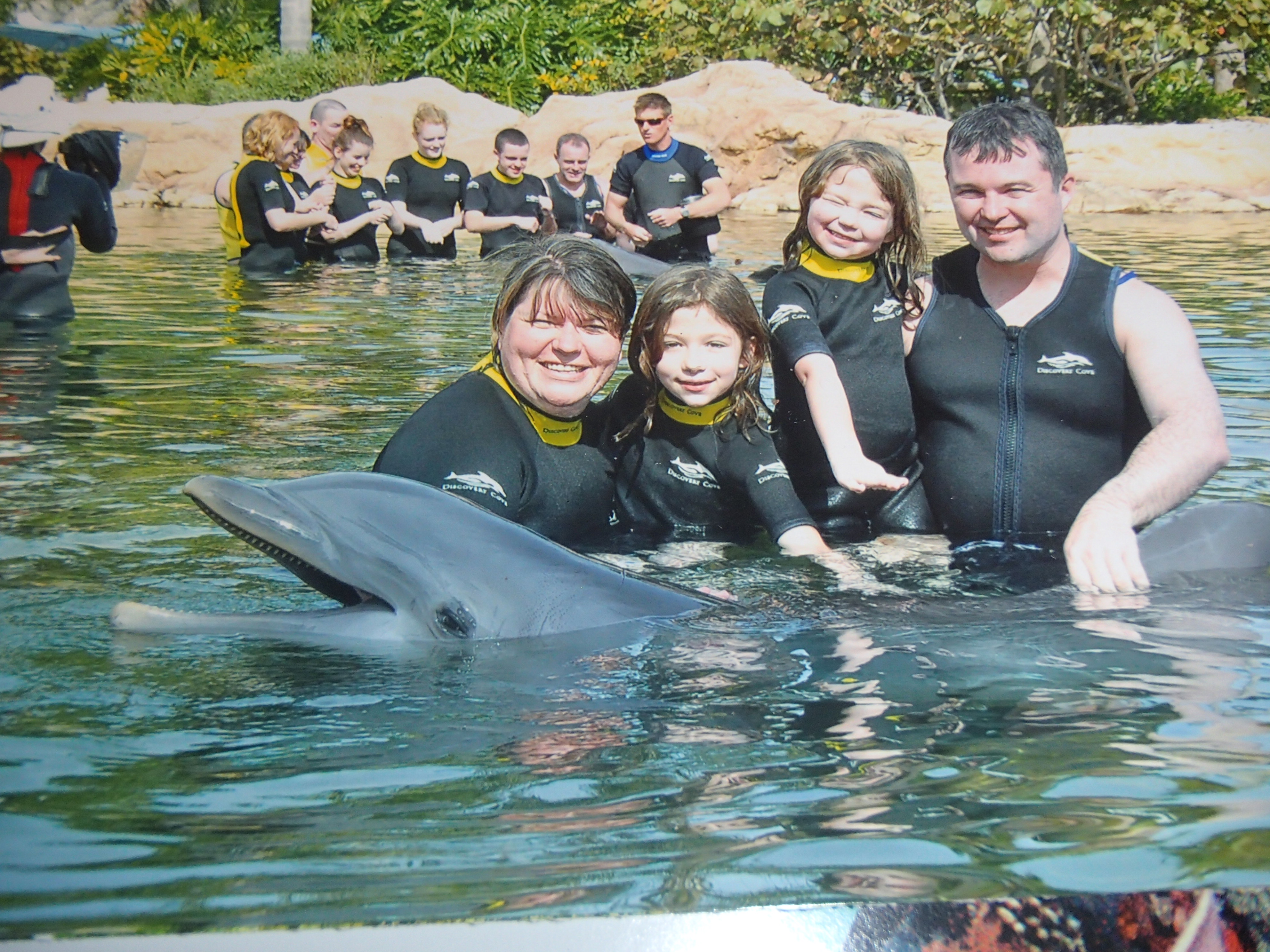 While pricey ($300+) per person,
Discovery Cove in Orlando
 is one of my favorite parks to visit. First of all the price includes almost everything you need for the day at the park. Breakfast, lunch, drinks, snacks, alcohol, wet suits, snorkel gear, life jackets, lockers, towels and sun screen are all included with the price of admission. So are admission to
Sea World
and Aquatica(Sea World's water park) as long as they are used within 14 days of your visit to Discovery Cove.
Exploring the Park
My family and I had a 4pm appointment to swim with the dolphins so we had plenty of time to take the whole park in before the main event. After checking in, we headed to breakfast at their cafeteria where we had several choices on what to eat buffet style. Breakfast was well done and then we went to get changed to get our snorkel gear and wet suits. They gave you a bag to hold your snorkel gear as well as animal friendly sun block.
We first headed over to the pool where the fish and rays were. This pool was heated and had plenty of rays and fish to take pictures of. The rays had their barbs removed so they were no threat to us.
My oldest daughter and I had a blast in this pool. My wife and youngest prefer seeing fish and rays behind glass and did most of their viewing from the beach and bridges.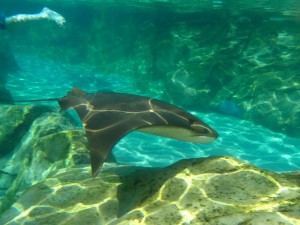 There are also sharks in the adjacent tanks that you can see swimming right by you just separated by glass.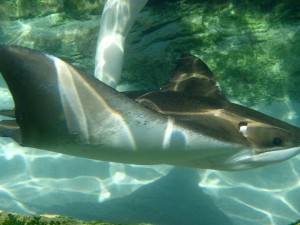 After the rays pool we went to the beach and lazy river.
Lazy River
The lazy river is heated to about 80 degrees which felt great.  Here is where you can swim/float over to the aviary.  The aviary has a lot of different birds whom you can feed for free.  They are trained to go to the white cups you are given and it is very possible for you to have more than one bird on your arm at any given time.  The birds also flew onto my wife's and daughter's head which was amusing to me.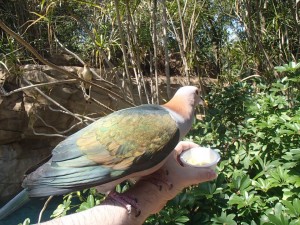 After washing our hands we continued on the lazy river past where the tamarins and otters are.  The family of tamarins is on an island in the middle of the river.  The otters are behind glass.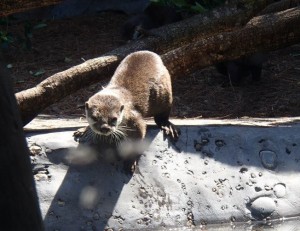 We worked up an appetite with all this swimming and it was time for lunch.  We went back to the cafeteria for a delicious meal.  They have fresh chicken, pasta, fish as well as kid friendly meals.
Swimming with Dolphins
Now to the highlight of our day, swimming with dolphins!  We got a brief instructions from the dolphin trainer and then we were in the pool with a dolphin with named Roxy.  The trainer got the dolphin close by so we could learn about the Roxy.  I found this to be very educational.  It was a lot of fun touching, feeding, and eventually holding on while Roxy pulled me 20-30 feet.  For week swimmers, you can still get a 'ride' in the shallow end.  The only difference is that a ride in the shallow end is not as good for pictures.  For the dolphins safety you are not allowed to bring cameras in with the dolphins.  However, there are photographers and videographers who document the whole encounter.  We bought some of the pictures with each of our family along with Roxy either riding her or kissing her as well as a group picture that is sure to be on our Christmas card this year.  We also bought a DVD of the whole encounter.  The prices were not cheap but how often do you get the opportunity to swim with dolphins?
Finally, Discovery Cove lets in only a certain number of people per day so the park doesn't get crowded so reservations are required. Also, you must be at least 6 years old to swim with the dolphins. Highly recommend!