Background
NJ Playgrounds was started in 2008 by Sheila Sayah.  Sheila started exploring NJ playgrounds as a great way to keep her three small kids entertained.  She quickly discovered that it wasn't easy to find good information on places to play.  As she visited local playgrounds and spoke to parents she began to compile a list.  At every playground she found parents who wanted to know where to go so she decided to start posting her reviews to the internet.
In March of 2011, Sheila was joined by Amy Lamperti and The Playground Guide. Ironically, The Playground Guide began its journey in exactly the same way and at the same time.  Amy is also a mom of three and she documented her playground adventures in books which are still available for Bergenand Sussex and Warren Counties. You can buy a copy here.
Amy and Sheila have now joined forces and all the playgrounds they visit will ultimately be posted to this site and updated regularly. They are also documenting all the other great places to play, indoor playgrounds and museums, birthday party venues and other discoveries they make along the way.
About Amy & Sheila

Amy Lamperti, Co-Owner and Director of Sales and Marketing amy@njplaygrounds.com
A busy Mom of three in Morris County, Amy is the founder and author of The Playground Guide and passionate about the importance of play.  She also has years of sales and marketing experience and an MBA in Finance from NYU that she tries to use for more than balancing her checkbook.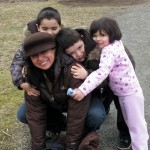 Sheila Sayah, Co-Owner and Editor sheila@njplaygrounds.com
Another mom of three, Sheila is an engineer by trade and also a playground fanatic. She is the original architect of njplaygrounds.com and fiercely loyal to our fans and the integrity of our site.  Schooled at Stevens Institute of Technology, if there's a web to untangle or code to decipher, Sheila's the one to do it.  She was also a 2009 finalist in the NJ Social Media Hall of Fame.