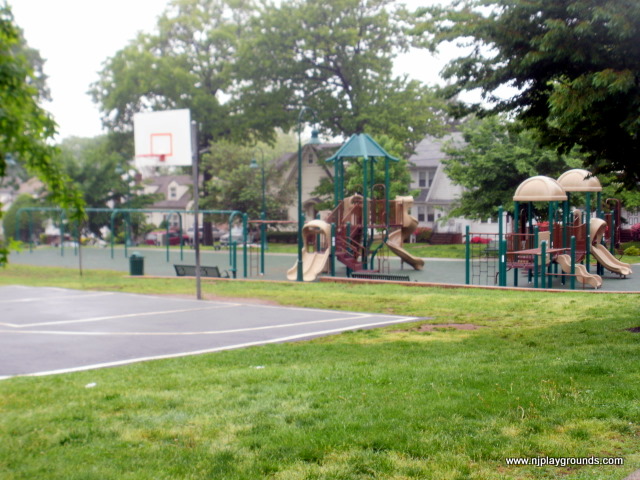 6/2011 Thanks to Sharon, we have the latest pictures of Coogan/Manor Park in Kearny NJ! All old pictures have been deleted and the descriptions have been replaced by Sharon's review. Thanks to Abbie for pointing out that this park was completely redone!
For more information on Kearney parks, check out their park website. If anyone has feedback about this park please comment below!
Located on W. Bennett Ave. between Hamilton Ave. and Jefferson St. in Kearny, Coogan Park, also known as Manor Park is a great big newly redone park with the soft rubber ground. Two climbing structures and a swing structure with nice park benches facing the play area in a beautiful open grassy area. The play area has some shade from the tops of the play equipment and from a few near-by trees, but it is mostly pretty open.

Name of Manufacturer: Game Time
Recommended Ages: The equipment states 5-12 for one of the 2 structures, this reviewer could not find another posting on the second piece, but does believe it is for the younger child
Climbing:2 larger play structures
Playthings: rock wall, bouncy bridge, tic-tac-toe, various ladders
Slides: No independent slides, all are attached as part of the climbing play pieces- 3 on each for a total of 6 various slides
Swings: 4 big kid, 4 baby
Parking: parking on the street surrounding the grassy field
Benches: many on the outer edge of the park
Picnicking: no tables, but plenty of grassy space for a blanket
Handicap Accessibility: there is a level walk way to the park and plenty of room in the park area, but no piece of equipment specifically for the handicap
Sports Fields: baseball
Basketball: yes