Dutch Wonderland is located on 2249 Lincoln Highway East, Lancaster, PA.
***Special vacation report***
So after the overwhelming response on our facebook fan page on where we should go on vacation, we listened, and went to beautiful Lancaster County in Pennsylvania.  We were not disappointed, here's our review: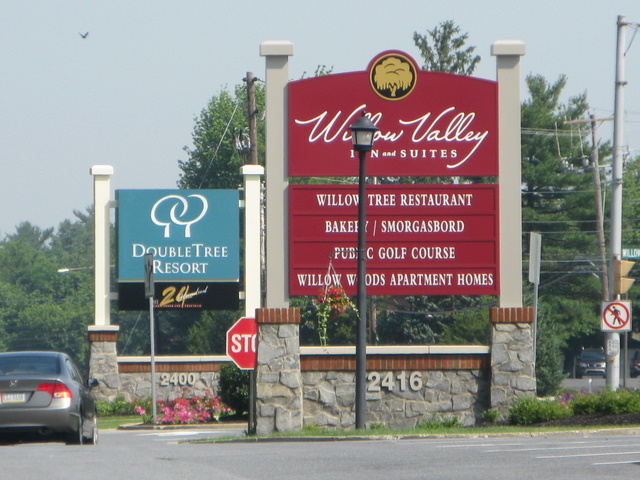 Accomodations at Doubletree Resort (Willow Valley no longer there) =  perfect for our kids, as well as a great place to stay on a rainy day with a perfect indoor toddler sprinkler pool connected to the main pool) equipped with a water slide that empties to a deeper section.  I can't tell you anything about the golf course, but you may want to take a trip to tripadvisor.com, there were plenty of reviews there for this resort.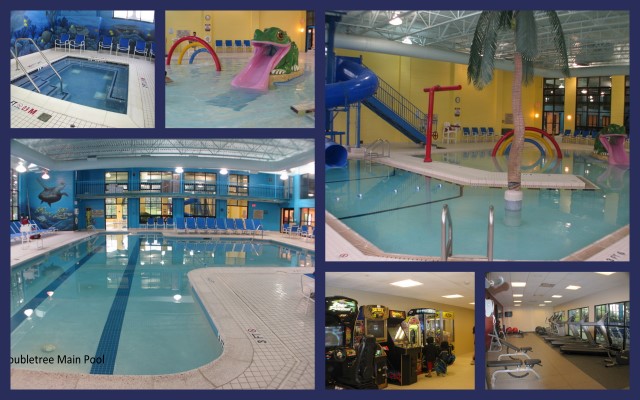 I was still able to stand at the end of the slide to catch my oldest (5y) (and I'm 5'0″) but my husband hung out mostly with him, while I was with our 3y.
Before it closed in 2012, our room was a bit humid (we were right next to the Willow Valley indoor pool), it was clean and did the job. There was a pool table, shuffleboard and an outdoor pool that was too cold for me, so we stayed in our section. Hot tub was restricted to 8y+ and the walk to the Doubletree isn't too far to enjoy the sprinkler pool.
Dutch Wonderland
Terrific for my boys, they are 3y and 5y and both of them had fun, great wooden roller coaster for the daredevil in your family, and a good number of the smaller rides for under 36″ and 36-42″ crowd. I took only a fraction of pictures of the rides, if you want to browse their rides check out their website, it really is a great guide according to height restrictions. 
They had a great dive show, a cute Thomas the Tank engine show with energetic actors, and a story time with the princess that my son was on stage with other kids. Best seats in the monorail are in the back for the view.
The other great thing about DW is that they had a nice water park similar to Sesame Place, however they do not have a wading pool, that my middle son really enjoys.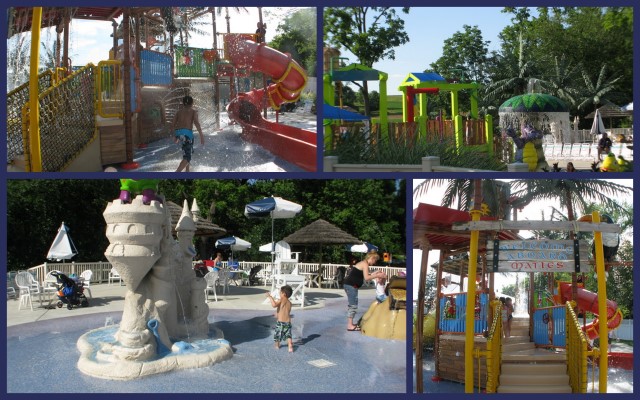 Lots of sprinklers/splashing though, and the 5y old loved the big water slide and I can't count how many times they went down.  I'm sure we missed a bunch of rides, check out their website for all the info..
Our Rainy Day
There is no shortage of things to do in Lancaster, we took in a movie and played in the sprinkler pool at the hotel, and then visited the Choo Choo Barn.  This was right before the big Thomas event, so we weren't able to enjoy Strasburg Railroad to its fullest extent.  For things to do for your train lover, check out Strasburg's site.  Another great stop, was Dienners Country Restaurant recommended by a friend.  It only cost $1.80 for my 3y old and $3.00 for my 5y old (60 cents/year) and the adult buffet portion was reasonable as well.
If you have any comments to add, feel free to do so!