West side of Manhattan on Pier 86, 12th Ave. & 46th Street, New York City, NY
For the many options on how to get there, click here.
Ok, so we are again veering off NJ, but I can't resist documenting our family trips to share with others. If you have kids who really love airplanes, helicopters, and submarines, definitely put the Intrepid Museum on your list. our kids (ages 5 and 3.5y) did better than we thought since there is minimal stuff to climb on. Here is our synopsis, you can see the letters correspond to a picture in our collage.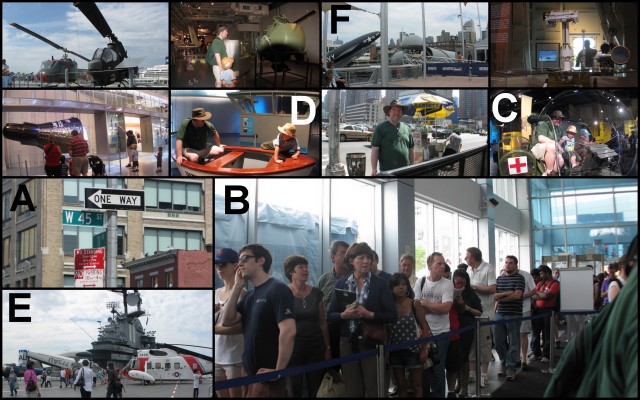 A) We parked at the "official parking for the Intrepid on 45th and 11th avenue" had a quick bite to eat at the hot dog cart. (To get the reduced pricing, make sure you validate your parking when you leave the Intrepid (at the front desk by the store))
B) Long line, right before you get in, the museum itself is so spacious so you don't really get claustrophobic unless you are in the line for the submarine, on the submarine, or right before the magnetometers by the entrance. Pretty crowded, I would definitely get my tickets via internet next time to get to the shorter line. If you are considering going more than 1 time, think abuot the family membership. 2 adults 4 kids is $140 (If you are going as a family of 4, it costs you $86 for the day adult-24, child-19)
C) Kids can climb on the helicopter, and D) the moving boat but that's about it, unless you do a birthday party which allows you to climb in on some of the aircraft on the flight deck. Simulators, anything else that moves costs extra.
E) Flight Deck is really cool to see, including an SR71 (my son just brought me his souvenir so I could confirm).
If you want a true NYC mama review of the Intrepid, you have to check out Carol's, great one about fleet week too, which is coming up!
Check out their website for all the details.
Also do you have something to add? Please comment!!!