Between Warren Street and Murray Street, east of River Terrace, Battery Park, New York City, NY.
Teardrop Park  is one of the great parks in Battery Park City.  We had visited it the same day as Rockefeller Park . My oldest had a great time in the sprinkler area and the mega-slide.  Be careful with the metal slide though, it can get hot, but the other thing is that many of the kids like to pour water on it to go super fast. Super fun, but make sure your kid is good at landing on their feet.
See below for this girl that got some major air!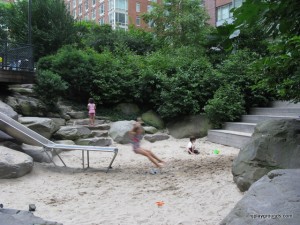 So other reviews?  Here is a negative review of the park, although we viewed this park in a very positive light. It does have some points about the access points being obscure, but we enjoyed that aspect since the kids liked the whole climb to the sprinkler area and it is nice and shady. The downside is that it's hard to keep track of more than 1 kid since they have to go around corners to go to the different areas.  It's interesting to see the comments which are more positive about the park.  I will definitely go again and combine Rockefeller Park which is so close by, but it helps to have someone with you to watch 2 or more kids.  For a smaller park in Battery Park City check out North Cove and activities at Battery Park from our Hobokenite and frequent NYC day tripper.