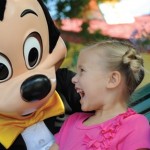 I've been lucky to meet and become friends with Sandy Nusbaum Giercyk who is the owner and operator of Instant Impressions Travel Service, one of the leading travel agencies in the U.S. completely dedicated to helping with travel to Walt Disney World. She's also right here in Morris County, NJ.
With her help, we plan to share educated and informed insights to help NJ families plan, book, enjoy and return from a Walt Disney World vacation. Once we cover the major themes, we can also talk about the Disney Cruise Line, obtaining autographs, Disney celebrations, Adventures by Disney, new attractions, resort openings and more.
Every time we write about Disney travel we want to hear your comments, ideas and suggestions. We'll moderate the discussion to try and make it as helpful and factual as possible. Let's start at the beginning.
Putting a Plan in Place
Taking a trip to Disney is not a simple proposition. Think of Walt Disney World the way you think about Manhattan. Disneyworld is similar in size and complexity to Manhattan. You wouldn't wing a trip to Manhattan with your kids. You have to plan the same way when you go to Disney.
There are all sorts of things to consider and the amount of information (and opinions) available is overwhelming.  Here are some key things to think about as you get started:
1. Surviving the Information Avalanche
5. Getting From NJ to Disneyworld
Please share your tips and ask your questions too. If you have ideas on any of the above that you'd like to share or planning tools you've used, please share in the comments below! Or if you have questions post them as a comment. You can also reach out to Sandy from Instant Impressions directly. Just e-mail her at sandy@distrips.net.
Up Next:Â  Confirming the Details
In our next post we plan to cover things to consider when you book the details of your trip. We'll include thoughts on picking your accommodations, getting around during your vacation, meal reservations, crafting your itinerary, insurance and more.
Let us know if there is a particular topic related to booking a trip to Disneyworld that you would like us to include and we'll address it!

1. Surviving the Information Avalanche
Disney alone will provide you with an almost painful amount of information about their resorts and parks. You can get detailed maps, videos, schedules of events, insights on attractions, resort amenities and more directly from the source. If you visit Barnes & Noble or any other major bookseller you will find shelves of books dedicated to helping you navigate Disney.
Internet searches will reveal countless blogs, articles and message boards full of additional sources of information. Lastly, ask almost anyone you know or just mention you are considering a trip and you will undoubtedly get a lot more information whether you want it or not.
When you get an opinion from someone always ask "why?" Someone might tell you they hated a particular restaurant you were planning to visit. Ask them why and you might find out it's because they don't like Japanese food and it happened to be a Japanese restaurant. Their poor review didn't have anything to do with the restaurant itself!
On a message board you read about how one family LOVED a particular resort. You ask "why?" and find out they were enamored with the Christmas decorations in the lobby. Who cares if you are going in August?
Another tip, especially if this is your first trip to Disney. Focus on what's important to you and try not to get distracted or side-tracked. You can spend countless hours reading all there is to read and just end up completely confused.

2. Crafting a Vacation Vision
This concept of "focus" brings us to the idea of developing a vision for your Disney vacation. What do you think your vacation will be like?
Are you cooking or eating out? Are you up early or late? Are you and your family fast-paced or slow-paced? Is this trip all about the kids or are you doing things as a family or maybe even grabbing some grown-up only time? How much time are you spending in your room or at the pool vs. at the attractions?
These are just some of the questions you should ask yourself before you plan out the details of your trip. Craft your vacation vision first and then get into the nitty gritty of when you go and where you stay and what you do.
Another hint, be careful about setting or NOT setting expectations.
It's easy to get stuck on the idea that a particular aspect of your trip will be the highlight. As you plan the trip maybe an image of your daughter hugging Cinderella in front of the castle creeps into your head and you can't shake it. You just know that is going to be the most amazing part of the whole vacation.
However, when you get to the Magic Kingdom on day one it turns out she's terrified of Cinderella. She permanently scars your legs grabbing on for dear life any time any character gets near. You walk a little further into the park and come across a talking garbage can. She stops dead in her tracks and you end up spending 45 minutes watching it as she gapes, points, smiles and giggles.
You can't plan your magical moments at Disney. They're bound to happen, but they might not be the moments you think they will be when you plan your trip.
Also, be realistic about the fact that everyone (including the grown ups) will melt down at some point. No child or adult is immune to the fact that too much stimulation, too little sleep and changes in eating habits are likely to lead to a breakdown in normal happy demeanor. Each one of you will reach your max at some point. That's ok. Accept and expect it to happen and it won't be nearly as painful when it does.
3. Right Sizing Your Budget
How do you budget for your Disney vacation? What should it cost?
The reality is for a family of four to spend 5 days at Disneyworld it can cost $1800 or $18,000 and everything in between.
If you're on a strict budget, then it is what it is and you find ways to maximize your experience and operate within it.
When your budget is more flexible, you end up going back to your vacation vision and what will drive your budget is what is important to you and what you value.
Some families will spend $800 a night on their resort and place a lot of value on the extra space and amenities they receive in their room and at their destination. Others will spend more to be in closer proximity to a particular attraction or park even if the accommodations are more moderate. Still others decide that they are going to splurge on their meals and stay in more modest accommodations.
There are all sorts of trade-offs and concessions you can make to work within your budget. For example, you might decide that you want nicer accommodations but don't want to pay a premium to be near the parks. Instead, you pick a resort that is $300 a night less and you put $100 of that money into an envelope to use on cabs each day.
One of the biggest drivers of cost and price will be the time of year you choose to visit.
4. Deciding When to Go
What time of year do you go down to Disneyworld?
There are peak and off-peak times to visit Disneyworld, some more obvious than others. Times when schools are typically enjoying a break or vacation are all busy times and "peak" prices. Spring Break and winter vacations will of course be busy. However, when our teachers are at the NJ State Teachers Convention and our schools are closed the rest of the country might still be hitting the books.
Holidays are typically peak times of the year, anything around Christmas and New Year's. But, travel the week or two before Christmas and it's a different story.  Travel just before school starts or just after, and the crowds thin and prices are lower.
You have to think about your willingness to pull the kids out of school and your stomach for crowds. For many, the crowds are part of the experience and add to the thrill of it all. Know how you feel before you go and plan accordingly.
There are ways to minimize your exposure to lines even during the peak travel times. Fast passes, early and late on-site guest access and carefully planned park hopping are all methods you can use to minimize wait times and crowded conditions.
5. Getting From NJ to Disneyworld
The fastest way, of course, is to fly.  According to Sandy Nusbaum Giercyk, many families in this area are  flying out of Lehigh Valley International or Newburgh Stewart airports too.
The flights may not be any cheaper than the ones out of Newark and there aren't as many of them but if you can make it work there are advantages to flying out of a smaller airport. The parking is a lot cheaper and you may be #12 in line at Security instead of #1200.
Another great thing to know is that anyone flying in and out of Orlando (MCO) airport gets free Magical Express to and from the Walt Disney World resorts eliminating the need to rent a car after you arrive. Just make sure you are staying at a  Walt Disney World resort and if you're not, double check on airport transportation and transportation to and from your hotel and the parks, etc. before you forego a rental car.
The Amtrak Auto train is another option. It's not inexpensive but it's a great way to bring your car along without having to drive it. You depart from Lorton Virginia which is outside Washington DC and travel to Orlando. The cost varies, but starts around $1300 round trip for a family of 4 and the ride on the train is about 17 hours.
You could also ride the regular Amtrak train from a station near you which takes closer to 24 hours and for a family of 4 is roughly $1000 or more round trip. Both trains have sleeping cars, business class and other more comfortable accommodations for additional fees.
Lastly, you can do what our family does every year and drive.  We typically leave in the late afternoon on a Saturday or Sunday (to avoid rush hour traffic on the way down) and we pull into our final destination around 8 or 9am in the morning.  We take I-95 the whole down stopping only for gas, potty breaks and breakfast.
Others I know also drive down and stop in Rocky Mount, NC or Selma, GA just off I-95 where they find reasonably priced hotels with indoor pools and breakfast buffets.  You can easily create stop overs that break the trip into roughly two 8 hour days.
6. Forgetting the Kids? 
Don't neglect them in your planning! Think carefully about your children and what they can and cannot (or will not) do.
How tall are they? Are there rides they can't go on? Learn which ones they are and avoid them from the get go. No sense in dragging them over there and getting them all excited only to find out they aren't tall enough to ride.
Do they like fireworks or does the noise scare them? Will they be interested in the characters? Do they watch them on TV and know who they are? How do they respond to others in costume?
How much stamina do they have? How long can they last without a break? a nap? a meal? Do they need a stroller? Think about those things as you plan your trip even in the early stages and it will help you arrive at an executable "Vacation Vision."
Don't forget! We want your comments, questions, ideas, suggestions and insights! Comment below!