Hey NJ Playground Fans and Readers! Â It's that time of year again with tons of fun family events for the 4th of July.
If you are looking for a park in NJ to check out the fireworks, here you go!  Please check back for updates, we keep adding as we get new feedback, so if we are missing yours comment below.  🙂
Did I miss one?  Comment below!!!
Thanks for the cool photo Anthony from Middletown!!!
UPDATE- Sussex and Warren County just updated link here.
North Jersey (Bergen/Hudson/Passaic):
Allendale- FOR RESIDENTS ONLY AND THEIR GUESTS!!! 7/4, Thurs. 7:30pm  Band to perform at Crestwood Lake, (West Crescent and West Maple AVe.) followed by 9pm fireworks.  From the Holilday Observers website (http://holidayobservers.org/4th_of_July_Program.html): "Friday, July 4 – Field Events at Recreation Park – 8:30 am; Friday, July 4 – Band Concert & Fireworks; at Crestwood Lake – 7:30 pm Rain Date – Saturday, July 5, 2014"
Bloomingdale at the Middle School (June 27th/Rain date 29th)Fri. June 27th-Fireworks at Walter T. Bergen 6pm- from their 2014 events brochure
Clifton- 7/4, from clifton nj town brochure: "Friday, July 4, 2014 - 12:00 noon – 6:00 p.m. (Picnic)  Dusk (Fireworks)
Enjoy the City of Clifton's fun filled picnic with family and friends at Main Memorial Park. Great food, crafts, health screenings, clowns, free activities and rides for the children. Family races and events will take place between 1:00 – 3:00 p.m.  The City of Clifton fireworks display will be held on Friday, July 4th at the Clifton High School Stadium beginning at dusk. The Clifton Community Band will perform during the pre-firework concert. Tickets cost $3.00 per person and will be available at  the City Clerk's office. For more information, call the Mayor's Office at (973) 470-5757. "
East Rutherford (State Fair Meadowlands) July 3 and 4, for more info. check out their website here.
Englewood- 7/2, 7:30-11pm-Link to town website calendar event
Fa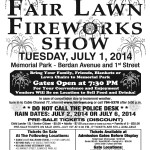 ir Lawn- 7/1, Tuesday- Memorial Park (Berdan Ave & First Street),
"Tuesday, July 1, 2014 (raindates – July 2 or July 6 if necessary)
Memorial park –
Berdan Avenue and 1st Street
Gate open at 7:30 p.m. visit here on the Fair Lawn website.
************************
************************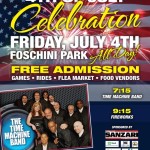 Hackensack- The July 4th event for the City of Hackensack is scheduled as follows from hackensack.org website:
"JULY 4TH FIREWORKS in Foschini Park
Friday, July 4, 2014Â 
All-Day Flea Market from 9:00 – 5:00

10 AM Softball game – Hack. Fire Dept. vs. Hack. Police Dept. 
International Food Vendors all day
Kiddie rides and games

Entertainment – beginning at 7:15 PM featuring "The Time Machine Show Band" 
followed by a 
Spectacular Fireworks Display at approx. 9:15 PM.

Come out and enjoy a fun day in Foschini Park!!"
Hasbrouck Heights (via HH Police Dept. webpage, don't contact them for info. website has updates though..): The Hasbrouck Heights Annual Fireworks Display will be on Monday June 30, 2014 at approximately 6 pm at Gary Depken Field (Route 17 South/Franklin Ave).
Rain date for Fireworks will be on July 2, 2014.
Hoboken/Weehawken Sadly the Macys fireworks moved from Hudson to East River, no prime NJ viewing from Hudson County this year 🙁 See article for details.
Jersey City- 7/4, fireworks are back at Liberty State park!!! Check out Mommy Poppins article about it!
Lyndhurst – Nothing announced as of 6/26/2014
Paramus (7/6, Cliff Gennarelli Sports Complex Paramus Road & Plaza Way, Westfield Garden State Plaza – West Lot, Enjoy a free concert by the Paramus Community Orchestra, with the Paramus Playersfollowed by the Fireworks Celebration. Gates will open to the public at 6:30 pm; Rain Date: TBA. Link here.
Passaic-JULY 4TH, 5TH, AND 6TH @ PULASKY PARK 4ST PASSAIC NJ. 3 DAY FIRE WORKS SHOW PULASKY PARK, 4TH OF JULY 2014 INDEPENDENCE DAY. LIVE MUSIC PERFORMANCES FIREWORKS, FOOD STANDS AND MORE!! FOR MORE INFORMATION CALL JUAN CARLOS ZUNIGA 973 470 7198. link here.
Ridgefield NJ- (Residents only) (7/3, VETERANS MEMORIAL PARK Thurs July 3 2014 | 9PM) Link to seasonal brochure
Ridgewood (July 4th at Veterans Field) -"Parade and Fireworks are scheduled for Friday, July 4th, 2014 Alternate date is Saturday, July 5th …FIREWORKS are viewed from Veteran's Field, Ridgewood, New Jersey Entrance gates open at 6:00 PM and close at 9:00 PM While the Parade is free, Fireworks Tickets are required for entrance to Vet's Field. Donations for Fireworks Tickets is one of the Celebration's largest sources of income. Tickets will be available for advance purchase at stores for $8 and online for $9. Tickets will be on sale at the gates for $15 for adults and $10 for children ages 6-12. Buy your tickets in advance for big savings! Children 5 and under are admitted for free." Link to PURCHASE TICKETS and Support Ridgewood"
Tenafly (7/1 Fireworks dusk behind high school 19 Columbus Drive) from the town website: "The Borough's annual fireworks display will take place on Thursday, July 3rd at approximately 9:00 p.m. behind the Tenafly High School. Rain Date for the fireworks is Sunday, July 6th. This year the Crescent City Ramblers, a Dixieland Band will be enteraining the crowd before the fireworks display"
Wayne (July 2nd at High School) From WaynePAL Website:
"The 2014Â Wayne PAL Annual Fireworks Extravaganza
Wednesday, July 2, 2014
(Rain Date – Sunday, July 6, 2014)
Wayne Hills High School
272 Berdan Avenue
Wayne, NJ 07470
Gates Open at 6:00pm
$10 per Family
Fireworks Show Begins Approximately 9:15pm
There will be Food, Battle of the Bands, Clowns, Rides, Glo-Sticks and a 50/50 Raffle"
North Jersey (Morris/Essex/Union/):
Chatham- 7/4- Chatham Middle School- Chatham Borough Website
From Chatham Borough Announcements : "The Chatham Fire Department welcomes everyone to attend its 60th Anniversary 4th of July Celebration!
Schedule of Events:
9:15am: Flag Raising and Fire and Police Department Inspections will take place at the Firehouse.
10:30am: This year's Parade will feature ten bands, nine fire departments, and numerous community organizations. The Parade will start at Hillside Avenue and Main Street and proceed west on Main Street to the Chatham Middle School. (Parade will be held rain or shine.) **During the Parade, Main Street (Rt. 124) will be closed from 10:00am – 1:00pm. Please plan alternate routes to avoid delays.**
7:00pm: Chatham Middle School Field, 480 Main Street, gates open for the Fireworks Entertainment. Additional tickets are available in Borough Hall with proof of Chatham Borough residency.
9:30pm: Fireworks Display.(Rain date: July 5th)"
Dover- 7/3-at Hamilton Field on Highway 46 East at the Dover Elementary School —->From Best of NJ- click on their listing for more detail-
Denville- from their website:
"Gardner Field – Savage Rd. Denville NJ; We have contracted with the same vendor that has been providing the shows for the Denville Volunteer Firemen's Carnival for years.  We have been promised an extraordinary show. Additionally the music entertainment will be provided by: Jimmy & the Parrots
Get there early – music starts around 7pm
Fireworks after 9pm or at sunset"
East Hanover (July 4th)Â Fireworks at Lurker Park starting at 9:00pm.
Florham Park (July 4th Emmett Field) Full Day Celebration, check out their full schedule link for more info! Here is a second link as well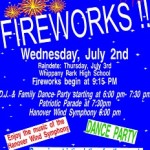 Hanover (7/2 at Whippany Park High School Field)
"Hanover Township Recreation invites you to a patriotic celebration in honor of Independence Day on Wednesday, July 2, 2014
at Whippany Park High School Field. Music, Family Dance Party, Patriotic Parade…..and FIREWORKS!)"
Town website has more information here
Lincoln Park- NO FIREWORKS THIS YEAR
Randolph has a three-day "Freedom Festival" starting July 3rd through the 5th. Featuring the best fireworks show in the county plus a parade, games, food, bands, rides, attractions, arts & crafts and much, much more! Activities all take place at the County College of Morris, located at Center Grove Road off Route 10 in Randolph. Fireworks are on July 5th:
"Saturday, July 5, Parade Day Kicks off at 12 noon; Starts at Dover Chester Rd. & Randolph Ave. (Mt. Fern Church) and ends at CCM (Center Grove entrance). The parade will include pipes and drums, floats, bands, antique cars and horses.
Freedom Festival
2:00 p.m. to 11:00 p.m.
Fireworks
Starts at 9:45 p.m.
DJ 6:00 p.m. to 11:00 p.m.
The best show in Morris County!
$5 donation per car.
The rain date for the fireworks is Sunday, July 6. In the case of questionable weather, check the township home page for updates."
Click here for more info.
Livingston (July 4th)-Too bad, we got the wrong info before, sorry for the mistake, thanks to Christi for pointing it out, here is the correct link for the fireworks!!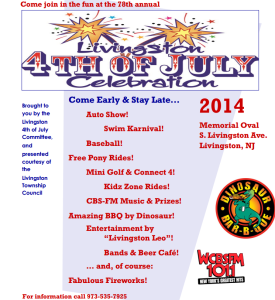 *******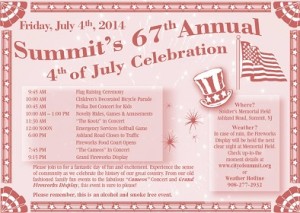 Summit (July 4th at Memorial Field on Ashland ave.) "4th of July Celebration
Soldiers Memorial Field
July 4, 2014 (Performance and Fireworks Rain Date – on the next clear night see cityofsummit.org)
9:45 AM -Â Flag Raising Ceremony
10-1pm- Novelty Rides, Games and Amusements
Various concerts through the day see details on flyer here!
9:15pm Grand Fireworks Display
Springfield (July 4th at Meisel Park) Come enjoy great music and spectacular fireworks on July 4th at Meisel Avenue Park, Springfield. Gates open at 5:00 pm, concert at 7:30 pm and fireworks to follow, $5 donation; check out flyer below.
For Maplewood (Memorial Park), South Orange, Millburn, West Orange and Montclair best link is Barista Kids Georgette always comes through, HERE's THE LINKÂ ! Another great link is Best of NJ Essex County's fireworks!
Union NJ-Â July 4th at 7:30pm
          Fireworks at Dusk 
           Biertuempfel Park
Bring blankets, chairs and enjoy!

North Jersey (Sussex/Warren):Â 
Now on to the best counties of NJ… Sussex and Warren. This one's for you Denise, Marcie and Justin, our 3 SW fans.
Blairstown- Great family event in the afternoon, check out their activities here also we received confirmation from the Rotary club that there will be fireworks at 9pm on the 4th at North Warren High School.
Lake Hopatcong- 7/3-Â The Lake Hopatcong Yacht Club will host their fireworks on Thursday, July 3rd.
The rain date is scheduled for Sunday July 6th. Here is their link, and also the donation page 
Sparta (Lake Mohawk)- 4th of July fireworks will be over Lake Mohawk this year. Lake Mohawk is a private club that after reading their newsletter, the Papoose, I would love to move there. Check out the details of the fireworks and the picnic on July 5 by visiting Sussex Macaroni Kid link here!
Vernon- 7/5 Fireworks at Lounsberry Hollow Middle School on Sammis Road. The gates will open at 6:00 p.m. Tickets are $15.00 for a family or group of four. see details via Vernon Twp Link
Washington (7/4 fireworks at Warren Hills Middle School) -from their facebook page:
"WASHINGTON CELEBRATES AMERICA
2014 Itinerary

ORANGE CRATE DERBY:
Qualification Races Saturday June 28, 2014. Rain Date Sunday, June 29, 2014. All racing starts at 8:00 AM

Final Races Friday July 4, 2014. Rain Date Saturday July 5, 2014Â 
Set up time is 7:30 A.M. Competition will begin at 8:00 A.M.
Location: Broad Street and Borough park entrance

PARADE:
Friday July 4, 2014. Rain Date Saturday July 5, 2014
Line up from 2:00 P.M. Step off is at 3:00 P.M.
Location: Route 31 and Broad St to Belvidere Ave to Carlton Ave To North Prospect St.
FIREWORKS:
Friday July 4, 2014. Rain Date Saturday July 5, 2014
Music by Doc South from 6-9:30 PM
Fireworks BEGIN AT DARK
Location: Warren Hills Middle School, on the athletic field"
North/Central Jersey (Somerset/Middlesex):
Bridgewater (July 4th at North Branch Park) From the Hillsborough Patch site:
"The Festival begins at 5:00 P.M. on Friday, July 4, 2014, at North Branch Park on Milltown Road in Bridgewater. Admission is free. Corporate sponsorship is provided by the Courier News.
The evening of Americana represented by patriotism, music, and family entertainment will include a variety of performers, a reenactment of a Revolutionary War encampment by the Third New Jersey Regiment Revolutionary Encampment, children's games and activities, plenty of food, and a sensational display of fireworks. Stage performances will provide a range of American music styles for the enjoyment of children and adults alike.
Philadelphia Funk Authority (Hi GEO!!!)  kicks off Independence Day with a live performance of a broad range of great hits to get the crowd up and moving. The repertoire includes everything from Motown to pop, jazz to disco and current top 40 hits. Following will be Fillet of Soul, hailing from Hackensack NJ, returning to Somerset County with their R&B hits including covers of Sly and the Family Stone, Joe Cocker, and many others."
Bridgewater (Somerset Patriots Games) – Check out some baseball and fireworks all summer long, for more info visit the Somerset Patriots website!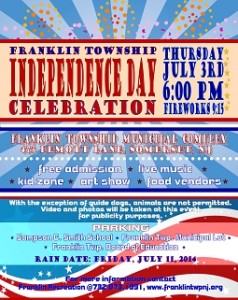 Franklin (July 3rd Fireworks) Parking at DeMott Lane and Amwell Road.
Thursday, July 3rd 6:00 PM,
FIREWORKS 9:15 PM,
Free Admission
Live Music
Kid Zone
Art Show
and Food Vendors
RAIN DATE: Friday, July 11, 2014
For more info. check out flier
Highland Park (Sunday, July 7th in Donaldson Park) (thanks Leora for updating us :))
Hillsborough NJ (6/28 Fireworks- Check out the Mayor's press release here)
North Plainfield NJ -Â July 12th-North Plainfield Concert and Fireworks – West End School Field – (Festivities begin @ 7:00 p.m. with Fireworks to follow at dusk) from this link
Check out more in Middlesex County here!
Central Jersey: (see Best of NJ for a complete guide of Central Jersey Fireworks, they did an awesome  job this year!)
Hunterdon County List- Including Califon's 2-day fireworks (7/2 and 7/4) during their Fireman's carnival,  and Flemington celebrates Hunterdon County's 300 year old birthday celebration on 7/3,  Click here for the details and times via Best of NJ! Unfortunately no Lambertville NJ/New Hope PA fireworks this year, see article for details on this decision.
Mercer County List- Including East Windsor, Hamilton, Lawrence, Princeton, Trenton and West Windsor (Mercer County Freedom Festival will be held on Saturday, June 28, 2014)!- Click here for the details and times via Best of NJ!
Monmouth County List- Including Asbury Park, Atlantic Highlands, Bradley Beach, Freehold, Hazlet, Keansburg, Long Branch, Manasquan, Ocean Grove, Ocean Twp., Union Beach, Wall and West Long Branch! Click here for the dates, and times!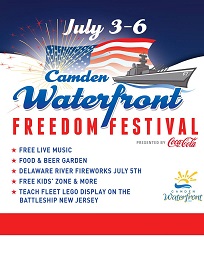 South Jersey:
Check out Best of NJ's site for a complete listing of South Jersey Fireworks! They even have a Jersey Shore edition as well here!
Highlights: Atlantic City has a 4th of July "Sky concert".
Ocean City has their kite festival followed by fireworks, here is their link!
Wildwood has 3 days of fun, check out the schedule here!
One that has been getting lots of press, is the Freedom Festival at Camden, here is the link to the 3 day celebration.
Well, I hope this article was helpful, we have done it every year, and it's always fun to do, we love including the colorful flyers that towns have as well, so if you would like to add a flyer, we will include it in our photo gallery below, just comment and add the link.  if you didn't find what you were looking for, make sure you check out the complete guide to NJ fireworks from Best of NJ.  They did a super comprehensive job! Thanks for checking us out, and check out our park posts, when 4th of July craziness is over!!! 
-Sheila and Amy