On a Tuesday in December (2015) my boys and I took our own field trip to Liberty Science Center to check out the latest exhibits. Liberty Science Center is always bringing new exhibits and so there is a rotation of new things for your kids to enjoy.
Address:
Liberty Science Center
Liberty State Park
222 Jersey City Boulevard
Jersey City, NJ 07305
New Stuff!
Action Zone- Great physical exhibit to explore different skills. Challenge yourself to the rockwall/treadmill. Or jump, or test your balance. More info on the cool stuff here!
There is a new Tesla Lightning Show, which we were excited to see, but unfortunately the day we went it was only available to the school scheduled. Â So make sure you CALL AHEAD if you want to check it out on a weekday. On weekends it is open, see site for details! Check out the video for a sneak peek.

Also for those that are interested in the Titanic, (we skipped as it cost extra to visit, and the boys don't have any interest yet) they are featuring
Titanic: The Artifact Exhibition
October 31, 2015 – May 30, 2016
This exhibition is designed with a focus on the legendary RMS Titanic's compelling human stories. It features more than 100 authentic artifacts set within replicas of cabins and other areas within the famous ill-fated ship.

UPDATE:**Titanic Exhibit Review**- Thanks to the Corridans for checking out the Titanic and sending us their review on this exhibit below!!!
"I was so impressed. No photos were allowed, but I'm showing you pictures of the first thing you get when you enter, which is the boarding pass of an actual passenger.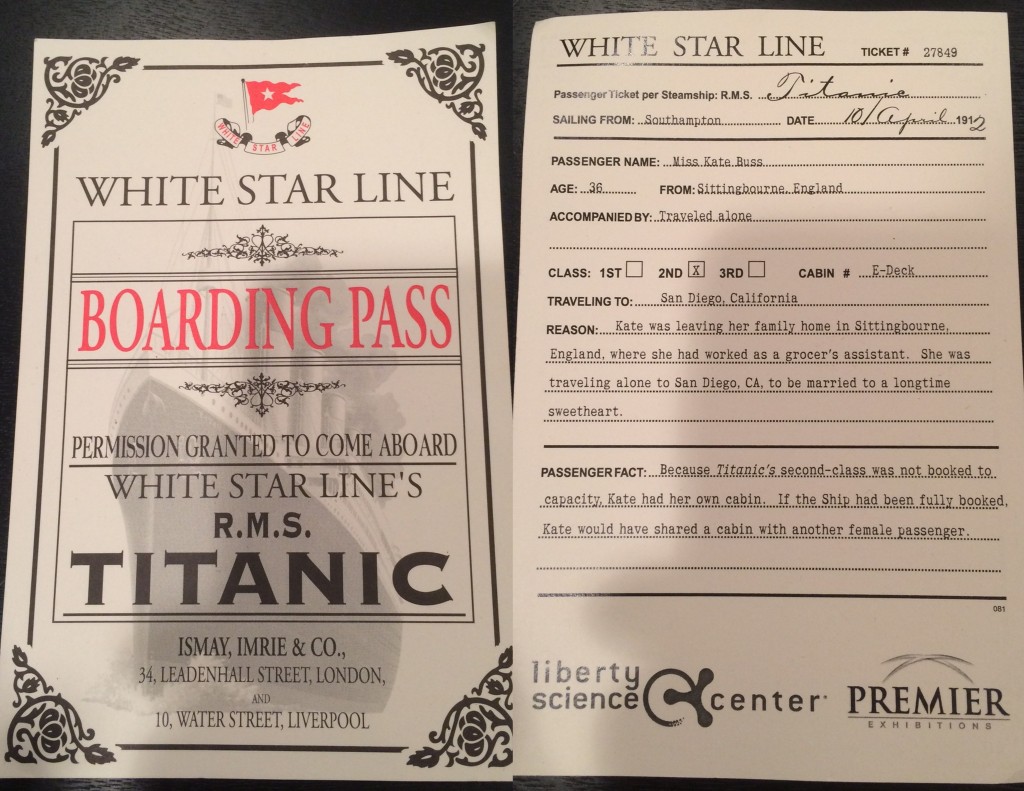 As you can see, you learn about what brought them onto the ship and which class quarters they were in. At the very end of the exhibit you check on the wall for "your" name to see whether you lived or died. (Of the four of us, poor Kerry perished.)
We didn't take the audio tour– $5 per person – because we were on a time crunch but I would've loved to. Still, you could learn plenty by walking through the exhibit and reading all the information on the walls. You got a good sense of the idea behind Titanic and other luxury ocean liners, plus what went into the design and construction. There were photos and profiles of the more noteworthy passengers, like a Guggenheim, Astor, etc. And there were of course lots of artifacts, including dishes, jewelry, clothing, and even stuff like soap that had somehow been preserved. There were menus–each class had different meals–and replicas of a first class stateroom and a third class bunk. If I recall correctly, a first class ticket would go for the equivalent of more than $100K!
The girls were probably most excited about the iceberg at the end. It was a huge block of ice you could touch and the kids got a big kick out of it."
Lite Bot- (From Hour of Code)- Sorry this exhibit expired was from Dec 8-11
My boys loved this, and the good news is you can go online to check out this fun early computer programming activity. Â It was nice to have the LSC employees to help out, but you can definitely let your kids explore at home!
Infinity Climber- We saw so many kids enjoying this, but our family has the whole "fear of heights" gene. Â Very fun for the adventurous kid!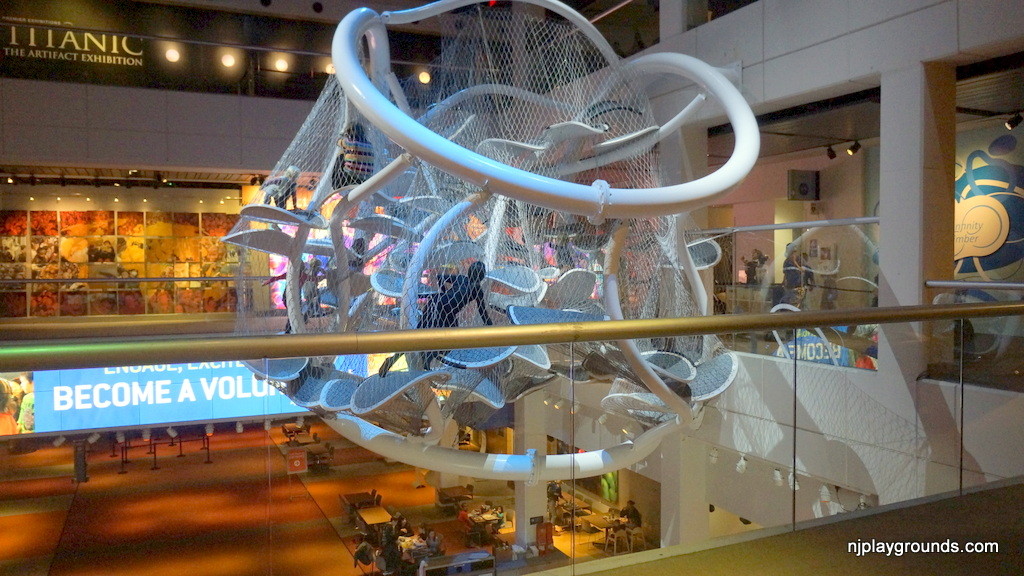 Robots 3D- The Imax movie, was alot of fun and terrific for our boys who really love robots.
Educational Fun-
Ok, so I'm a little biased, but we went through this great exhibit on different kinds of energy including oil/petroleum. I got my B.E. in Chem Eng, and admit my brain didn't retain much, so it was cool to see the videos that they paired with the exhibits. If you have kids interested on how energy works, it's a great exhibit.
Pre-School and Younger
The newest exhibit for the little ones, is "Dora & Diego Let's Explore".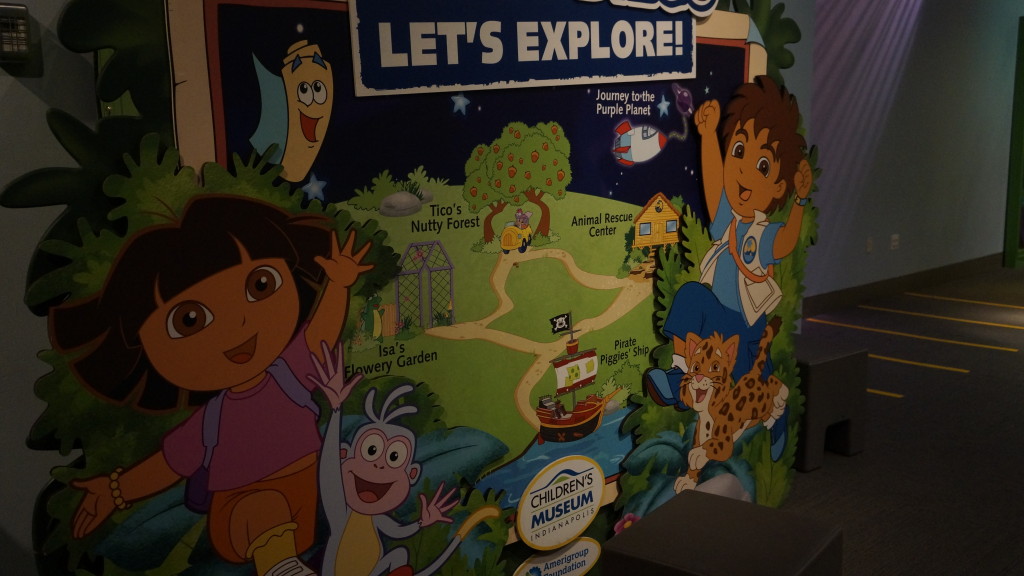 We also checked out some of the new animals!
You also have to check out the "Eat and Be Eaten" Exhibit for the ants, and tarantula if your kids are into insects/arthropods.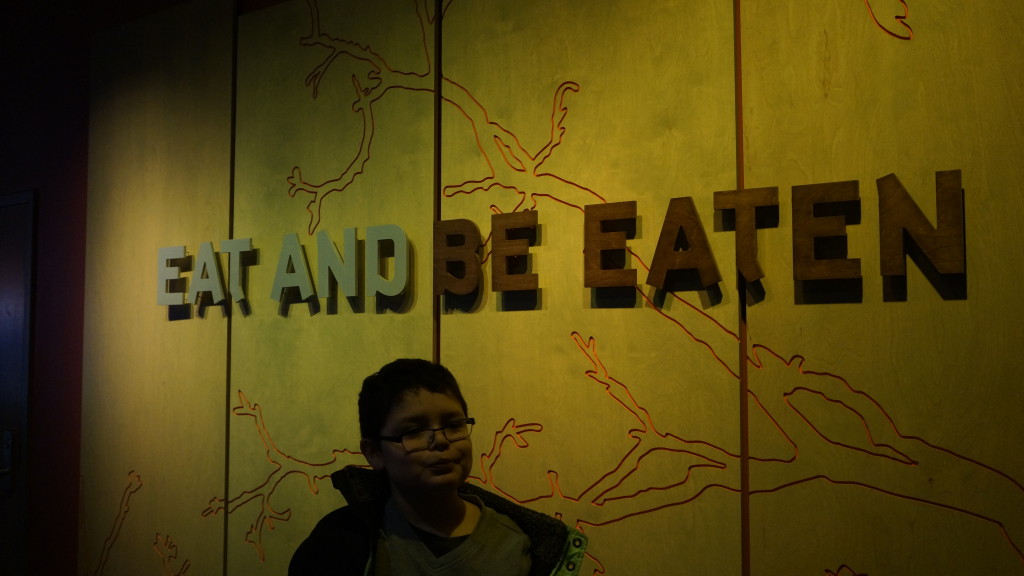 Other Exhibits
Infection Connection, Communication (interesting language karaoke display!) , and the Touch Tunnel, were great exhibits as well.
Beware of the huge sneezing nose, at infection connection, that surprises me every time!
The Touch Tunnel is always fun, if you haven't gone, the kids need to crawl in a tunnel with no light and parents can watch via their night vision camera display.
The most fun for us at Communication- if you have a little patience is participating in the language karaoke, Spanish version. Â They have you say words in Spanish and insert you in a telenovela (audio of you only) but there is a visual element.
Stuff No longer There….
Just in case you wanted to know, the thinker linker toys and imagination playground (blue blocks) that allow your kids to make some cool creations was no longer there. Â My kids were pretty disappointed since this was their favorite thing to do, but there is so much to see, it was quickly forgotten and replaced with the new stuff!
Thanks LSC for letting us spend our Tuesday with you!
So there is so much more to see, and we know if you take a trip, your kids will gravitate towards the stuff that interests them. Our Hudson Home is really cool too, love the water tanks where you can check out underwater life, and if you want to check out our past post, when we went with the younguns, see this link.  Check out the official LSC.org website for what is new!