We love our water parks, and wanted to share a few of the ones we have highlighted over the years. Â Here is just a sampling.
– We went back in 2010 and had a wonderful time in Lancaster County PA.
I loved the facility inside too, in case of a rainy day, it has a nice small slide/sprinkler area.
Dutch Wonderland rules too, we love the rides and it was perfect for our kids ages. They have one thrill ride so if you want to do something for the older kids, Hershey park has bigger thrill rides and is about 45 minutes away! Check out our Dutch Wonderland and Doubletree Resorts review here.
– This 65 year old family destination is no frills, low key and expansive. They have a lot to offer for toddlers to the big kids. We had a great time and just covered this last week. You need to be a strong swimmer though for the "non-blue" slides, since it requires you to bring your tube back to shore and some of the slides empty to about 9ft. deep. No life vests allowed, so you have to be a strong swimmer for those slides!!!
For novice swimmers they have the blue slides, that my daughter enjoyed alot. The lake was perfect for the kids to hang out, and the shady picnic tables made the warm weather bearable. Check out the "Geronimo" Water Sledding and our whole review here!
Snorkeling, Scuba or Trampoline on the Water aka Wipeout obstacle course Trip- Dutch Springs in Bethlehem PA
Have you seen a wibit course?
Well we didn't until we went to Dutch Springs in Bethlehem PA. It was a great day trip, and for our kids they really enjoyed the obstacle course, but boy was it challenging getting on those floating obstacles.
We have a great video in our review so you can get the experience of this 50ft. quarry. I'd love to try out the snorkeling next time, for a change of pace. Scuba divers you can explore a sunken airplane, trolley car and bus! Check out our full review here!

Located in East Brunswick it's a great short distance getaway for those of us in Northern NJ that don't want to go too far. So the prices creep up every year for us non-residents, as a result it does keep it not too crowded. The best way I found to describe this place is like taking the low key bits of the wading water aspects of a Sesame Place and creating a cozier environment with a cool water slide for the bigger kids. The zero entry pool is the best in the toddler area, where you can lounge on your chair right in the water.
You can order pizza to be delivered or bring your cooler of foods and feast in their picnic area. Â The lazy river is perfect for my middle child who enjoys pushing me around. Â Check out our last review on it here.
And finally….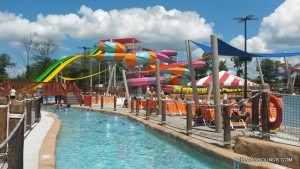 We've had parties here, and yes it can be CHAOTIC. But the kids always have fun, and there is so much to do inside and outside. The splashplex has water slides and a lazy river, the seating is a little jam packed with the chairs very close together, and concession stand is outside. Plenty of lifeguards here as well to give you peace of mind. Here is our review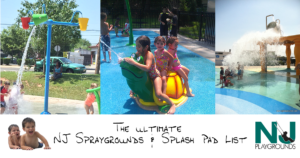 Looking for free stuff?
Here's a great list of Spraygrounds and Slash Pads in NJ!