Editor's Note: We are proud to include our youngest writer, Harrison Turner, who has a passion for animals. Check out his bio below. Thanks for this outstanding review, we have a few more zoos to visit this Fall thanks to you!
Zoos are among the most popular attractions in the country. We would like to share (in our opinion) the five best zoos in the Northeast Region
For people living in Northern New Jersey, the Turtle Back Zoo is a landmark attraction. With its family-friendly atmosphere, rustic woodland location, and diverse animal collection, it's very easy to see why it was chosen to be on this list. Popular animals include wolves, penguins, red pandas, sea lions, and most recently: giraffes.
It also features great educational programs and a newly-opened café.
This zoo is best for: A fun, educational experience for the whole family
America's smallest state is home to a terrific zoo that is by no means tiny. Nearly twice the size of the above mentioned zoo, this zoo features many exhibit zones. Africa has elephants, zebras, and wild dogs. Marco Polo (the Asia exhibit) features snow leopards, red pandas, and moon bears. The Roger Williams Park Zoo certainly excels in exhibiting lesser-known animals, such as takins, aoudads, and pronghorns.
This zoo is best for: Continental Exhibit Regions
New Jersey has another entry on this list. At 85 acres, The Cape May Zoo is huge compared to the previous two zoos. They feature many animals, such as bison, monkeys, and many different varieties of birds. The zoo's star animals are the big cats, such as lions, cheetahs, and 'Rocky' the Siberian Tiger. The zoo also renovated their reptile house after a fire. To complete your trip, just outside of the zoo, there is a carousel, train, and even a playground!
This zoo is best for: Attractive Wooded Location & Admission prices Free!

Both America's oldest and longest-operating zoo, the Philly Zoo is nearly 150 years old. Despite this, the zoo has a mixture of old and new design, as their old buildings have renovated interiors. The zoo is only 42 acres, so the zoo keeps their animal population down to avoid overcrowding. The zoo gave the animals even more room by inventing Zoo360.

Zoo360 is a series of above-ground mesh walkways that allow animals to wander outside of their exhibits (its okay; the animals are still contained by a mesh fencing.) So when you're observing animals at this zoo, look up, and you might find an animal observing the free-roaming humans. This zoo is famous for its endangered animals, such as orangutans, giant otters, Humboldt penguins, and Rodrigues fruit bats.
This zoo is best for: Animal Care / Quality of Life
Check out a friend's trip to the Philadelphia Zoo back in 2009
On par with the San Diego Zoo and Columbus Zoo, the Bronx Zoo is among the best in the entire nation, and maybe even the world! Its large interior area and animal population make it famous. It has world-class exhibits, such as Jungle World, Congo Gorilla Forest, Tiger Mountain, Madagascar, and our personal favorite: Baboon Reserve. This recreation of the Ethiopian Highlands is a magnificent home for America's only display of Gelada Baboons. The zoo also is very large, at 265 acres. It is actually the second largest zoo in America, bested only by the over-700-acre North Carolina Zoo. Most impressively, the zoo has put great pride into making the exhibits feel like the real habitats. Star inhabitants of this zoo are gorillas, lemurs, tigers, rhinos, and bison (which the zoo helped save from extinction.)
This zoo is best for: Viewing the Most Species of Animals

——————————————————————————————————————————-
If you would like to learn more, then check out these helpful websites
Association of Zoos and Aquariums Website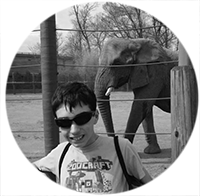 Author's Bio
Harrison Turner has loved animals all of his life. He has visited many zoos up and down the east coast. He loves to visit the Turtle Back Zoo, which is not far from home. He longs to one day study the strange behavior of zoo animals.