In late January, we asked our close to 4000 Facebook fans to tell us their favorite places to visit and things to do during Presidents Day Weekend and we got an overwhelming response full of local hot spots, fun and inexpensive indoor ideas and fabulous places not too far away. Below is a wrap up of all the great suggestions plus some ideas of our own. See what's hot when the weather's not!
Indoor Playgrounds
As the owners and publishers of www.njplaygrounds.com, we're a little partial to this category!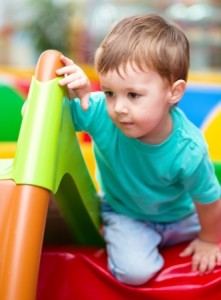 Just visit our site and you can find dozens of the ones we've visited and reviewed. Check out the quick links to the right of our home page, or visit our Indoor Places to Play post and view them by map.
Topping the list we got from our fans were Giggles PlayStation in Rockaway, The Funplex in East Hanover (featuring MagicQuest too!) Kidnetic in Montville, Funtime Junction in Fairfield and iPlay America in Freehold.
Nature Centers
Several people wrote about going to some of the great nature centers in NJ – the Great Swamp in Morris/Somerset Counties  was mentioned as was Trailside Nature & Science Center in Mountainside
We also learned about the World of Wings in Teaneck, an indoor Butterfly Museum which looks amazing! We haven't been yet, but plan to check it out for sure! So stay tuned for a write-up and probably lots and lots of pictures too.
Tenafly Nature Center was named specifically for its Presidents Day camp or K and pre-K.
The Lakota Wolf Preserve which we've heard a lot about, but haven't visited yet either is supposedly a great place to visit in the cooler weather as the  the wolves will be more active and attractive than in hot summer months.
Last month, we visited the Raptor Trust which boasts an impressive collection of some of the most amazing birds found in Northern NJ today. If you time it right, you can be there at feeding time!
Aquariums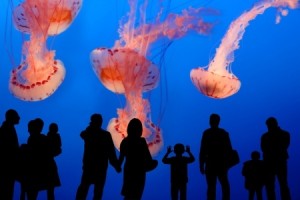 Sounds like lots of families like to sneak out in February to visit the aquariums and remind themselves that a time will come when the weather IS warmer and you can swim with the fish and sink your toes in the sand.
The aquariums mentioned most were Adventure Aquarium the, Jenkinsons Aquarium (some even mentioned that if it's not brutally cold they enjoy a Winter walk on the boardwalk and beach too!) and the Maritime Aquarium at Norwalk Connecticut which may be closer to you than you think!
You can totally make a day of it in "SoNo" South Norwalk, CT  too.  It's home to a fabulously interactive place we visited a couple years ago called The Stepping Stones Museum for Children and a main street chock full of  fun stores and trendy restaurants.
 Art
There is no shortage of places to get crafty in NJ! And they all have such cute names toos! Â Be Craftful, in Fanwood and Bee n Crafty in Bernardsville, The Messy Artist in East Hanover, Color Me Mine paint your own pottery in multiple locations, Glassworks in Morrristown, That Bead Place in Denville, NJ and so many more!
I think I sense another article brewing… family art in NJ!  Who wants to write it? Message us on Facebook page if you do!
Getaways
A few people mentioned they like to head to Camelback  or Mountain Creek for skiing, snowboarding or tubing. The Bushkill Inn was mentioned as was the Great Wolf Lodge, both  in the Poconos and some go as far as the Great Escape in Upstate New York. And many families are checking out the new Legoland Discovery Center in Westchester too! Another NY destination mentioned was the Mohonk Mountain House specifically for ice skating.
Philadelphia popped up as a favorite get-away for many. The Please Touch Museum featured prominently as did neighboring Crayola Experience (aka the Crayola Factory) and Philadelphia's All Bug Museum called the Insectarium. Creepy!
Museums
Speaking of museums, they absolutely topped our list of things to do for Presidents Day Weekend!
We already talked about the ones bordering us in CT and PA, we were also told that the Port Discovery Museum in Baltimore is awesome as is the Hall of Science in Queens, NY not to mention of course, all the amazing museums in Manhattan.  But what about staying in good ole NJ? 
The Liberty Science Center was most often mentioned, as was the Morris Museum which has an outrageous lego exhbit right now! The Garden State Discovery Museum was also recommended in  Cherry Hill.  And specifically for the younger crew, check out  the NJ Children's Museum in Paramus and Imagine That!!! in Florham Park.
Oh and just so you know, Philly does not have the monopoly on bug museums. There's one in Toms River called the Insectropolis – they call themselves the bugseum of NJ!
Th..th..th…that's all folks!
So, that's our summary.
We hope you found something fun to do for Presidents Day or some other weekend this Winter. We were excited to find some new places to explore!
Tell us what we missed in comments below and we'll add them to the list.