UPDATE- ***10/11/2014*** Kompan updated the playground!!! From Christian:"I just completed a modern upgrade for Kidstreet playground in Bridgewater, NJ. They wanted to revitalize an under-used area of the playground, help modernize the playground with challenging spinning and climbing activities. We installed a Kompan Spinner Bowl & a modern 2-5 yrs age group climbling/sliding play structure we custom-made for Kidstreet." By the way, my kids have loved those spinner bowls, since they were 2! 9yo still spins 🙂 Pictures below from Christian!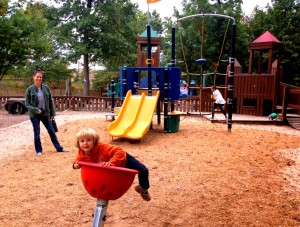 UPDATE- ***Kid Street is opened!! (April 30, 2013 message from Dept. of Recreation) We had a great time there recently, some new structures too, I will update the post soon*****
Kidstreet is located near the intersection of Commons Way and Hanlon Dr., Bridgewater, NJ. Best bet is to follow directions to the Municipal Bldg of Bridgewater (700 Garretson Road). There is a lot of construction going on as of 6/30/2009. You will see signs for Kid Street Parking and then a blue sign that says "Path to KidStreet". At first I thought they tore it down and then turned around to see it was nestled up the hill. What a great place!! Plenty of wooden structures, sandbox, swings, ziplines, and a big group swing. Picnic area is shown below.
What a great place to visit, I'll have to include it in our Biggest and Best
Rainy Day Plan
Take advantage of this groupon if the weather doesn't cooperate with your outdoor plans! Bridgewater Sports Arena is about 5 miles away!
Update: I've been to Kidstreet now several times and it is indeed one of our favorites to visit. Whether we are visiting a friend via Route 22, on the way to a festival or just looking for a place to run around, Kidstreet does not disappoint. Bring a picnic lunch and let the kids enjoy the zipline or the sandbox that has toys! It usually has alot of activity. But if you want another park nearby, Bridgewater has plenty, check out our other parks here