Where to go with young adults for Indoor fun in the Garden State
These days there are plenty of places to go to with your little ones, but when your teenager rather be on their phones and devices, it can be a tough sell to get them outside of their usual comfortable hangouts. When we asked our readers where their favorite indoor places were we were pleasantly surprised to see parents with older kids chime in with their top picks for indoor places to play in NJ with teens in mind.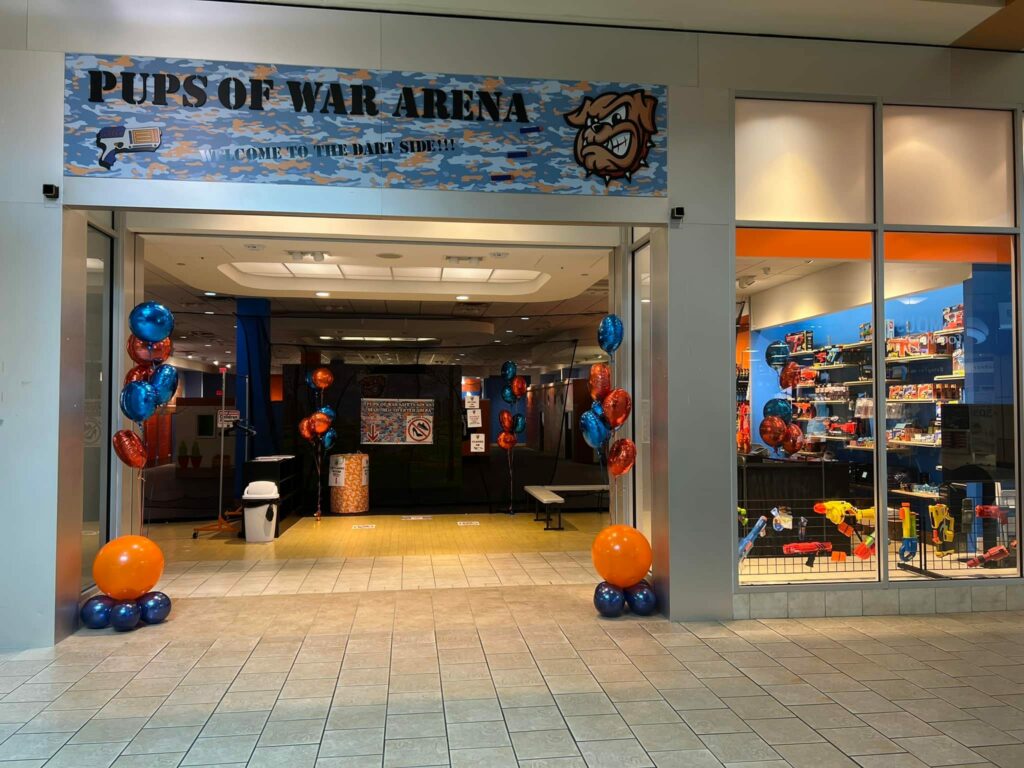 1) Pups of War, Freehold NJ (NEW) (other location is in East Brunswick)
If your kid loves Nerf Guns this place looks super fun for a birthday celebration or family reunion.
For the most current news with Freehold's soft opening and East Brunswick- check out their website here.
From NJ Monthly article: "While Pups of War is safe and fun for kids, not every Nerf blaster provided by the company is the same as the children's toys you may have grown up with. An armory offers a massive assortment of blasters, including ones with extended ammo clips, batteries, motors and rapid-fire capabilities.
Some armaments can shoot a stinging 150-180 feet per second, though those high-velocity weapons are reserved for adult nights, which feature a five-on-five tournament format where shooters aged 16 and up compete for a wrestling-style championship belt."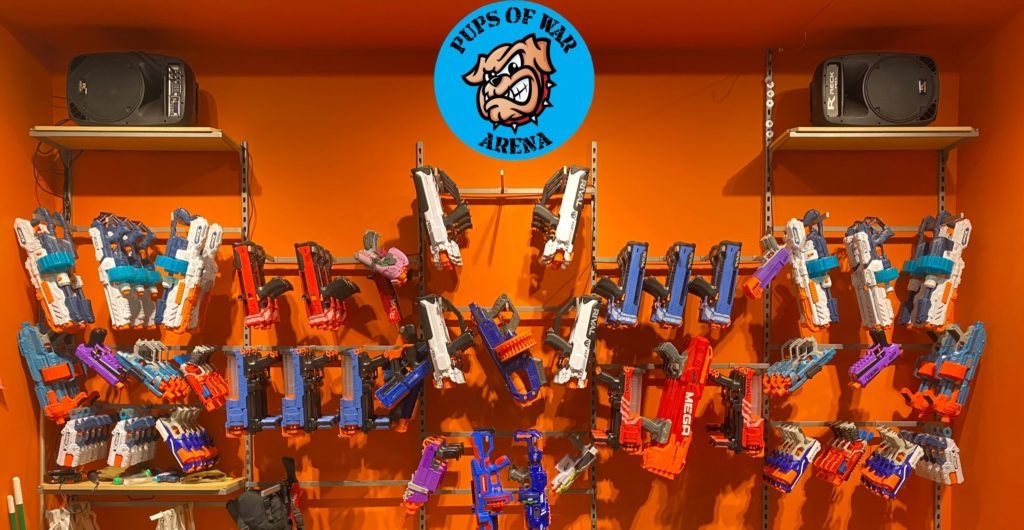 Pricing as of 8/18/2023 –
30 MINUTES WALK-IN $20/player – Arena Access – 30 Minutes of Battle Time
Level 1 Dart Blaster Included *Upgrade your blaster for only $5 per level per player Lv2 Rival Ball Blaster, or Lv3 Battery Powered Blaster **Pups of War safety socks required
60 MINUTES is $30/player-
check out their link for current and party pricing– Brunswick Square
(need to call 1-732-361-2295to reserve to know availability for party or walk-in)
check out their link for current and party pricing– Freehold Raceway Mall
Below is from their sister site in Hawaii- but if you have a good video of NJ happy to replace it, just contact us.
2) Supercharged, Edison NJ
They claim to be the WORLD'S LARGEST Indoor Karting Track, well definitely haven't seen anything to this extent in NJ! If you are into Axe Throwing, Arcade, Drop Tower, & Bumper Cars they have that too! This is a pretty expensive 7 minutes (the time it takes for one race) so you may want to make sure you make the most of it and get a 3 race bundle and go with a group of friends. Here is some key restrictions to take note before you commit to the go-karts:
BEFORE YOU RACE (GO KARTS):
All participants must have a signed waiver on file.
Drivers must be at least 4'10" tall (58" or 1.5m). (CHECK OUT BUMPER CAR REQUIREMENTS BELOW- the little ones can do this)
All races (heats) that include semi pro and pro skill racers will drive at the speed safe for that race regardless of skill level. Racers participating in pro speed must be at least 15 years of age and meet minimum height requirement.
Recommended weight limit: 300lbs
Secure all hair over shoulder length and any loose clothing.
Guest supplied helmets must be pre-approved.
Flat closed-toe and closed-heel shoes are required.
All participants are required to watch the Safety Briefing Video.

BUMPER CARS-
Drivers must be at least 5 years of age and at least 3'6" [42"] tall.
Drivers with a passenger must be at least 18 years of age. Passengers must be between the ages of 3-7 and at least 3' [36"] tall.
Recommended weight limit: 300lbs
All sales are final. Do not participate if you do not meet these requirements.
WALK-IN PRICING (as of 8/18/2023)
All prices are per individual. Bundles cannot be shared between multiple drivers.
1 Race
$29.00
$29.00/race
2 Race Bundle
$56.00
$28.00/race
3 Race Bundle
$81.00
$27.00/race
Check out all their stuff here in their website.
3) DreamWorks Water Park at American Dream, East Rutherford NJ
So we were told by many people that American Dream was their go-to. But a frequent complaint was the price and the crowds. I know that my kids love a good wave pool so we may have to put it on the bucket list.

Pricing as of 8/18/2023- All access pass: Non-Peak: Starting at $69.00 | Peak: Varies $89 to $99
Twilight ticket: Valid on select days for the last 2 hours of park operations and applies to all ticket types for $49-$59 (price varies by date).
Online purchase saves $10 per ticket.
For information on hours and season passes visit their website.
This is only one of the attractions at American Dream, there is the amusement park as well, stay tuned for more info in the near future.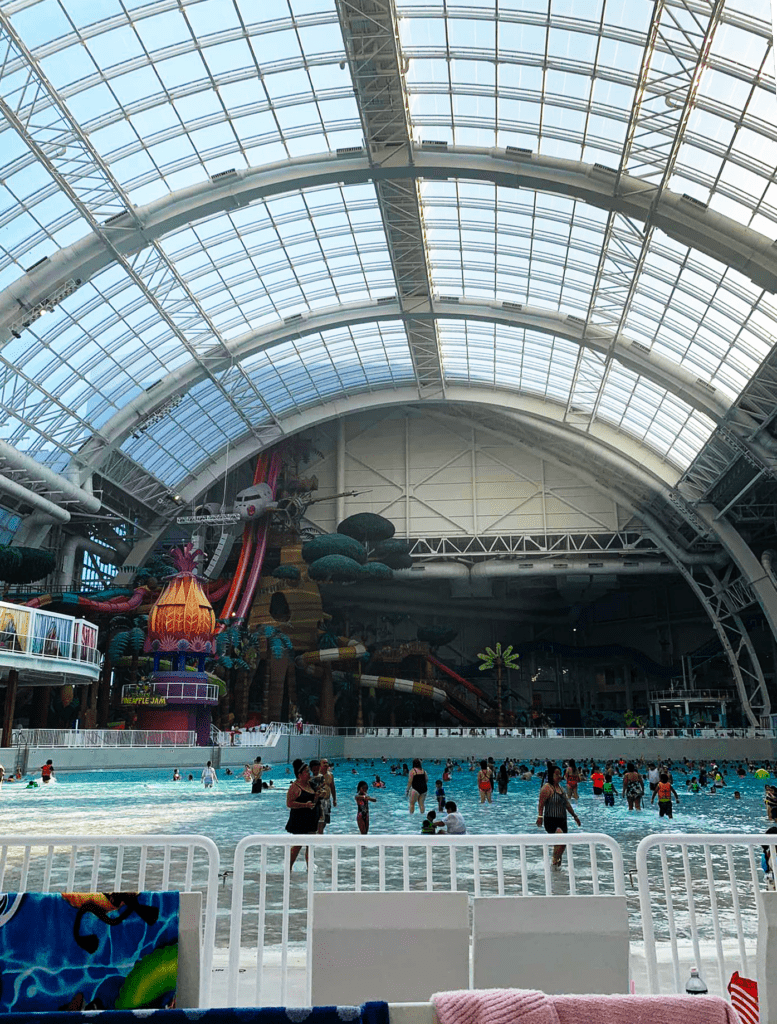 They claim to have the largest selection of water rides and biggest indoor wave pool worldwide and features record-breaking rides, luxury cabanas, and an 81°F tropical climate all year long.
4) Dave & Busters, Wayne NJ (also in Woodbridge, Gloucester too)
This is a great birthday destination as we did this back when my son turned 13 pre-Covid. Oh the memories when he got hair cuts. This is a fun night out as well.
And since both the Woodbridge and Wayne one are in malls, it does give you the option to wander around and get a bite to eat before heading in.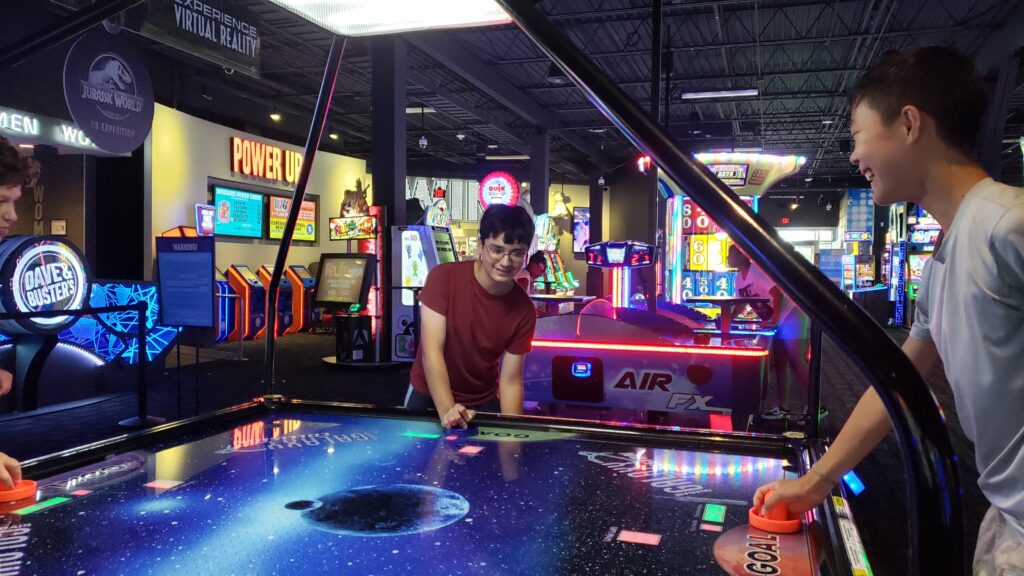 5) Urban Air Adventure Park
This was a crowd favorite, so many people recommended Urban Air, and there are several in NJ- 2 new ones are coming soon in Lawrence Township and Hazlet. Visit their website for hours and pricing (we did our best to include summaries below from their website, but subject to change, also doublecheck what the packages include)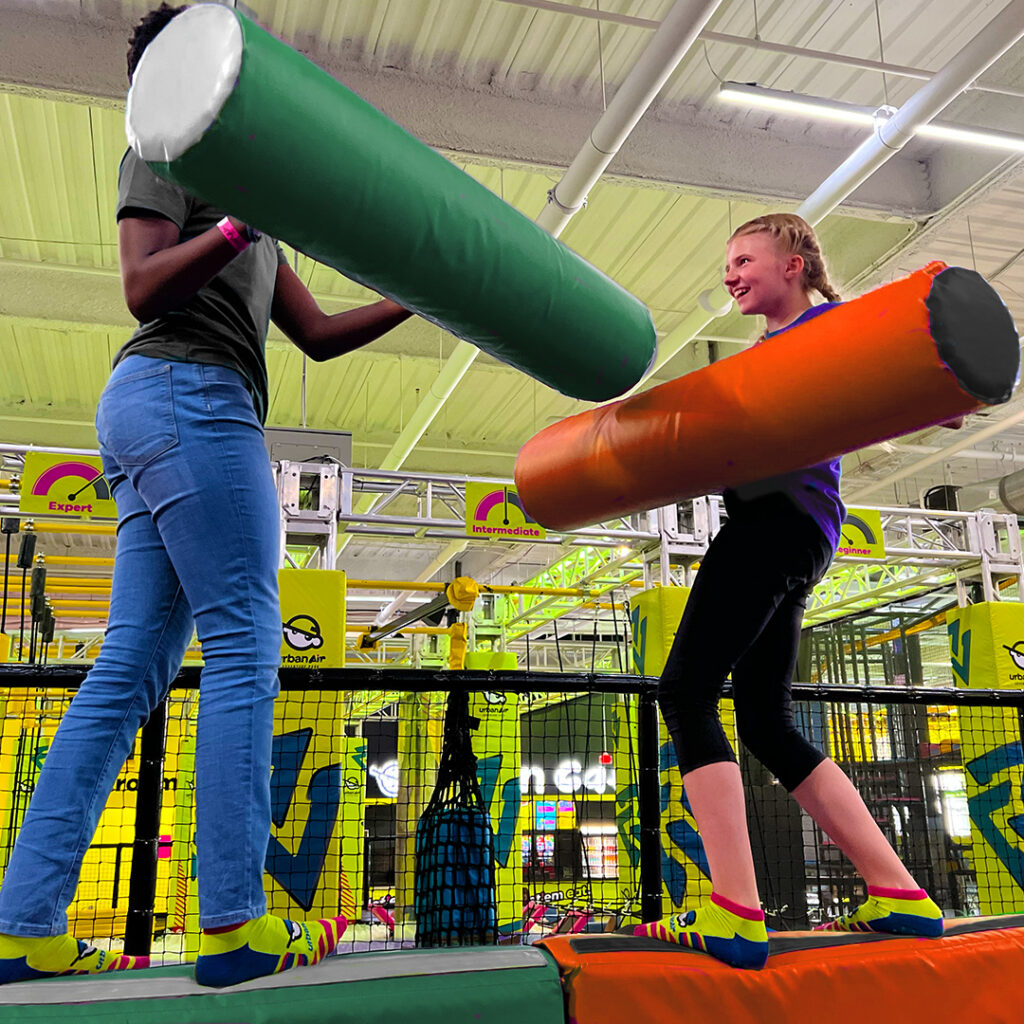 Pricing as of 8/19/23 (online) :
| Name of Location | Pricing- Basic | Pricing- Deluxe | Pricing- Ultimate | Pricing-Platinum | Status |
| --- | --- | --- | --- | --- | --- |
| Avenel | 22.99 | 27.99 | 32.99 | | OPEN |
| Hazlet | | | | | Coming Soon |
| Lawrence Township | | | | | Coming Soon |
| Milltown | 19.99 | 24.99 | 29.99 | | OPEN |
| Sicklerville | 20.99 | 25.99 | 33.99 | | OPEN |
| South Hackensack | 25.99 | 28.99 | 33.99 | | OPEN |
| Toms River | 20.99 | 25.99 | 30.99 | 36.49 | OPEN |
If you want to take a look at the snarkiest comments, just go to the Facebook page for Urban Air in Hazlet. I admit I do sympathize with the business owners that are trying to launch a new space but run into many hurdles and can't announce a date, so you end up saying "coming soon" and your audience is not satisfied with the vague answer of "as soon as we know we will announce it". Both Hazlet and Lawrence looks very promising- as it has so many new attractions that the others don't. So I totally understand families anxiously waiting for the soft opening too, among the newest attractions include MyFly, Wipeout a Cafe and trapeze. Check out below for each location's attractions:
We are looking forward to introduction of Wipeout that will be in both Hazlet and Lawrence Township locations when they open- this video of one of the Urban Airs in another state was hilarious. We did check and saw that Willow Grove PA does have one if you want to enjoy wipeout and are up for a road trip.
Bonus Places-
iPlay America is lots of fun too, with plenty of arcades and Top Golf now. Here is our review from 2013 ; for more recent info check out their website here-
Top Golf is another cool venue in Edison we went for an adult celebration, but can easily see it being a fun time with teens as well.
Sky Zone is great for trampoline fun, they are a franchise and have parks in Lakewood, Hamilton, Ocean Twp, Moorestown, South Plainfield, Springfield, Pine Brook, Mt. Olive, & Allendale. They said Rutherford and North Bergen are coming soon!
We personally love the FunPlex (with Splashplex) in East Hanover that has go-karts and arcades and fun attractions for the older kids. (my review in 2015 with my daughter about the splashplex is below, before the tiktok phase)
and another fan favorite is Rock n Air in East Brunswick. We would love to do a full review of this space, it's 70,000 sq ft!
not in NJ but close by
Full Auto Arena, Pearl River NJ– Airsoft facility that has a kids' night- (Minimum age requirement is 10 years of old. Ages 10-17 require parental consent. Sneak peek below.