Rock N Air  located at 581 Route 18 South
East Brunswick, NJ 08816
Website: https://www.rocknair.com/
Editor's Note: Guest post by NYC Mamí on the Move – Quad State Queen – If you are looking for current hottest spots in NY, NJ, PA and CT with exclusive discounts & giveaways we encourage you to follow her on her platforms here:
FB page
Instagram page
With our collaboration we hope to build a library of places to play with unique perspectives and showcase active parents who are passionate about sharing new finds, and she does an AMAZING job. Here's her review:
There is so much to do here and the food is great. There aren't too many places we can say that about
. We also saw features here that we have never seen anywhere else, not just one but four.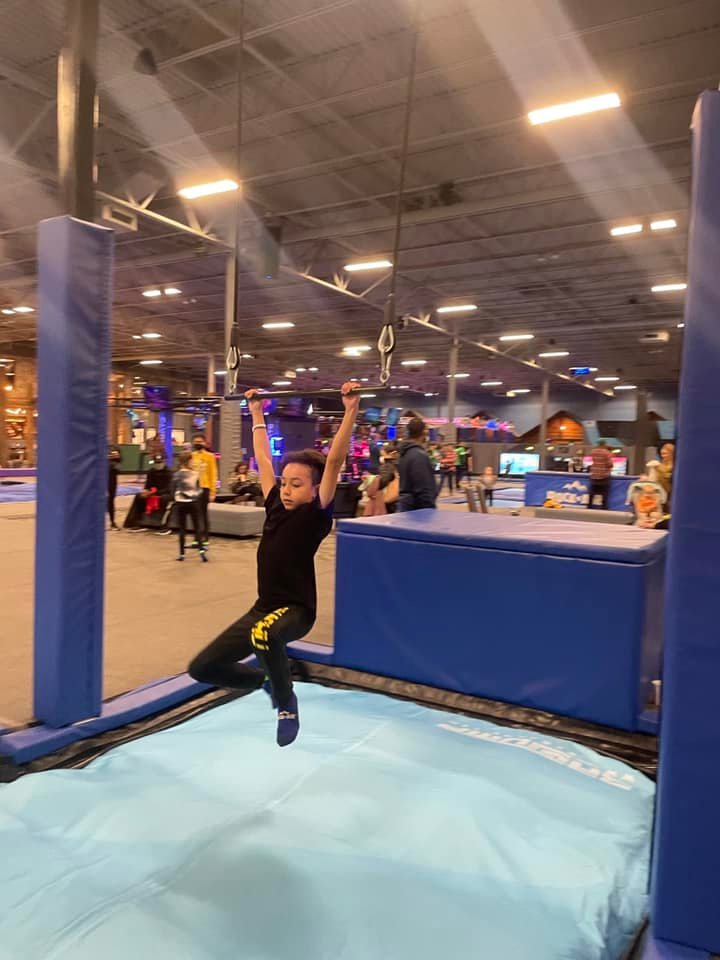 We'll break 'em down into sections: Jump, Climb, Adventure Zone, Stunt Zone, Immersive Play, Rock N Tots and Food
1. ValoJump – Be the hero of your own video game. ValoJump combines the fitness and exercise benefits of a trampoline with high-definition graphics allowing players to jump into the game—literally! There are 6 individual trampolines, so enough to go around.
2. So, we all know that some trampoline and adventure parks have an arcade, and to be honest, we don't love those places at all. Who wants to pay an admission fee, then another whatever on arcade games. They eat your money like there's no tmro. Not only that, but when the places have redemption tickets
…forget about it. My whole day is ruined smh
. What's great about Valo-Jump and the next few features about to be described care that you don't need to insert $20 every 5 minutes to play an arcade/video type of game. It's more like Wii. You get INTO the game and stay active and moving.
2. ValoClimb – This interactive gaming platform combines the workout of a rock gym with the fun of a video game. Play alone or challenge a friend in a multiplayer tournament. Valo Climb puts you right into the game.
3. SISYFOX – Sisyphus, but make it fun. Your mission: roll a boulder up a mountain as fast as you can. This game exercises your coordination and problem-solving skills while also challenging your body to a complete workout. Play alone or challenge a friend. There are four units in-house, ready to roll.
4. HOLOGATE VR – Hologate is a virtual reality system that delivers advanced graphic technology and complete sensory immersion for an ultimate gaming adventure! Get ready to battle zombies
, have a snowball fight
, or challenge your friends to an epic dance party
. Hologate has games the whole family can enjoy!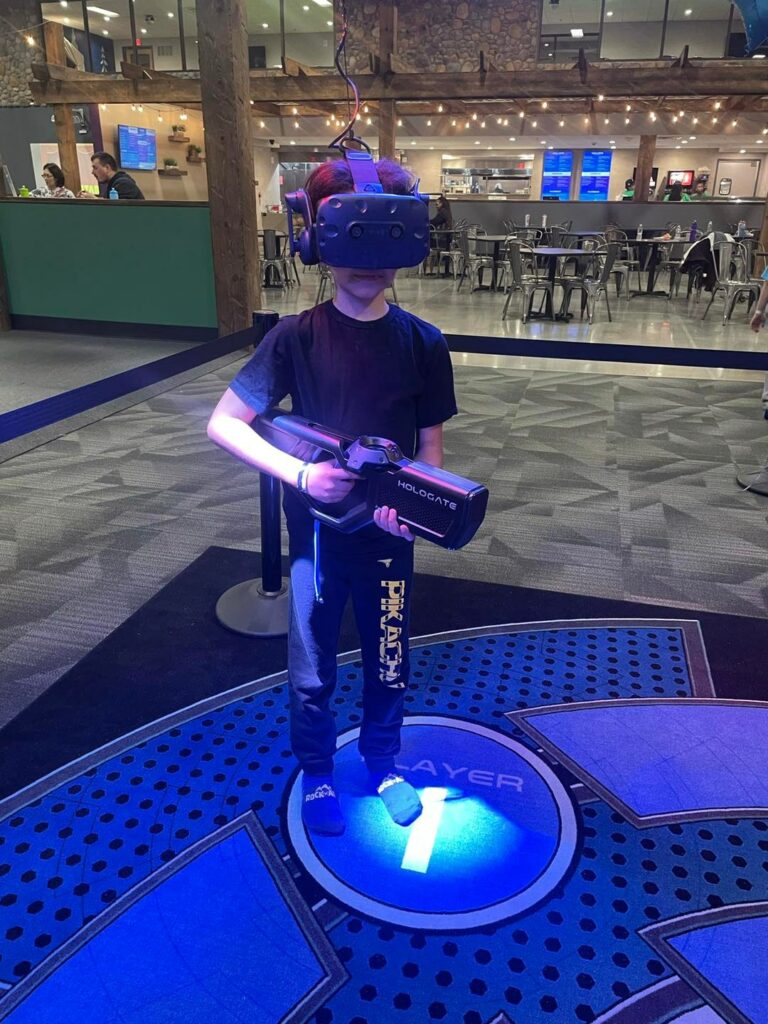 5. HOLOGATE BLITZ VR – Here comes the next big thing in out-of-home virtual reality: Hologate Blitz, a motion simulator platform designed for flying, racing
, and even underwater
VR experiences. Buckle up for a smooth ride into another dimension.
6. SPREE INTERACTIVE – Put on the headset and get into the game. This free-roam VR adventure magically transports you and your friends into fantasy worlds where you can play together. With games like Fire Fighter and Anteater, Spree is perfect for kids ages six and up.
7. HIDDEN HILLS LASER TAG – Their two-floor laser arena is built for more than just tag. Divide into two teams and play a round of Elimination, protect your base from your opponent in a game of Capture the Flag, or try a three-way game like Triangle. You could spend an entire day playing in Hidden Hills alone.
8. ROPES COURSE – For the thrill-seeker who loves to push their limits. Clip onto our safety line and navigate across 15 different obstacles. You can do it! I believe in you! Just don't look down…
9. ZIPLINE – Nothing gets your adrenaline pumping like our 200 ft zipline. Clip in and prepare to soar over the park!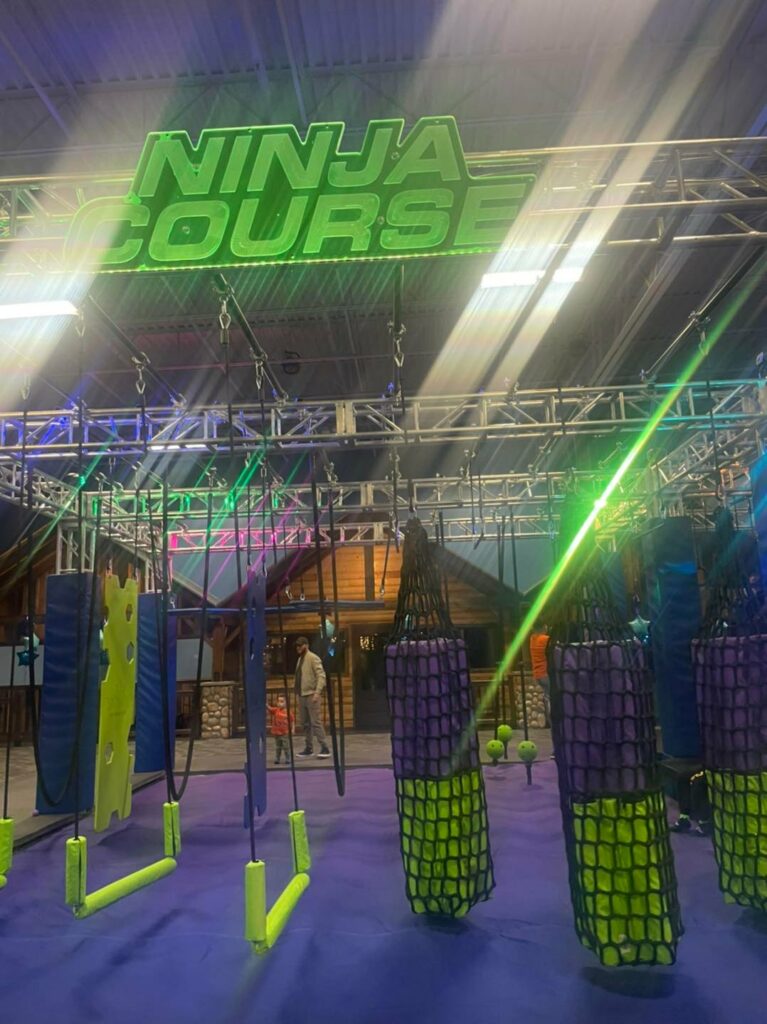 10. NINJA COURSE – You've seen it on TV. You've probably said to yourself, "I can do that." Well, here's your chance to prove it! With 3 lanes, 12 obstacles, and multiple levels of difficulty, our Ninja Course has a challenge for everyone.
11. CHAOS CANYON – Finally, a playground for the big kid in all of us. Chaos Canyon is a 3 level action arena featuring over 4,500 sq ft of play space, 3 slides, 12 interactive ball blasters, and obstacles galore.
12. CLIP N CLIMB – Want to climb but don't know where to start? This is where you learn the ropes. Their 20 ft Clip N Climb wall offers all the same exciting challenges as free climbing, except with the safety of a harness.
13. ASTROBALL – Sure, these 7 balls look colorful and fun, but mastering them is a tall order. Try to beat your best time, or race your friends to the top.
14. STAIRWAY TO HEAVEN – Balance is key here. Step from pillar to pillar and ascend to the top. Watch your step, and don't look down.
15. PAGS PEAK – Our challenging 26 ft tall cylinder wall gives you 360 degrees of harnessed climbing adventure. Legend has it that only legends make it to the top…
16. BOULDER WALL – When you're ready to unclip, the boulder wall is waiting. This is a fun challenge that requires nothing more than you and the wall. No experience, rope, or partner necessary!
17. WARPED WALL – It seems simple enough, but with its steep curve and short run-up ramp, the warped wall might be one of their most challenging adventures yet.
18. BATTLE BEAM – Bring out the American Gladiator in you (that's a reference that only your parents will understand…) Challenge your friends to battle! Use the padded jousting lances to knock your opponent down onto the airbag below—the last person standing wins. They designed the Battle Beam to keep you from getting physically hurt, but we can't protect you against the agony of defeat.
19. WIPEOUT – Get ready to jump, duck, and leap your way around Wipeout's padded arm as it sweeps our 360-degree trampoline ring. The last person standing wins, so remember: you don't have to outlast Wipeout, you just have to outlast your friends!
20. TRAPEZE – A challenge that dares you fall/flip/dive from our trapeze bar and free fall onto the safety airbag below. Just how daring are you, anyway?
21. FIDGET LADDER – The fidget ladder turns and twists as you climb to the summit. Fall safely onto an airbag, then get up and try again. Race against your friends. First challenger to the top wins!
22. STUNT AIRBAG – Feel what it's like to fly, then land safely in our airbag pit. Each second counts when you're free-falling, so we went the extra mile to recess our airbag into the floor, giving you extra airtime. Bounce in from one of our two adjacent trampolines, or drop in from our high jump–if you have the guts.
23. THE MAIN COURT – Reach new heights with our wall-to-wall trampoline court! Clocking in at 3,300 square feet, there's more than enough room for you and your friends to jump, flip, tumble, and safely defy gravity under the supervision of our Rock N Air staff.
24. EXTREME DODGEBALL – Their elevated version of the school yard classic. You already know the rules, so get your team together, catch some air, and try not to get hit! Extreme Dodgeball is a blast for all ages and groups, but we highly recommend playing against your coworkers. Tell them it's a team building exercise, then let loose.
25. DUNK THE ROCK – Now you can ball like the pro's (well, you can dunk like 'em, at least). We have three lanes for you and your friends to show off your wildest trick shots, play an aerial game of HORSE, or have your own slam dunk contest. After you play here, the court will never feel the same again.
26. With an indoor playground and ball fountain and
27. trampolines, your toddler can have all the same fun as the big kids.
28. Beam Interactive Floor,
30. Animated Sandbox, and a
31. Digital Ball Wall
Before you get started, grab a bite at Cliff Hangers Café
and end the day with a trip to Rockers Candy Store candy
.
Have a party
! Whether it be birthday
, bar-bat mitzvah, holiday
, graduation
or whatever, they have larger party rooms upstairs in The Peak or something more cozy downstairs in the cabins at camp
. The set up is so well thought out and creative with the woodsy feel. This is a true gem
not to be missed.
The Adventure Guides are there to help you, suit you up, direct you, boost your confidence, and guide you into the wilderness of Rock N Air.
Video From Rock N Air FB Page