From "The Playground Guide"- Bergen County Edition:
ADDRESS: approx 760 Saddle River Rd, Saddle Brook, NJ
DIRECTIONS: NJ-4 E to the Saddle River Rd exit. Bear right off the exit and stay straight onto Saddle River Rd. Park entrance will be about ½ mile on your left.
DESCRIPTION: Tremendous playground in the county park system in Saddle Brook. The play area sits along side a beautiful pond with a center water fountain. The equipment is bright purple and green and is in the middle of some large trees providing partial shade. The big kid structure has lots and lots of steps along with some really cool tunnels and bridges. There is climbing galore with monkey bars, rings, rock walls and poles.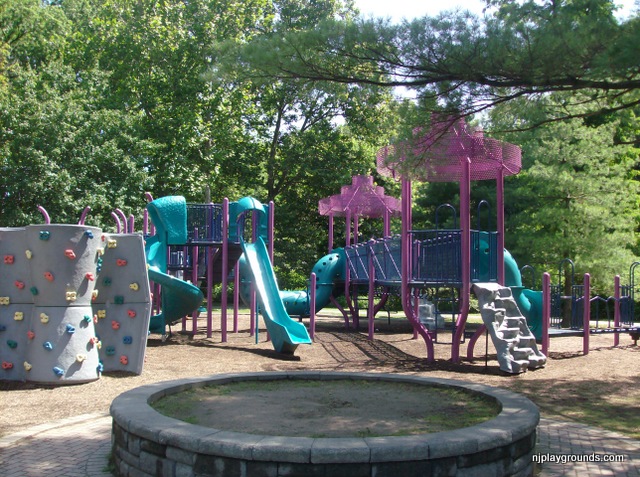 PARKING: Large paved lot close to the playground
PICNICKING: There are multiple picnic tables and a covered pavilion, tables, and barbeques all within sight of the playground
HANDICAP: There is one handicap swing
CLIMBING: Rings, monkey bars, rock walls, tunnels, wiggle poles, stepping bridges, circular poles, toddler section has mushrooms caps, log roll, corkscrew pole
PLAYTHINGS: Looking glass, animal bouncers
SPORTS: Fishing, bicycling, ice skating, baseball, basketball, tennis
SLIDES: One corkscrew, one triple, one chute, two toddler
SWINGS: Four full size, four toddler, one handicap
WALKING PATHS: Paved path that is park of the county bike and walking paths runs along side playground
WATER: Nice pond adjacent to playground
OTHER COOL STUFF: There is a small concession stand that is open during the summer. They have food and ice cream. There is also a building with restrooms open year round.
MAKE A DAY OF IT: Stop by Que Pasta on 326 Market St for a great Italian brunch, lunch or dinner.
Check out the rest of Saddle River County Park's playgrounds.