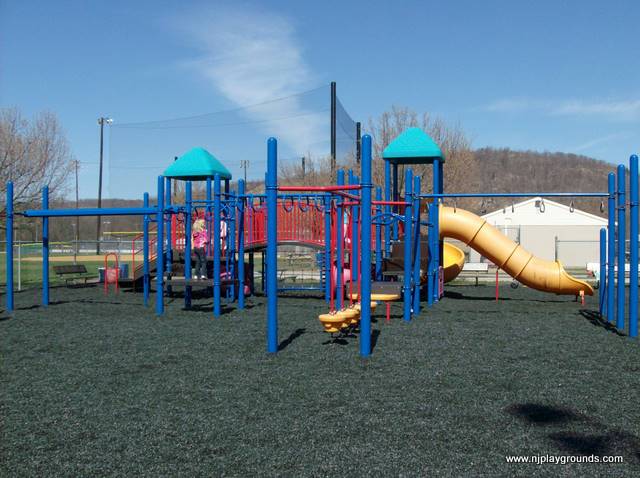 Danny D'Elia Recreation Center also know as Alexander Potash Recreation complex, is located on Lawlor Dr. in Oakland, NJ. It is a
beautifully maintained playground for ages 5-12. The equipment is new, the ground cover is rubber mulch and it is completely enclosed. The downfalls of this playground is that there is no shade and the rubber mulch can cause new white shoes to turn black. It is also a little difficult to walk on, comparable to walking on sand at the beach.
DIRECTIONS: Route 287 N, merge onto Route 208 N to exit 58 Route 202/Oakland. Make a left at the light and cross over railroad tracks. Proceed to the third traffic light and make a right onto Butternutt Ct. Butternutt Ct splits-bare to the right onto Lawlor Dr. The playground is on the left.
Parking lot is right in front of the play area
PICKNICKING: Park is in recreational complex area with picnic tables.
CLIMBING: Bars, rings, repellers, parallel bars, stairs, corkscrew poles, fireman poles, mushroom caps
SLIDES: One corkscrew, one tube, one chute
SWINGS: Four full size
MAKE A DAY OF IT: After lunch and a full day at the playground, head to Dairy Queen on Ramapo Valley Road for a soft serve ice cream or a blizzard. This is a walk up DQ only.