Essex Environmental Center is located on 621 Eagle Rock Avenue, Roseland, NJ.
From their website: " The Essex County Environmental Center is located in the western section of Essex County at West Essex Park. West Essex Park is 1,360 acres of wetlands preserve which remains almost entirely undeveloped. It stretches along six miles of the Passaic River, starting at Bloomfield Avenue in Fairfield, and ending just beyond South Orange Avenue in Livingston…
Mission Statement- The Essex County Environmental Center is dedicated to creating awareness, understanding, and appreciation of the environment and its relationship to Essex County residents. The Center is devoted to uniting its twenty-two municipalities through integrated educational programs including hands-on-activities."
Our Experience (Sheila):
This was a family mini-outing for us, all 3 kids had a great time (ages 2.5y, 5y, 6y). The boys (age 5&6) enjoyed navigating the map to find the wigwam and then making our way back to the center. Gina was there the Sunday we went, and she was very friendly and shared information on the cool stuff that happens.
There are many programs for young people, check out their website for various programs (2012 spring).
Indoors:
This is a perfect place to stop by to check out if you are in the area and check out the discovery room when the kids need some quiet activity but a change of scenery. There are some puzzles, lots of books and right outside of the center are some small trails, just ask the information desk for a trail map.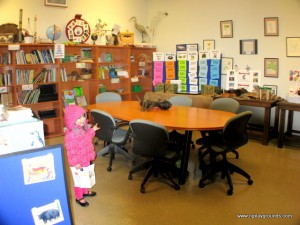 Outdoors:
As the weather warms up, these trails are short distances perfect for little ones. There are a few attractions on the way, the highlight being the "Lenape Learning Center" where there is a wigwam you can check out.
Check out the pictures below!