275 Route 22, Springfield NJ.
Howie Abraham, owner of Screamin Parties, was inspired by his special needs son to provide a great safe place for all children to play and have fun. His efforts have now resulted in 3 great indoor spots, including one in my neighborhood in Springfield, (Union County) NJ. Screamin Parties hosts birthday parties, and has a dynamic schedule on open gym times that you can find out about by subscribing to their email list. Just call 908-325-5420 to get onto the email list.
DEAL ALERT: Special Deal (affiliate link)!

For this special visit, I took along my 3 kids, 3y, 6y and 7y. They did not want to leave! There was alot to do and the 2-hour jump time is perfect for families to get their kids some exercise in a safe, and fun environment. For the first hour, you get to experience one side of the attractions (shark slide, ball shooters, wacky world obstacle course, soft-foam baseball setup) and then you can switch to the other side. Both sides have some benches that the adults can sit on.
Here is a rundown of the attractions we saw yesterday (9/18/2012):
Super Fun Slides
I think this is always a highlight for us, my kids absolutely love super fast slides in the park, and these are great fun. My three-year-old daughter loved it too, and was able to keep up with her brothers. I was just talking with Marisa from a pediatric rehab clinic and she emphasized how much climbing apparatuses at playgrounds are excellent to use for exercise and a great way to improve low-tone issues. So when you are out of ideas for a rainy day, check out these really cool indoor slides for exercise and fun!
Wacky Fun Obstacle Course
Lots of climbing and sliding here but not as tall as the super slides, which is perfect for littler ones who don't want to make the big climb. The boys really enjoyed this one and I even got to climb around in it.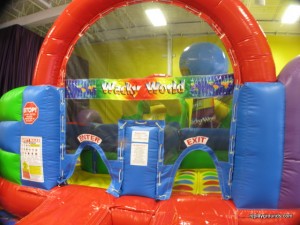 Interactive Floor Fun
We've seen this at the mall and at a couple science museum and it definitely fits the movement theme of this place. From the big piano keys that you step on to a fun video-type game of shocking the ghoulish creatures by stepping on them, my daughter loved running around this plush white carpet area creating all sorts of sounds and lights. Perfect for the littler ones who may not want to venture in the big slides.
Other Cool Stuff
Check out the roller cars, and also the bounce house with the hoops inside for basketball. There is a cool air hockey table for four players that functions at a press of a button (no extra money required).
Our video and More Pictures
We had such a great time here, and look forward to returning, check out our pictures and video below for a quick look of the fun we had!