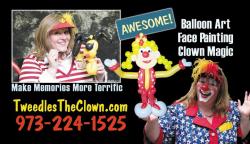 Northern NJ
(973)224-1525
info@tweedlestheclown.com
http://www.tweedlestheclown.com
Areas Served:Â Bergen County, Essex County, Hudson County, Hunterdon County, Middlesex County, Morris County, Passaic County, Somerset County, Sussex County, Union County, Warren County
Type of Business:Â Traveling Entertainer
Description:Â Let Tweedles meet and greet your guests spreading good cheer or perform clown magic! Start your party with fun and laughs. Tweedles also offers fabulous face painting and beautiful balloons that make the perfect take home treasure. Or you can order custom balloon arrangements to be delivered or arrange a balloon twisting class!
Themes:Â Almost every theme imaginable can be enhanced through clown magic, funny walk around entertainment, face painting and balloon creations. Superheroes, Disney, Garden, Animals, Circus (of course!) Pirates and much much more.
Age Appropriateness:Â Elementary, Pre-school, Teen (High School), Toddler, Tween
Gender:Â Both
Privacy:
What's Included: 
Contact Tweedles to talk about your party and how she can add to the festivity with entertainment, face painting or balloons.
Extras:
Capacity:
Food & Beverage Options:
Availability:Â Seasonal, Weekdays, Weekends
Pricing:
Each party is different and depending on your location, number of people expected and services desired, our pricing will be different too.