After hearing from friends about a sea of trampolines residing in Edison NJ, we couldn't resist a trip with the family this past rainy Sunday afternoon. Rebounderz located on 76 Carter Drive in Edison NJ is best described as an indoor trampoline arena open everyday but on weekends it is geared to ages 5 and up. See hours below and check their website for more details.
This is our unofficial review as we were not successful in getting in touch with the owners. So if you are out there, Kenny Y, please let us know so we can correct or add any information, cause this place was too fun to keep to ourselves.
Hours and Rates
M/Tu/Wed 4-9pm
Th 4-11pm
Fri 3-11pm
Saturday 10am-10pm
Sunday 10am-8pm
Rates: $17/hr (more details in their website)
Also they have daily dealz for low as $10/hr here.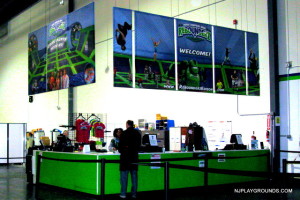 Wait times:
Don't do what we do and just show up on a rainy Sunday, if you can, purchase your tickets online in advance or else you may end up in a 2 hour wait when you get there like we did. Luckily there is stuff to do like the arcades/claw machine game where we now own a stuffed doughnut (evidenced by my "instagram shot" below)
Also there are benches and some comfy seating by the basketball area where we just chilled for a bit.
The Process:
You go in and you have to do a waiver for you and your children. This part of the process includes inputting your drivers license number, yes, you can't go without doing this part. Also if you are bringing your kid's friend(s), you must make sure they have a waiver that was filled and signed by their parent.
Once you get your ticket, and assigned time, you go to the "Instructional Video" to learn the rules
Then what I really liked was that they give you helmets and shoes to jump in.
Jump Time
So there are 3 areas your jumpers can visit (well at least on our particular day)
First, is the main arena where we spent the most time. They have two of these big arenas, and one was sectioned off for a birthday party on the day we visited. All 3 of my kids loved it. My 7yo really was into getting to bounce on the side wall. It was fun watching him get braver and braver until he had a little more confidence to bounce back and forth. However you have to take into account that with the rules there you are really jumping by yourself in the sectioned square, they don't allow you to have a buddy to hold hands with or really jump together.
I took a one-minute video with an overall view:
Next station is the Foam Pit, where you bounce off the trampoline into blocks of foam. This was a favorite for my daughter who is 5. Since it is a popular attraction there is a bit of a line as well.
Last is the Basketball Jump, which was pretty busy with adults and kids alike. It was fun watching the 30something dads show off their skills!Be aware the lines are pretty long on the weekend, so you prepare to wait a few minutes to get a turn on a busy day.
Fun times
So while it was a bit of a wait, we learned for next time to get our tickets early and have some patience during the jump stations. Would love to know when the not so busy times are! The staff was good about controlling the trampoline areas. They would limit each square per person, but if they were little kids they just helped them maintain a good distance apart. We were not able to see what dodgeball was like, but sounds like that was something for the older kids anyway. It would be interesting to check out the place when it's for the 5 and under crowd. The foam jump was a big attraction so you do have to wait on lines to go. But they let you go twice which at least give you a little more jump time per wait.
So that's it, it was lots of fun for my trio, despite the wait times for the basketball jump and foam pit. I look forward to checking it out with my daughter when the boys are in school and it's not as busy!
Make a Day of It: We combined it with some other fun shopping in Edison. Menlo Park Mall, home of one of the few Rainforest Cafes in NJ is less than 10 minutes away
Also we like Pizzeria Uno which isn't too far either!