Editor's Note: Oh hi! It's Sheila, hope you are doing well this winter. I know I know I've not updated the site in a while, I've started other projects, and my love of playgrounds and places to play had to take a back seat in priorities, but I'm happy to write this quick write up. We will be active again soon, promise! Just trying to refocus and reorganize our efforts and branch out a little to get some help with keeping the site current. Want to help? Write us and we will put you on our VIP list of people who want to contribute and send us some pictures and write ups of cool places they've visited.
Brrrrrrr…. It's winter, we're cold and although we have frequented the popular indoor places to play, sometimes we need a change of scenery so during winter break, we went to look for shelves and check out what was new at the IKEA in Elizabeth, NJ. We took the minivan and the kids and the camera. A fun time was had by all, well as much as you possibly can on a busy weekend!
Maze
Well it's not a corn maze and it's not outdoors, it's a maze of furniture with Scandinavian names, and the kids' section has some of those egg chairs that the kids can spin around.
You do get some exercise following those arrows.
Cafeteria
Best part of the IKEA here is the cafeteria that allows you a front view of the planes taking off from Newark Airport. Also they have a small section with a tv and a place for the kids to hang out for a bit before you go check out the MALM collection again. To be honest, I've found some great deals on craigslist for easy search words like "billy bookcase" and "malm dresser". Just a tip if you don't mind buying used. Oh there I go on a tangent again. Reasonable prices in the cafeteria and a few different deals go on during the week.
Bathroom
The lowest sink I've ever seen in my life. Seriously this is a luxury for your toddlers that you always have to somehow get them to wash hands without a step stool. Your back will thank you! But I didn't check out the men's room, this was a ladies' room spotting. I challenge you to find a sink that is any lower that's not at a daycare or nursery school.
Babysitting
Yes Ikea has free babysitting in their ballroom play area, but good luck on a weekend, it's pretty packed, but if you are lucky and get a spot, here's the scoop from their website:
"This supervised play area at the end of the Showroom (next to Children's IKEA) is for children between the heights of 37″-48″ who are potty-trained (no pull-ups). Kids can play in this safe, imaginative environment for up to an hour*! * There may be a 30 minute time limit during our busy times. "
Our kids enjoyed it here when they were little, except our middle who always preferred to be with us while we shopped.
So this is probably the most kid friendly furniture store we have visited, but if you have a friendlier one, let us know in the comments. Â Need more indoor fun? You can support our site by checking out our deals for indoor fun here! Have a great winter!
Oh and don't forget to enjoy our Starbucks/Dunkin Donuts Drive Thru Cheat Sheet!!! Perfect for these cold cold days!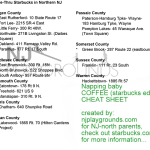 Sheila and Amy