The Presby Memorial Iris Gardens are located on 474 Upper Mountain Ave, Montclair, NJ 07043.
My good friend Charlene invited me to go, and it was a beautiful tranquil experience. Although it's not your playground destination, the flowers are beautiful, and downtown Montclair is walking distance away.
From Presby Iris Gardens website– "UPDATE 2016: May 6th – 8th 10am-3pm
Feed your iris passion! Buy Mom a potted iris of her choice.
Our popular iris plant sale returns with difficult to get historic and modern bearded iris. These iris are field-grown at the Presby Farm. A limited number of beardless iris are available. Presby garden staff are on hand to answer all your planting questions. Best selection is Mother's Day Weekend. The sale will continue each weekend during bloom season.
Our unique Bloom Room Gift Shop is open for the weekend. Come on in and get your pick of our exciting mix of reasonably priced home and garden accents.
Presby's plant sale directly supports iris garden operations."

Huge field is behind the gardens with picnic tables, so bring a lunch. There is a house there too that has a cute gift shops for "Irisy" keepsakes. Â The people at the entrance were friendly and had some great information to share.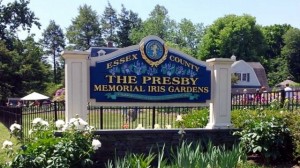 Definitely if you have the kids, one of our favorite playgrounds is Edgemont Memorial Park after you are done enjoying the blooms. Completely fenced in too!!
Last week for 2015 is here, had to share our quick video!

My friend Charlene took gorgeous photos with her camera, we will update soon!