Hey NJ Playground Fans and Readers! Â It's that time of year again with tons of fun family events for the 4th of July.
If you are looking for a park in NJ to check out the fireworks, here you go!  Please check back for updates, we keep adding as we get new feedback, so if we are missing yours comment below.  🙂
Did I miss one?  Comment below!!!
Thanks for the cool photo Anthony from Middletown!!!
North Jersey (Bergen/Hudson/Passaic):
Allendale- FOR RESIDENTS ONLY AND THEIR GUESTS!!! 7/4, Saturday. 7:30pm Band Concert By The Saddle River Valley Concert Band to perform at Crestwood Lake, (West Crescent and West Maple AVe.) followed by 9pm fireworks.  From the Holilday Observers website (http://holidayobservers.org/4th_of_July_Program.html): "Saturday, July 4 – Field Events at Recreation Park – 8:30 am; Friday, July 4 – Band Concert & Fireworks; at Crestwood Lake – 7:30 pm Rain Date – Sunday, July 5, 2014"
Bloomingdale at the Middle School (June 27th/Rain date 29th)Fri. June 27th-Fireworks at Walter T. Bergen 6pm- from their 2014 events brochure
Clifton- 7/4, from clifton nj rec site: "Saturday, July 4, 2015 - 12:00 noon – 6:00 p.m. (Picnic)  Dusk (Fireworks)
Enjoy the City of Clifton's fun filled picnic with family and friends at Main Memorial Park. Great food, crafts, health screenings, clowns, free activities and rides for the children. Family races and events will take place between 1:00 – 3:00 p.m.  The City of Clifton fireworks display will be held on Saturday, July 4th at the Clifton High School Stadium beginning at dusk. The Clifton Community Band will perform during the pre-firework concert. Tickets cost $3.00 per person and will be available at  the City Clerk's office. For more information, call the Mayor's Office at (973) 470-5757. "
East Rutherford (State Fair Meadowlands) July 3 and 4, for more info. check out their website here.
Englewood- 7/1, 7:30-11pm-Link to town website
Fair Lawn- 7/1, Tuesday- Memorial Park (Berdan Ave & First Street),
"Wednesday, July 1, 2014 (raindates – July 2 or July 6 if necessary)
Memorial park –
Berdan Avenue and 1st Street
Gate open at 7:30 p.m. visit here on the Fair Lawn website.
************************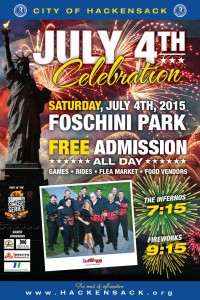 Hackensack- The July 4th event for the City of Hackensack is scheduled as follows from hackensack.org website:
"JULY 4TH FIREWORKS in Foschini Park
Saturday, July 4, 2015Â 
All-Day Flea Market from 9:00 – 5:00

International Food Vendors all day
Kiddie rides and games

Entertainment – beginning at 7:15 PM featuring "The Infernos" 
followed by a 
Spectacular Fireworks Display at approx. 9:15 PM.

Come out and enjoy a fun day in Foschini Park!!"
Hasbrouck Heights (via HH Police Dept. webpage, don't contact them for info. website has updates though..): The Hasbrouck Heights Annual Fireworks Display will be on Tuesday June 30, 2015 at approximately 6 pm at Gary Depken Field (Route 17 South/Franklin Ave).
Rain date for Fireworks will be on July 1, and 2, 2015.
Jersey City- 7/4, fireworks are back at Liberty State park!!! Here is the link about it!
Lyndhurst -Â Thursday July 2nd, from town website:Â Commissioner Tom DiMaggio, Director of the Department of Parks & Recreation, will be having the Township's fireworks on Thursday, July 2. Festivities start at 6:00 behind the Little League fields on Riverside Avenue with the fireworks starting at dusk.
Paramus (Sunday 7/5, Cliff Gennarelli Sports Complex Paramus Road & Plaza Way, Westfield Garden State Plaza – West Lot. Gates will open to the public at 6:30 pm; Rain Date: TBA. Link here.
Ramsey hosts fireworks on Friday, July 3 in Finch Park at dusk. Friday, July 3rd with a rain date of Sunday July 5th- U2 Nation Band at 6:30pm with the
Ramsey WindSymphony and Fireworks to follow
Ridgefield NJ- (Residents only) Nothing as of 6/18
Ridgfield Park, NJ- FIREWORKS CANCELLED- For more info on other activities check out: http://www.ridgefieldpark.org/fourthjuly.html

Ridgewood (Saturday July 4th at Veterans Field) -"Parade and Fireworks are scheduled for Saturday, July 4th, 2015 Alternate date is Sunday, July 5th …FIREWORKS are viewed from Veteran's Field, Ridgewood, New Jersey Entrance gates open at 6:00 PM and close at 9:00 PM While the Parade is free, Fireworks Tickets are required for entrance to Vet's Field. Donations for Fireworks Tickets is one of the Celebration's largest sources of income. Tickets are available for advance purchase at stores for $10. Tickets are on sale at the gates for $15 for adults and $10 for children ages 6-12. Buy your tickets in advance for big savings! Children 5 and under are admitted for free.
Tickets will be on sale at the following vendors in this link for $10 each. Children 5 and under are admitted free. Link to PURCHASE TICKETS and Support Ridgewood"
Saddle Brook hosts fireworks at Saddle River County Park along Saddle River Road beginning at 7:30 p.m. on Friday, July 3.
Tenafly from the town website: "The Borough's fantastic annual fireworks display will take place on Thursday, July 2, 2015 at approximately 9:00 p.m. behind the Tenafly High School.  There will be entertainment from 8 pm to 9 pm. The rain date for the fireworks is Monday, July 6th.
All residents are invited to attend the Town Wide Independence Day Celebration from 10 a.m. to 3 p.m. on Saturday, July 4th  at the Roosevelt Common. Join us for a day of amusements, games, food and fun.  The rain date for this celebration is Sunday, July 5th. "
Wayne (July 3rd at High School) From WaynePAL Website:
Day: Friday
Date: July 3, 2015
Time: Gates Open at 6:00pm
Location: Wayne Hills High School
(Rain Date: Monday, July 6, 2015)
Bounce Rides for the Kids!
Food by Johnny Zeppoli!
Including – Hot Dogs, Hamburgers, Cheeseburgers, Chicken Tenders, Sausage and Peppers Sandwiches, Cheesesteak Sandwiches, French Fries, Pretzels, Zeppoli, Lemonade, Soda, Water
North Jersey (Morris/Essex/Union/):
Chatham- via Chatham Borough website- 7/4 – (The Fourth of July Parade will happen rain or shine, but the rain date for the fireworks only will be July 5th, 2015 at the same time (9:30pm or dark).)
"This year's fireworks will take place at the Chatham Middle School Field on July 4th, 2015. The field is located at 480 Main Street in Chatham Borough and the fireworks will begin around 9:30pm or dark. However, the gates will open at 7:00pm and the public is invited to enjoy some musical entertainment prior to the fireworks. South Jersey's premier vintage rock and soul band- The Bob Campanell Band- will be travelling straight from the south Jersey Shore to perform for the second Fourth of July in a row. After the performance, the 2015 fireworks will be set off by World Champion Santore Brothers of Garden State Fireworks of Millington, NJ. Chatham Borough Fire Marshal, Walter Nugent, reminds all spectators that "any types of fireworks or sparklers are illegal and strictly forbidden from the school grounds" and cautions the public that "violators will be ejected and subject to arrest." All information ALERTS pertaining to parade or fireworks will be sent out via ALERTCHATHAMBOROUGH. To sign up, visit www.chathamborough.org"
Dover- Dover, Hamilton Athletic Field, Route 46 ~ 973.366.2200 Gate opens 6pm fireworks at 9pm
Denville- from their website: (NOTHING POSTED for 2015 yet)
East Hanover (July 4th)Â 8:00PM DJ and Food Vendors. 9:15PM Fireworks begin
Florham Park (July 4th Emmett Field) Full Day Celebration, check out their full schedule link for more info! "Fireworks-8:15 PM – Fireworks Show, Starts with Entertainment provided by Lonnie Youngblood (refreshments available)
Hanover (7/2 at Whippany Park High School Field) "Patriotic Celebration of Fireworks that will be held on Wednesday, July 1 (rain date Thursday, July 2) at approximately 9:15 p.m. at the new venue of Veteran's Field on North Jefferson Road in Whippany. Town website has more information, here is pdf from their website click here
Lincoln Park- Fireworks at LP Community lake on July 3! Link here: http://www.lincolnpark.org/188/Recreation
Randolph has a three-day "Freedom Festival" starting July 2nd through the 4th. Featuring the best fireworks show in the county plus a parade, games, food, bands, rides, attractions, arts & crafts and much, much more! Activities all take place at the County College of Morris, located at Center Grove Road off Route 10 in Randolph. Fireworks are on July 3rd: "Friday, July 3 Parade Day Kicks off at 12 noon Starts at Dover Chester Rd. & Randolph Ave. (Mt. Fern Church) and ends at CCM (Center Grove entrance). The parade will include pipes and drums, floats, bands, antique cars and horses. Freedom Festival 2:00 p.m. to 11:00 p.m. Rides, arts & crafts, food, games, EaZy Bubble entertainment, local bands, WDHA and vendors. Fireworks Starts at 9:45 p.m. DJ 6:00 p.m. to 11:00 p.m. The best show in Morris County! $5 donation per car." Click here for more info.
Livingston (July 4th)-"Livingston will host its 79th annual 4th of July Celebration for 2015 at the Memorial Oval on South Livingston Avenue. The celebration will feature a fireworks show, a swim carnival, baseball, pony rides, live music, beer, mini golf, children's rides and food vendors. The fireworks show will take place around 9:15 p.m. The festivities will also include the 22nd annual July 4th Car Show, held from 9 a.m. to 3 p.m. at the Livingston High School parking lot. In case of inclement weather, daytime activities will be held in the High School Cafeteria, and afternoon/evening performances will be held as scheduled at the covered stage in the Oval. The rain date for the fireworks show is Sunday, July 5, at 9:15 p.m."- Summary by the Livingston Patch Here is the full programlink for the fireworks!!
Summit (July 4th at Memorial Field on Ashland ave.)
"4th of July Celebration Soldiers Memorial Field July 4, 2015 (Performance and Fireworks Rain Date – on the next clear night see cityofsummit.org)
9:45 AM Flag Raising Ceremony
10:00 AM Children's Decorated Bicycle Parade
10:45 AM Polka Dot in Concert
10:00 AM – 1:00 PM Rides and Amusements
11:30 AM – 1:00 PM The Kootz in Concert
12 NOON City Services Softball Game
6:00 PM Ashland Road Closes to Traffic
7:45 PM The Cameos in Concert
9:00 PM Retire the Colors
9:15 PM Grand Fireworks Display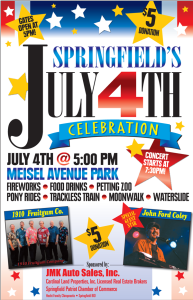 Springfield
(July 4th at Meisel Park)
 Come enjoy great music and spectacular fireworks on July 4th at Meisel Avenue Park, Springfield.
Gates open at 5:00 pm, concert at 7:30 pm and fireworks to follow, $5 donation; check out flyer on left.
For Maplewood (Memorial Park), South Orange, Millburn, West Orange and Montclair best link is Barista Kids Georgette always comes through, Â and we will post her link when it is ready!
Union NJ-
Festivities begins with
8th Annual Soapbox Derby
Stuyvesant Ave between  Mountainview Ave. & Tyler Ave.
Call the Recreation Department for more information (908) 686-4200
John Christian & Soiree Summer Concert & Fireworks
Bietuempfel Park Concert begins at 7:30pm
Fireworks at 9:00pm
North Jersey (Sussex/Warren):Â 
Blairstown- Great family event in the afternoon, check out their activities here also there will be fireworks at 9pm on the 4th at North Warren High School.
Lake Hopatcong- 7/3-Â The Lake Hopatcong Yacht Club will host their fireworks on Thursday, July 3rd. The rain date is scheduled for July 11.
Here is their link.
Sparta (Lake Mohawk)- 4th of July fireworks will be over Lake Mohawk this year. Lake Mohawk is a private club that after reading their newsletter, the Papoose, I would love to move there. Check out the details of the fireworks here!
Vernon- 7/4 Fireworks at Lounsberry Hollow Middle School on Sammis Road.Hosted by the Highland Lakes and Vernon Fire Departments Join our community for a phenomenal fireworks show! This year our annual event falls on July 4 and it is also our 20th anniversary! Fun for the whole family! There will be burgers, hot dogs, soda, candy, and more available! 50/50 Raffle and DJ entertainment. $15 donation per family of 4 Gates open at 530. When the sun goes down, the fireworks go up! see details via Vernon Twp FB Event Link Washington (7/4 fireworks at Warren Hills Middle School) -from "The event will feature the music of DJ Dave Rupell and will start at 6:00 p.m. The fireworks are slated to begin at dusk. The rain date is Sunday, July 5, 2015."Best of NJ link has the info
North/Central Jersey (Somerset/Middlesex):
Bridgewater (July 4th at North Branch Park) Check out their FB post below: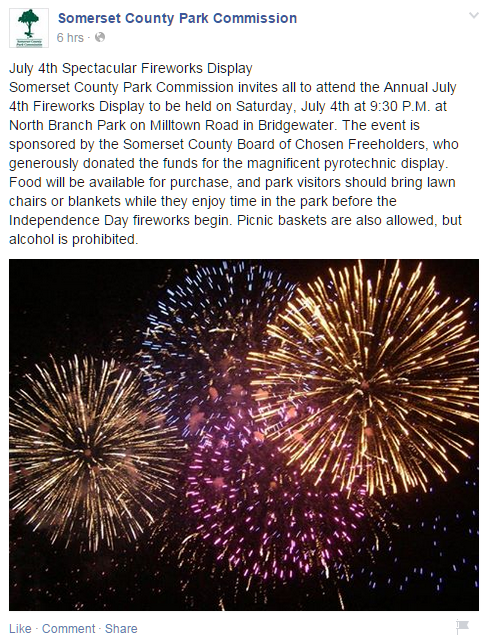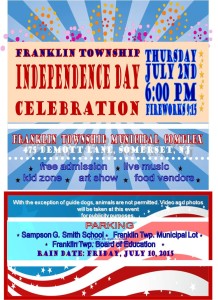 Franklin (July 2nd Fireworks) Municipal Complex, located at 475 DeMott Lane, on Thursday, July 2, 2015. Festivities will begin at 6 PM with music by New Jersey's hottest show act–The Once Again Band (OAB)—performing Motown hits. There will also be activities for the children and delicious food for sale, followed by a spectacular fireworks display at dusk.
Highland Park (Thursday July 2 in Donaldson Park- Rain Date- July 5) Festivities begin at 5PM, check out their flyer here!
Hillsborough NJ (6/27 Fireworks: Saturday, June 27, 2015
Auten Road Intermediate School
Food Tent opens at 5PM;
Inflatable amusements: 5:00pm – 8:00pm
DJ: 5:00pm – 9:00pm
Fireworks
Approx. 9:00pm
Shuttle Service
Shuttle bus service is available from the Middle School and the High School
beginning at 5:00pm
North Plainfield NJ -Â July 11: Concert & Fireworks/West End School Field (Festivities begin @ 7:00 p.m. with Fireworks to follow at dusk! Food, Beverages, and Glow Sticks will be available for purchase on the Field!)more info from this link
Check out more in Middlesex County here!
Central Jersey: (see Best of NJ for a complete guide of Central Jersey Fireworks, they did an awesome  job this year!)
Hunterdon County List- Including Califon's 2-day fireworks (7/1 and 7/3) during their Fireman's carnival that spans from 6/29 to 7/4, you should visit the Califon website to get $22 tickets before the price goes up to $30  and the Flemington-Raritan Parks and Recreation Committee will be sponsoring 2015 Fireworks on Friday, July 3rd. The fireworks will begin at 9 p.m. Rain Date- Sunday, July 5th.Click here for the details and times via Best of NJ! And for 2015, Fireworks are BACK for Lambertville/New Hope!!! check out their FB page on how the mission is going for bringing fireworks back for 4 nights, through fundraising!
************************LEFT OFF HERE
Mercer County List- Including East Windsor, Hamilton, Lawrence, Princeton, Trenton and West Windsor (Click here for the details and times via Best of NJ!
Highlight (from County of Mercer): "Freedom Festival will take place at the Mercer County Park Festival Grounds in West Windsor and it is one of the earliest "Fourth of July" celebrations in the area. The festivities will begin Friday, June 26, with Country Night, from 5 to 11 p.m., featuring Madeline Smith. Saturday, June 27, will be Top 40 Night, from 3 to 11 p.m., featuring Kristen & The Noise and Burnt, with fireworks following the concert at dusk. The Jersey Five, a Frankie Valli and the Four Seasons tribute band, and the New Jersey Capital Philharmonic Orchestra will close out the three-day celebration on Sunday, June 28, from noon to 10 p.m." For more info check out this Mercer County document.
Monmouth County List- Including Asbury Park, Atlantic Highlands, Bradley Beach, Freehold, Hazlet, Keansburg, Long Branch, Manasquan, Ocean Grove, Ocean Twp., Union Beach, Wall and West Long Branch! Click here for the dates, and times!
Check out Best of NJ's site for a complete listing of South Jersey Fireworks!
Highlights:
Atlantic City has their 4th of July fireworks 2015 at the beach and boardwalk on Fri, 7/3, then the Marina on 7/4. BOTH SHOWS AT 9:30 P.M.
"The first show will be on two ocean barges and viewable along the beach and Boardwalk on Friday, July 3 at 9:30 p.m. The second show will be in the Marina District on Saturday, July 4 at 9:30 p.m." For more information check out this link
Ocean City has their kite festival followed by fireworks, "FIREWORKS- A 9:30 p.m. musical fireworks display will be fired from a barge at sea off the Ocean City Music Pier (between Eighth and Ninth streets). The show will be visible from the downtown blocks of the beach and boardwalk. The popular band Tidal Wave will entertain in front of the Music Pier from 7:30 p.m. to approximately 8:45 p.m. The band will play again after the fireworks are over." Here is their link for more information!
Wildwood has 2 fireworks nights 7/3 and 7/4, check out more details and additional 4th of July events here!
Camden has confirmed they will be having their Camden Annual Freedom Festival (3-day celebration) with fireworks on July 4th.

Well, I hope this article was helpful, we have done it every year, and it's always fun to do, we love including the colorful flyers that towns have as well, so if you would like to add a flyer, we will include it in our photo gallery below, just comment and add the link.  if you didn't find what you were looking for, make sure you check out the complete guide to NJ fireworks from Best of NJ.  They did a super comprehensive job! Thanks for checking us out, and check out our park posts, when 4th of July craziness is over!!! 
-Sheila and Amy