I'm a big fan of comedy. Â Love it, and would be a comedy groupie if I didn't choose the whole parenthood life. Â (No regrets!) So I have seen many episodes of "Comedians in Cars Getting Coffee", one of my guilty pleasures, featuring comedians being interviewed by one of my faves, Jerry Seinfeld. Â Well I had to skip forward to the President Obama one, and it was a great episode. Â Then I had to pause.
There's a playground at the White House.
When did this happen?
It has been there for more than 6 years???
How did I miss this?
Well it was March 2009, right at the time my daughter was born, so I may have been distracted. Below is the screen cap and link to video of the news report from Today.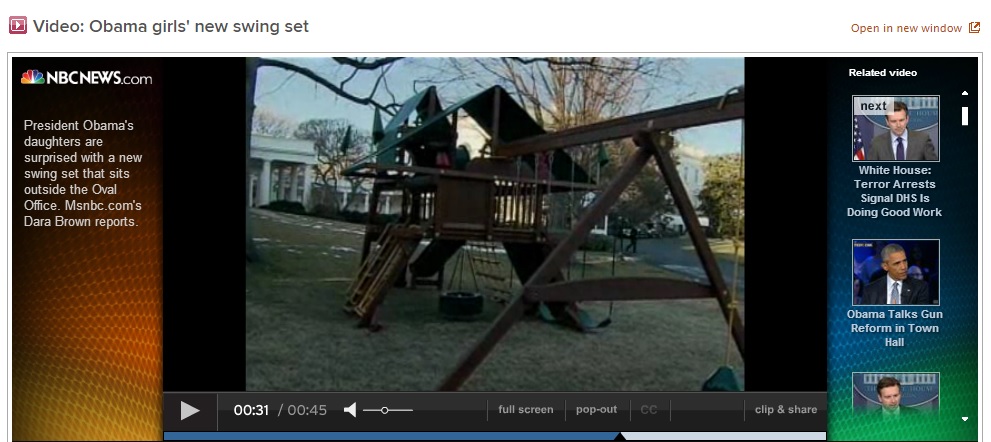 Anyway, I had to share this playground spotting with my audience, even though it's old news.
A few fun facts:
Malia and Sasha were 10 & 7 when they were surprised with this Rainbow Play Systems Structure (from South Dakota)
The 100 percent cedar and North American Redwood structure has four swings, including a tire swing, a slide, a fort, a climbing wall and climbing ropes.
Crumb Rubber Playground Surface was used beneath the structure.
If you want to see some great pictures of the playground being used, check out Kaboom's listing here!
If you want to check out Comedians in Cars getting Coffee, I highly recommend it! Â Great fun, here's the link!
Do you have an awesome playground in your backyard?  Or do you prefer to explore playgrounds in your area? Share with us in the comments below!
Also don't forget to check out our indoor play deals page! We have some great deals for places to play in NJ.
| | |
| --- | --- |
| IPlay America in Freehold | Kidz Village- Kenilworth/Woodbridge |
| $40 For 2 iPA Cards (Reg. $80) | $27.50 For 5 All-Day Play Passes (Reg. $54.95) |
| | |