Brookdale Park is located on Watchung Avenue and Circuit Drive, Bloomfield, NJ.  What a great renovation! This was a very nice playground and Brookdale Park itself is gorgeous.  Thanks to http://www.brookdaleparkconservancy.org/ for their efforts.  This park is popular and friendly with both playgrounds fenced.Restroom is a short walk away!Ground cover is the spongy rubbery kind. See our latest pics from our visit on 3/12/2016.
UPDATE: Pokemon Go Pokestops are here, well they are in all the parks, and we wanted to test the theory that if you are on a merry go round that counts for mileage in incubating eggs. Â Well it did work for getting a fraction of a kilometer, however the kids agree they would rather walk than spin a heavy merry go round so, it isn't the most effective way to incubate your eggs, pretty boring too. Â Here's a little montage of our pics. Â It's a great place to play and the misters were refreshing in the hot summer day, also the ice cream truck did show up on a Friday afternoon!
HUGE TIP from SEVAN one of our fellow members of the Yellow Team (Team Instinct)- Best place for Pokestops in the area is Clifton's Town Hall area, lots of stops in one central area, a MUST SEE! Thanks Sevan! Great guy!
At the center of the playground you can sit on edge of this area to view all parts of the playground.
Here are some more details from the Essex County Parks Website:
"Brookdale Park is located in the northernmost part of the eastern section of Essex County, bordered by Watchung Avenue, Grove Street, and Bellevue Avenue, and lies within the municipalities of Montclair and Bloomfield. It is the third largest park in the county system, containing 121.41 acres."
• 1½ mile fitness course.
• Synthetic ¼ mile running track and football field.
• Soccer & softball fields.
• Archery field.
• Bike races.
• Grandstand
• Fieldhouse.
• Interpretative Trail.
• Playground.
• 11 Tennis Courts.
• Formal rose garden with over 100 different species.
• Favorite park for summer concerts and Fourth of July celebrations.
Video

Hey Essex County parks, can we expect some water in the water fountains? Â Please let us know in the comments if the Water Fountains are LIVE yet!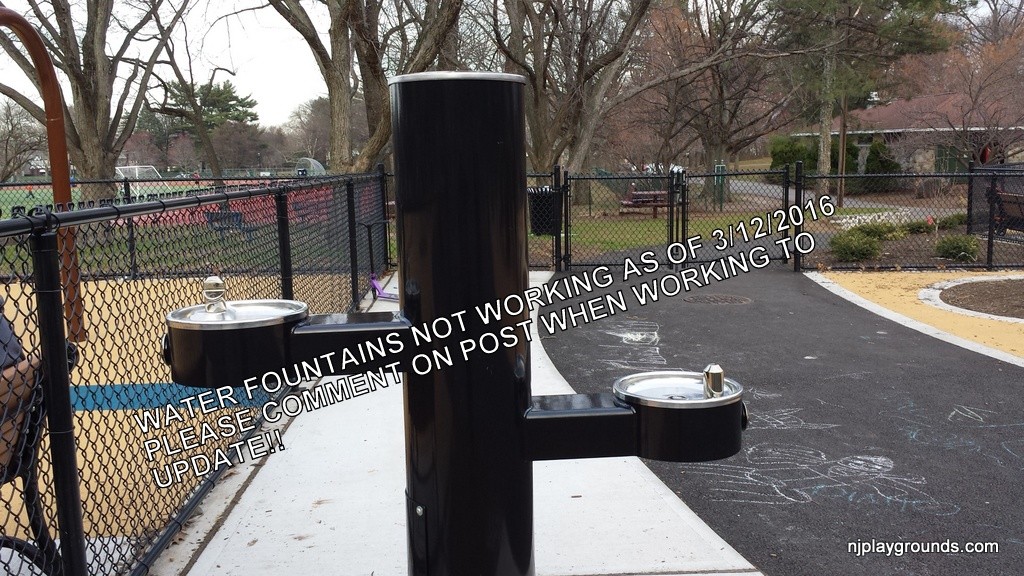 Make a Day of It: Check out the deal on the local ice rink below!