Attn Playground People! We need your recommendation on South Jersey Parks!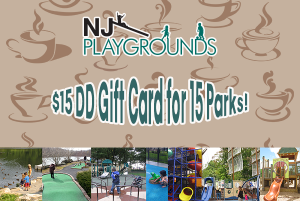 Hey South Jersey, we know we haven't populated many of your parks on our site, so here's a little incentive!
Where's your favorite playground in South Jersey?
We are giving away a $15 Dunkin Donut Gift card IF we get more than 15 favorite parks in South Jersey area including:
Atlantic County
Burlington County
Camden County
Cape May County
Cumberland County
Gloucester County
Mercer County
Ocean County
Salem County
All you have to do is subscribe to our email list by commenting below with the Name of the park (or suitable address/intersection) and town/city, (please be advised that there may be a delay with approval of comments, in our efforts to reduce spam we make sure to moderate carefully)
If we reach 15 unique South Jersey parks, one lucky winner will be selected by April 9th! Â We will email you for your address and then you get to enjoy some coffee!!
Not in South Jersey? Â That's OK! Comment on your favorite park anyway, we'd love to hear about it and our fans/readers would love your feedback!