Hey NJ Playground Fans and Readers! Â It's that time of year again with tons of fun family events for the 4th of July.
If you are looking for a park in NJ to check out the fireworks, here you go!  Please check back for updates, we keep adding as we get new feedback, so if we are missing yours comment below.  🙂
Did I miss one?  Comment below!!!
North Jersey Fireworks (Bergen/Hudson/Passaic):
Allendale- FOR RESIDENTS ONLY AND THEIR GUESTS!!! 7/4, Monday. 7:30pm Band Concert By The Saddle River Valley Concert Band to perform at Crestwood Lake, (West Crescent and West Maple Ave.) followed by 9pm fireworks.  From the Holilday Observers website (http://holidayobservers.org/4th_of_July_Program.html): "Monday, July 4 – Field Events at Recreation Park – 8:30 am; Monday, July 4 – Band Concert & Fireworks; at Crestwood Lake – 7:30 pm Rain Date – Saturday July 9, 2016"
Bloomingdale at the Middle School (June 24th/Fireworks at Walter T. Bergen 6pm).
Clifton- 7/4, from clifton nj rec site: "Sunday, July 3, 2016 - 12:00 noon – 6:00 p.m. (Picnic)  Dusk (Fireworks)
Enjoy the City of Clifton's fun filled picnic with family and friends at Main Memorial Park. Great food, crafts, health screenings, clowns, free activities and rides for the children. Family races and events will take place between 1:00 – 3:00 p.m.  The City of Clifton fireworks display will be held on Sunday July 3rd at the Clifton High School Stadium beginning at dusk. The Clifton Community Band will perform during the pre-firework concert. Tickets cost $3.00 per person and will be available at  the City Clerk's office. For more information, call the Mayor's Office at (973) 470-5757. " Rain Date- July 4th (Monday)
East Rutherford (State Fair Meadowlands) July 3 and 4, for more info. check out their website here.
Englewood- 6/29/2016- info below, link here
ENGLEWOOD'S INDEPENDENCE DAY FIREWORKS CELEBRATION
Wednesday, June 29, 2016 at 6:30pm
Dwight Morrow High School Front Lawn
Rain Date: Wednesday, July 6, 2016
LIVE MUSIC
FOOD VENDORS | INFORMATION TABLES | INFLATABLES
LIVE DJ from BIGBABYENT
BRING YOUR MAT FOR
6:30pm PILATES| 7:00pm YOGA
Classes sponsored by THE GYM of Englewood
This year's celebration's corporate sponsors: Englewood Hospital & Medical Center | ShopRite of Englewood | Englewood Cliffs Cadillac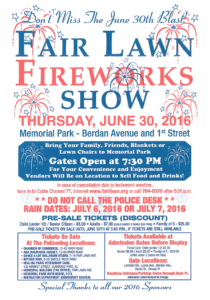 Fair Lawn- Thursday, June 30, 2016 (raindates if necessary July 6 or July 7) at Memorial Park, Berdan Avenue and 1st Street, commencing between 9:00 – 9:15 PM. The skies will be aglow with a multitude of colorful designs, and explosions will be heard to honor America's freedom. Bring your family, friends, blankets or lawn chair to Memorial Park. Early arrivals will be treated to music. For your convenience vendors will be on location to sell food and drink for your pleasure and enjoyment. Ticket information will be announced in the beginning of summer. visit here on the Fair Lawn website.
************************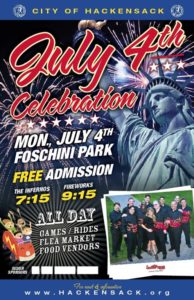 Hackensack- The July 4th event for the City of Hackensack is scheduled as follows from hackensack.org website:
"JULY 4TH FIREWORKS in Foschini Park
Monday, July 4, 2016Â 
All-Day Flea Market from 9:00 – 5:00

International Food Vendors all day
Kiddie rides and games

Entertainment – beginning at 7:15 PM followed by a 
Spectacular Fireworks Display at approx. 9:15 PM.

Come out and enjoy a fun day in Foschini Park!!"
Hasbrouck Heights (via HH Police Dept. webpage, don't contact them for info. website has updates though..): The Hasbrouck Heights Annual Fireworks Display will be on Tuesday June 28, 2016 at approximately 6 pm at Gary Depken Field (Route 17 South/Franklin Ave).
Jersey City- 7/4, fireworks are back at Liberty State park!!! Here is the link about it!
Lyndhurst – July 2nd, from town website: Commissioner Tom DiMaggio, Director of the Department of Parks & Recreation, will be having the Township's fireworks on July 2. Festivities start at 6:00 behind the Little League fields on 255 Riverside Avenue with the fireworks starting at dusk.
Paramus (Sunday 7/3, Cliff Gennarelli Sports Complex Paramus Road & Plaza Way, Westfield Garden State Plaza – West Lot. Gates will open to the public at 6:30 pm; Rain Date: TBA. Link here.
Ramsey hosts fireworks on Saturday, July 2 in Finch Park at dusk. Friday, July 3rd with a rain date of Sunday July 3rd Link here
6:30pm with the
Ramsey WindSymphony and Fireworks to follow
Ridgefield NJ- (Residents only) Friday, July 1st-
Music, Bounce Houses, Face Painting, etc. ,Starts at  6 pm
Rain Date: TBD
Ridgewood July 4th at Veterans Field) -"
Gates Open Monday July 4, 2016 at 6:00 pm – Veterans Field                                                                  (Rain Date- Tuesday, July 5, 2016)
Patrons and belongings will be subject to security checks by Police Department personnel when entering Veterans Field. No alcoholic beverages are allowed are on the field. Â There will be 2 lines at the gates, one for those with bags and one for those without bags. Expect delays. Â Gates will close at 9:00 PM.
Schedule:
Gates open – 6:00 PM
Entertainment-

Eugene Thomas & No Big Deal

Gates close – 9:00 PM
National Anthem by Sherma Andrews
Fireworks by Fireworks Extravaganza

Grand Finale: Sponsored by Dorehty Enterprises
Food and beverages are available for purchase on the field.
No dogs are permitted on the field per town ordinance.
No refunds or exchanges will be given.
For directions to the Evening Entertainment use your favorite map website and enter 131 N. Maple Avenue.
Fire protection for the fireworks display is by The Ridgewood Fire Department.
Security is by the Ridgewood Police Department.
Limited handicap parking is available for the Evening Entertainment and Fireworks in the northern Graydon Pool parking lot located on Northern Parkway."
Saddle Brook hosts fireworks at Saddle River County Park "Otto Pehle" Â Sunday, July 3. 9pm fireworks.
Tenafly from the town website: "The Borough's fantastic annual fireworks display will take place on Saturday, July 2, 2016 at approximately 9:00 p.m. behind the Tenafly High School.  There will be entertainment by the Victory Belles at 8:30pm. The rain date for the fireworks is Wednesday, July 6th.
All residents are invited to attend the Town Wide Independence Day Celebration from 10 a.m. to 3 p.m. on Saturday, July 2nd at the Roosevelt Common. Join us for a day of amusements, games, food and fun.  The rain date for this celebration is Sunday, July 3rd. "
Wayne (July 3rd at High School) From WaynePAL Website:
The 2016 Wayne PAL 4th of July Fireworks Extravaganza

Friday, July 1, 2016
Gates Open  at 6:00pm
Wayne Hills High School
272 Berdan Avenue
Wayne, NJ 07470
Bounce Rides for the Kids!
Food by Johnny Zeppoli!
Including – Hot Dogs, Hamburgers, Cheeseburgers, Chicken Tenders, Sausage and Peppers Sandwiches, Cheesesteak Sandwiches, French Fries, Pretzels, Zeppoli, Lemonade, Soda, Water
Music by School of Rock – Wayne! 
North Jersey (Morris/Essex/Union/):
Chatham- via Chatham Borough website- 7/4 –
"This year's fireworks will take place at the Chatham Middle School Field on July 4th, 2016. The
field is located at 480 Main Street in Chatham Borough and the fireworks will begin around
9:30pm or dark. However, the gates will open at 7:00pm and the public is invited to enjoy some
musical entertainment prior to the fireworks. South Jersey's premier vintage rock and soul
band- The Bob Campanell Band – will be travelling straight from the south Jersey Shore to
perform for the second Fourth of July in a row. After the performance, the 2016 fireworks will
be set off by World Champion Santore Brothers of Garden State Fireworks of Millington, NJ."
Dover- TOWN OF DOVER
Mayor James P. Dodd,
Board of Aldermen
and the Dover Recreation Commission
Present the
ANNUAL FIREWORKS
CELEBRATION & CONCERT
Sunday, July 3, 2016
(Rain Date – Friday, July 8, 2016)
Hamilton Field Complex
(Near East Dover Elementary/Dover Middle Schools-McFarlan & Perry Streets)
Gates Open at 6:00pm
Music Entertainment by: "TropyBand Orquesta" & "The Kootz Band"
NO ADVANCE TICKETS
TICKET AVAILABLE AT THE GATE
    $3.00 – Adults
    $2.00 – Students (Ages 6 – College)
    $1.00 – Senior 65+
Seating available on bleachers or track only.
No alcohol allowed on Board of Education property!
Denville- 7pm July 4th at Gardner Field, Denville NJ – Street Hassle to perform. 
East Hanover need to confirm..
Florham Park (July 4th Emmett Field) Full Day Celebration, check out their full schedule link for more info! "Fireworks-8:15 PM – Fireworks Show, Starts with Entertainment provided by Lonnie Youngblood (refreshments available)
Hanover (Wed, June 29, 2016 at Veteran's Field in Whippany) Town website has more information, link here
Lincoln Park- Fireworks at LP Community lake on July 1! Link here: http://www.lincolnpark.org/
Randolph has a three-day "Freedom Festival" starting June 30 through the 2nd. Featuring the best fireworks show in the county plus a parade, games, food trucks, live bands, rides, attractions, arts & crafts and much, much more! Activities all take place at the County College of Morris, located at Center Grove Road off Route 10 in Randolph. Sat- July 2- 2:00 p.m. to 11:00 p.m.
Rides, arts & crafts, food trucks, games, EaZy Bubble and Princess Magic entertainment, local bands and DJ.
Fireworks
Starts at 9:30 p.m.
DJ 8:00 p.m. to 11:00 p.m.
The best show in Morris County!
$5 donation per car. Click here for more info.
Livingston (July 4th)-"Livingston will host its 80th annual 4th of July Celebration for 2016 at the Memorial Oval on South Livingston Avenue.
All events will be held on or near the Memorial Oval on Robert Harp Drive in Livingston, NJ.

Family Fun beginning at 9 AM, Classic Car Show & Swim Carnival.

Returning for a third year, Dinosaur BBQ, more food and live music (The Nerds) See link. 
Summit (July 4th at Memorial Field on Ashland ave.)
"Summit's 69th Annual Fourth of July Celebration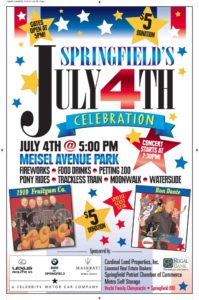 Springfield
(July 4th at Meisel Park)
 Come enjoy great music and spectacular fireworks on July 4th at Meisel Avenue Park, Springfield.
Gates open at 5:00 pm, concert at 7:30 pm and fireworks to follow, $5 donation; check out flyer on left.
For Maplewood (Memorial Park), check out their fb page here: Â https://www.facebook.com/MaplewoodNJ4th/
Millburn- 7/4- Millburn High School Field, with music provided by Summit Soundz,  starting at 7. The day's events will culminate with a fabulous fireworks display at dusk.
Tickets will be one price of $10 per person (child or adult) available day of the event.
A rain date is scheduled for Tuesday, July 5 (fireworks only)
West Orange-
The West Orange celebration will take place on Monday, July 4 at West Orange High School.
The event will begin at 6:30 p.m. and will include live music, a "fun meet" and fireworks.
A weather hotline is available at (973) 243-1115
Montclair, NJ – Montclair will host its 66th annual Independence Day celebration with performances and entertainment including fireworks and a parade on Monday, July 4.
According to a township news release, the parade begins at 11 a.m. along a 1.6-mile route traveling west on Bloomfield Avenue to Midland Avenue, continuing to Watchung Avenue, west to Valley Road and ending at Edgemont Park, where the township's annual Family Picnic will be held.
U.S. Secretary of the Department of Homeland Security Jeh Johnson will act as the parade's grand marshal for 2016.
FIREWORKS CELEBRATION
The Montclair July 4th Fireworks display will take place at Yogi Berra Stadium on Montclair State University campus. The stadium admission fee is $3 per person or $10 for a family (up to 6 people; $2 per person beyond 6), and will be free for kids ages 5 and under.
According to a township news release, gates open for the fireworks show at 6:30 p.m. Free parking will be available at the Carparc Diem deck, adjacent to Floyd Hall Arena and at the Red Hawk parking deck. Overflow vehicles will be directed to other parking areas. Concessions will be available, but no outside food, water or other drinks may be brought into the stadium.
In the event of rain, the parade will go on, but the picnic in Edgemont Park and fireworks at Yogi Berra Stadium will be canceled.
Union NJ- for all festivities click here
John Chrisitian & Soriee Concert at 7:30pm
Fireworks at 9:00pm
Biertuempfel Park
(Vauxhall Road & Winslow Ave)
North Jersey (Sussex/Warren):Â 
Blairstown- Great family event in the afternoon, check out their activities here also there will be fireworks at 9pm on the 4th at North Warren High School.
Lake Hopatcong- 7/1-Â The Lake Hopatcong Yacht Club will host their fireworks on July 1st. The rain date is scheduled for July 9th.
Here is their link.
Sparta (Lake Mohawk)- 4th of July fireworks – have no info right now
Vernon- Saturday 7/2 Fireworks at Lounsberry Hollow Middle School on Sammis Road.Hosted by the Highland Lakes and Vernon Fire Departments Join our community for a phenomenal fireworks show! Fun for the whole family. $15 donation per family of 4 Gates open at 530. When the sun goes down, the fireworks go up! Link here
Washington – From FBlink-
On July 4th, it's the annual Washington Celebrates America, with lots of free fun all day and all night in Washington.
The Washington Celebrates America festivities starts off with the iconic Orange Crate Derby for kids, an Old Fashioned Parade that runs from Broad Street to Belvidere Avenue to Carlton Avenue with Bob Detrick as the Grand Marshal, and of course, Fireworks!
The American celebration is a longtime tradition for Washington – and it's all free!
"The town – and the area – looks forward to this event every year," said Rich Maguire, Chair of the Washington Celebrates America committee. "It's a lot of work, but in the end, it's always well worth the effort!"
The fun kicks off in the morning with the Orange Crate Derby on Broad Street at 8 a.m. The parade steps off at 3 p.m. Prior to the fireworks, DJ Doc South will entertain at the Middle School. And once dusk sets in get ready for the awesome fireworks
North/Central Jersey (Somerset/Middlesex):
Bridgewater (July 4th at North Branch Park)Â – From their FBPage-
SOMERSET COUNTY JULY 4th FIREWORKS FESTIVAL
Somerset County's Biggest Pyrotechnic Display
Somerset County Park Commission invites all to attend the Annual July 4th Fireworks Display to be held on Monday, July 4,, 2016 at 9:30 P.M. at North Branch Park on Milltown Road in Bridgewater. The July 4th celebration is free of any charges. The event is offered in part to the generous sponsorship by The Courier News and Horizon Services.
North Branch Park gates will open at 6:00 P.M. to allow vehicles to enter the park. The fireworks display will begin at 9:30 P.M. Visitors should plan to arrive early. Milltown Road will be closed at approximately 9:00 P.M. Heavy car and foot traffic is expected.
The NJ 3rd Regiment Revolutionary War encampment will be onsite. Food will be available for purchase, and park visitors should bring lawn chairs or blankets while they enjoy time in the park before the Independence Day fireworks begin. Picnic baskets are allowed but alcohol is prohibited.
Milltown Road will remain closed at the conclusion of the fireworks for up to one hour, while local neighborhood pedestrians walk from the park. Bridgewater Police will be on hand to assist park staff with traffic flow.
For information on this and all Park Commission programs and activities log onto www.somersetcountyparks.org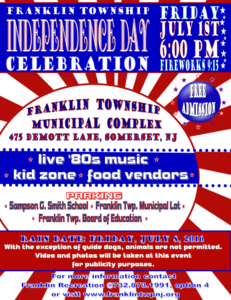 Franklin (July 2nd Fireworks) Municipal Complex, located at 475 DeMott Lane, on Friday, July 1. Festivities will begin at 6 PM.
Kid Zone included and live 80s movies followed by fireworks!
Highland Park (Sunday July 3 in Donaldson Park- Rain Date- July 10) Festivities begin at 5PM, check out their flyerbelow: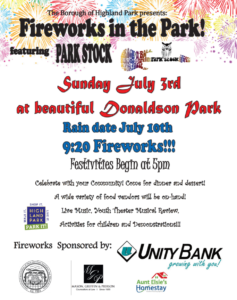 Hillsborough NJ (6/25 Fireworks: )
North Plainfield NJ – July 9 : Concert & Fireworks/West End School Field (Festivities begin @ 7:00 p.m. with Fireworks to follow at dusk! Food, Beverages, and Glow Sticks will be available for purchase on the Field!) – (Raindate: July 16)
Central & South Jersey: Â (see Best of NJ for a complete guide of Central Jersey Fireworks,
Check out Best of NJ's site for a complete listing of South Jersey Fireworks!
Well, I hope this article was helpful, we have done it every year, and it's always fun to do, we love including the colorful flyers that towns have as well, so if you would like to add a flyer, we will include it in our photo gallery below, just comment and add the link. Â if you didn't find what you were looking for, make sure you check out the complete guide to NJ fireworks from Best of NJ. Â 
Thanks for checking us out, and check out our park posts, when 4th of July craziness is over!!! 
-Sheila and Amy