Hi Everyone!
Another offtopic post…from our most recent adventure, New York Comic Con 2016, with KIDS!
Wow, it's crowded and overwhelming for us newbies.
Everyone was extremely nice, and the spirit was so positive.
Let's start with highlights of some incredibly talented people, We met Mark C. Frankel who started a successful webcomic, Damn Heroes and that morphed into a book that pokes fun at superheroes. Definitely in line with my 11yo sense of humor. Glad to meet Mark, real nice guy too. We bought the first 2 volumes, it's a fun read!
Another person I got to meet was Don E. Smith, author of The Vampire of the Lost Highway. Brilliant story, loved reading this, and he autographed a copy for my kids.
The third highlight, was finding Tentacle Kitty, adorable artwork, and the plush was the newest favorite for my 7yo. Â Author merged his girlfriend's love of cats and tentacles, and created some great artwork too.
So next up, the logistics and picture taking adventures….
I need to improve my "Stop! I'm taking a picture" communication with my family, my family lost me as I was taking a pic of the shark and trex hugging.
Thankfully my husband was the responsible adult.
Speaking of my long suffering husband, Rick was dressed as a professor from Pokemon who also looks like Rick from Rick & Morty.
You had to be there. Very confusing to him when he kept hearing people call out to him.
Need to plan the photo taking opps. Although it was just cool to just see everything. So much talent, imagination and creativity everywhere.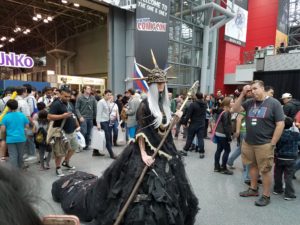 Maybe study a map next time before I go.
If you make your own costume and people recognize it, the highest compliment is when they say, "can I take a picture with you?"
Matt was a superstar that day as slowbro, it was very cool to see people recognize him as the Pokemon character.
All the kids, my mom, dad, myself worked on this costume.
Did you know McCalls only makes a pattern for animal costumes kid sizes 6-8 and then skips to adult sizes?
Grandma made it work for this size 10 kid… and added a layer for filling…
If anyone is interested in how to make slowbro, comment below, and if we get interest I'll make a post on our process.
When you fill a costume with poly fill it gets pretty hot.
If you create a costume with an elaborate tail made out of heavy cardboard and no fan in the foam head for your 10yo, ensure they hydrate, and let them know it's ok to take it off and walk in regular clothes when they had enough.
The Mad Magazine panel was awesome, my son and i got a kick out of it. Loved the q&a. Got a sneak peek at the Goodnight Bat Cave book coming out!!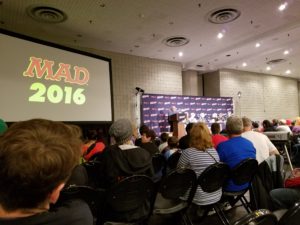 Next time, we will make a plan, soooo much to see. Thank you New York Comic Con 2016!!!!
Want to see all the pics for slowbro?  here is a link to our photo album
Slowbro costume for sale! https://www.ebay.com/itm/192565722172