Dunham's Corner Road at Church Lane, East Brunswick, NJ.
2023 Update: Here is 2023 pricing: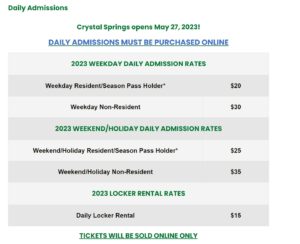 Update: We finally visited Crystal Springs Aquatic Center and it is amazing. Although it is not like a Sesame Place or a Great Adventure, it is the place to go if you want to enjoy just the waterpark attractions and not have to deal with the crowds especially on the weekdays. We chose to visit after 4pm on a monday, and it was the perfect time. There are many lifeguards staffing the place and we were able to get pizza delivered, since they allow outside food (you can also wheel a cooler in as well). The lazy river was great, and the kids also enjoyed the lily pads that you navigate across by grabbing the netting (not sure what you call that). To enjoy the water slides you have to be 48″ and above, but I thnk the best part is that you can set your chair in the water and let your toddler enjoy the slides. (In order for them to do the baby slide though, they have to go alone, no adults allowed to go down, but you can be on the bottom) They control the baby/toddler area very well. I can['t wait to come back with my 2yo. What a great place! They also have nice areas with tents for shade.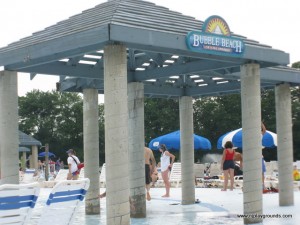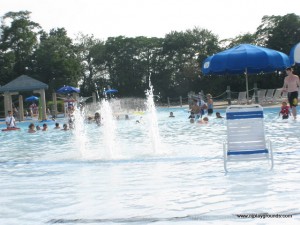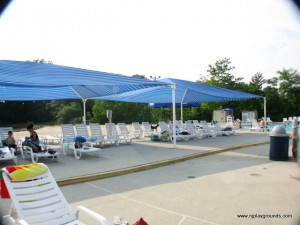 This one isn't free, but I've heard allocades (yes I mean accolades, tired I was) from moms in the park the other day. It's the first municipal water park in NJ, and has water slides, splash pools and a lazy river. Here is the direct link, I haven't personally visited, but will post pics when I do!
Taken from the website as of 7/2016 (updated):
"Daily Rates
| | | |
| --- | --- | --- |
| | Residents | Nonresidents |
| Weekdays | $11 | $22 |
| Weekends/ Holidays | $14 | $28 |
| After 4pm | $9 | $18 |
| Under 48″Weekdays | $9 | $18 |
| Under 48″Weekends/Holidays | $10 | $20 |
| Senior Citizens | $1 off category | $2 off category |
"Children age 2 and older must pay the daily rate.
For Daily visits, all individuals that provide a valid military ID will be given free admission into the park. Valid military IDs include:
US Uniform Services Identification Card
US Uniform Services Retired Identification Card
Current leave & earnings statement
Veterans organization card
DD214 (along with Photo ID)
* Â Afternoon discount rates will be available to daily patrons at 3:00 pm during shortened periods of operation."
The water park facilities are all safety regulated by patron height requirements and, most importantly meet all regulations required by the Americans with Disabilities Act."
Found this excellent video on youtube, update from dream trippin