Editor's Note: We were invited to my dear friend's 10yo birthday party, and had to review this amazing video game center. It really is every 10yo's fantasy, my boys loved it and now want to go to their summer camp. As we start to focus on tweens/teens, Amy and I are excited to start posting about cool birthday venues and places to play for that age group. Have you been here before? Let us know on our facebook page
Birthday Party:
Here's a quick peek of Logan's party, there are 20 gaming chairs, plus extra chairs for kids that just want to watch. All the kids had a great time, and since they are housed in the Tennis Center, there's a nice bright area by the front where they can set up a long table for pizza and cake.
From Beth: "Logan had the BEST time with his friends. The owner is great and it is the perfect party place or if you are looking for something fun to do on a rainy day. They also are offering summer camp sessions. Check it out! 350+ games, 18 large tvs, 20 comfy game chairs… located in Randolph tennis center."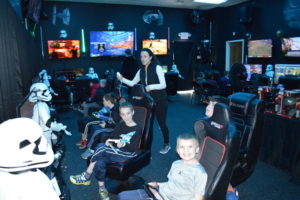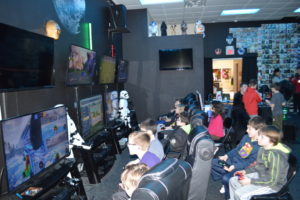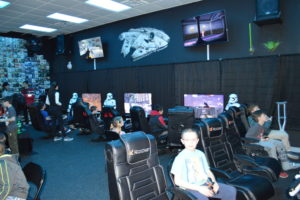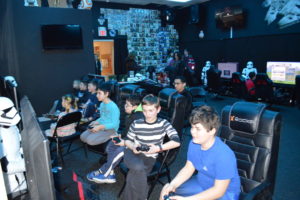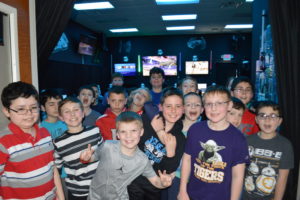 Video Review (Sneak Peek):

Drop in & Play:
They have a $10/hr walk in but check with the site for when they have walk-in hours. This is a great plan for rainy days, and the kids are off from school.
A word from the owner:
"The Video Game Birthday Party Center is a new addition to the Randolph Tennis Center. The center originally was a gym, so the size of the gaming center is large enough to comfortably have up to 20 gamers and friends but intimate enough to be amongst your closest friends and family during a party or event. The gaming center was originally inspired and built with one goal in mind, to give families and friends an out of this world experience.
Video games are one of the most popular ways friends today spend their time, in many people's heart it's a better way than spending time getting into trouble. It teaches hand eye coordination and sharpens reflexes, it builds team work and comradery in many of the games and improves memory functionality. The gaming industry has even added fitness and dancing games which is another fun way to improve your health. The gaming center is also in a very safe monitored location for your child which is comforting knowing your kids are around a professional establishment which was built in August of 2009 at the Randolph Tennis Center. With new games entering the center each month and new events like field trips for schools. The center can accommodate any event your gaming needs desire.
The parties and events have generally between 2 and 5 helpers per party depending on the number attending and the ages of players.
The center currently has nine large screen tv's ranging from 48" to "75 inches. It has all the next gen consoles including the Ps4, The Xbox1 and 360 and of course Wii and Wii U. We have around 160 games to choose from currently and growing with new releases and suggestions from our players. The entire center is Star Wars themed to give your event an incredible experience. We even have Star Wars memorabilia for sale including real life light saber replicas which can be purchased on site. The sabers are very popular and sometimes are on back order so if your interested in having one for yourself we recommend between 4 to 6 weeks notice. We hope to make your video game party or event a success and an amazing memory.
For more information please call 862-259-1131. "