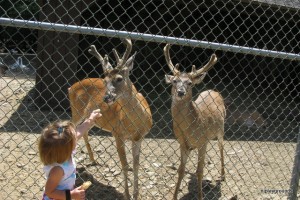 Thompson Park is located on Perrineville Road, in Jamesburg, NJ.
I visited Monroe with my parents when they contemplated living in an adult community.  They seem to contemplate things alot. Anyway, on with the review!
The big attraction here is feeding the deer and ducks while being shielded from teeth/beaks/bills by a fence. Much safer that way.  There are some other animals (turkeys, hens, etc) which are identified by sign posts.  There is no one that sells animal feed there, so you should come prepared.  Follow loop till you see the long fence.  Thanks Judy from Springfield for the recommendation.  The playground is average but the people here were super nice.  My kids joined with other real sweet friendly kids and they had fun, and my oldest finally was brave enough to feed a deer. One of my pics is a no toboganning sledding at your own risk sign, so maybe snow tubing is ok? There is a whole lot to do besides playgrounds, from the Middlesex county parks website link:
2009 Thompson Park Calendar Sign
# Facilities: 4 Tennis Courts (lights)

# 4 Basketball Courts
# 2 Handball Courts
# 3 Baseball Fields
# 1 Softball Field

# 1 Soccer Field
# 6 Reservable Picnic Groves
# 2 Open Picnic Groves
# 3 Playgrounds
# Hiking Trails
# Lake/Fishing
# Animal Haven
# Performance Gazebo
Key Feature: Thirty Acre Manalapan Lake
We met Kaya (pictured up top) and her cousins Brian and Tyler(?). Brian suggests the Turtleback Zoo as a great place to go with a petting zoo! I agree and will post that great non-free place soon 🙂
This town also has a new spray park that is on Avenue K, past Dynasty Rd or Dr. I couldn't find it because I didn't have this piece of valuable information, just Matchaponix Road, but from what I've researched on the net it is pretty small.  Do you have pics, share with us!