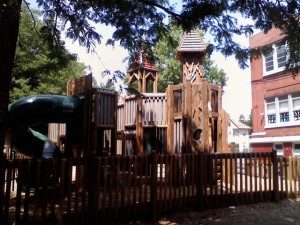 105 Grand Avenue, Hackensack, NJ at the Fairmount School.  So I've been on this quest to find some great ADA accessible playgrounds and was so lucky to find this one.  I think the most fulfilling playgrounds are the ones that people's heart and soul are committed to a cause and make things happen.  That story will live on forever and will inspire others.  Thank you thank you Pedra del Vechio for sending me some information about this wonderful ADA accessible playground.  What a hidden gem, in Hackensack, nearby to where I grew up!
Here is the link for their pictures, you can see my own below.  As this is a school it is only open to the public after school hours, and my children absolutely loved this castle playground.
Words don't do this playground justice, take a look and please those who benefit from ADA accessible playgrounds, we would greatly appreciate your comments!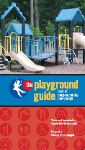 Bergen County boasts over 250 playgrounds, and one guide that shows them all. By purchasing this Bergen county playground guide via this link, you are supporting the efforts of our NJ Playgrounds Site and Amy Lamperti of "the playground guide", another fabulous mom of 3.