Long Branch is a family favorite- Playground, carousel, beach and more- guest post
Editor's Note: We are thrilled to share photos and video from one of the favorite people we follow, @keepingkidsbusy_nj – Make sure you follow her for some amazing day trips on her instagram as well as us too, @njplaygrounds. 
Family Fun in Long Branch, NJ: Exploring Seven Presidents Playground, Pier Village, and More
Long Branch, New Jersey, is a picturesque coastal town that offers an array of family-friendly activities and attractions. From the sandy shores to the bustling boardwalk, there's something for everyone to enjoy.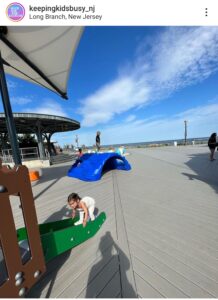 In this guide, we'll highlight some of the top spots for family fun in Long Branch, including the Seven Presidents Playground, Pier Village, the charming carousel, and provide helpful tips to make the most of your visit. thanks to @keepingkidsbusy_nj for providing great video and photos. 
Seven Presidents Playground: A Haven of Play and Relaxation
One of the prime family destinations in Long Branch is the Seven Presidents Playground. Located within Seven Presidents Oceanfront Park, this playground is a true haven for kids of all ages. The park features multiple play areas, each tailored to different age groups, ensuring that toddlers and older children can find age-appropriate activities to enjoy.
For parents, the park offers beautifully manicured gardens, picnic areas, and benches where you can relax while keeping an eye on your children. The park's well-maintained facilities and scenic views of the ocean make it a perfect spot for a family picnic or a leisurely stroll.
Photos from @keepingkidsbusy_nj Instagram
Pier Village: Shopping, Dining, and Entertainment
Pier Village is Long Branch's bustling epicenter for shopping, dining, and entertainment. This vibrant area boasts a range of boutique stores, restaurants, and cafes, making it a great place for families to spend an afternoon. Explore the unique shops, grab an ice cream cone, or indulge in some beachside dining with ocean views. Here's a cool video about Pier Village:
During the summer months, Pier Village often hosts events and concerts, adding an extra layer of excitement to your visit. From live music to outdoor movie nights, there's always something happening that the whole family can enjoy.
The Charming Carousel: A Nostalgic Delight
No family visit to Long Branch is complete without a ride on the charming carousel. Located near the entrance of Pier Village, this beautifully adorned carousel takes riders on a whimsical journey atop intricately designed horses. It's a perfect throwback to classic family fun and a fantastic photo opportunity for capturing memories.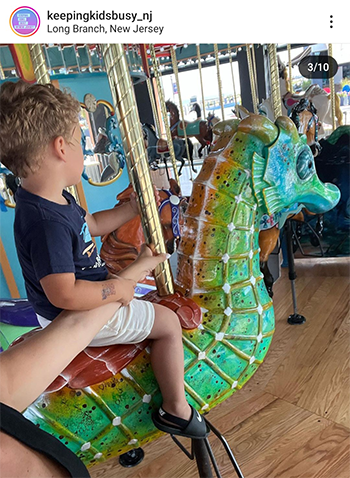 2023 price is $4/rider- 
Hours
Mon-Fri: 12pm-6pm
Sat-Sun: 12pm-6pm
Information on the carousel can be found here. 
Helpful Tips for a Smooth Visit:
Parking: "Parking Meters are in effect from May 1st to September 30th. The City of Long Branch has a new smart meter parking system powered by the Flowbird mobile app. The new system uses pay-by-plate, doing away with numbered parking spots and increasing the ease and options for paying. Flowbird meters will accept Cash and Credit. Apple Pay and Google Pay can be used via the app."

Beach Badges 2023
Daily passes: Purchased at point of entry
$6 Monday through Friday

$9 weekends/holidays

$3 every day for ages 14-17
Sun Protection: Long days at the beach or exploring the boardwalk can lead to sun exposure. Remember to pack sunscreen, hats, and sunglasses to protect your family from the sun's rays.

Stay Hydrated: Especially during warm weather, staying hydrated is crucial. Carry a reusable water bottle and refill it regularly to ensure everyone stays refreshed.
Long Branch, NJ, is a treasure trove of family-friendly experiences, offering a mix of outdoor play, shopping, dining, and entertainment. Whether you're seeking relaxation or adventure, this coastal gem has something for every member of the family. Plan your visit, pack your sunscreen, and get ready for a memorable day of family fun in Long Branch.