Update: (10/6/2013) Hi folks, it's Sheila, and we just got back from Holmdel's Hilltop Playground, with the kids (ages 4,7 and 8) and their friends (ages 3 and 9). Â Fun time! Â I'm adding a few more photos: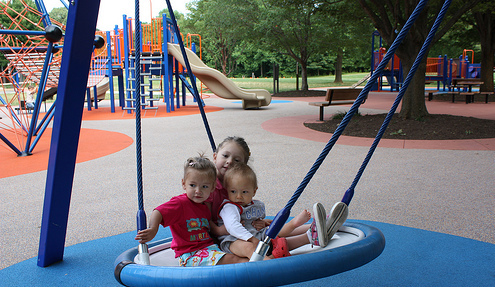 44 Longstreet Road, Holmdel, NJ.
(Hilltop Playground and Longstreet Farm Section)
For official website, click here…
Can I say I'm loving twitter?
I keep getting great photos and recommendations from people
…and they are sharing like crazy.
So here is a great guest post from Donna R.  who has some really cute kids.
It looks like you can pet the pigs, and also chase some chickens.
I hope she'll comment, because I'm posting her photos and could use a little narrative.
This is our 2nd post on Holmdel Park, because I didn't fully explore it the first time, but that's why we are all about the feedback.  The spongy floor looks awesome for young crawlers, and I'm looking forward to going when my 3rd is ready to get out of precious lil lump mode 🙂
Here are some pictures, and would greatly appreciate comments! Also here's a link for the Forest Edge section of  Holmdel Park (with wood chips, but still lots of fun)