Playground Guide Description:
ADDRESS: Jewell St & Lanza Ave
DIRECTIONS: US-46 W via exit 157 toward Rt 20/Garfield. Take the CR-507 ramp towards the Garden State Parkway N/Garfield/Ridgewood. Turn left onto River Rd for approximately .7 miles and make a left onto Lanza Ave. Turn left onto Jewell St.
DESCRIPTION: A nice playground with new equipment. This red, white, and blue structure is in the full sun and in an enclosed mulched and fenced in area. It is next to the town's spray ground. The structure is for older kids but has plenty of playthings for the little ones. The slides are very tall.
PARKING: Street Only
CLIMBING: Fireman's pole, circular climber, hand and foot steps, mushroom caps, lots of steps
PLAYTHINGS: Tic-tac-toe, musical center, pictures
SLIDES: Two chutes
SWINGS Eight full size, two toddler
WATER: Town spray ground with lots of shooting fountains & water drop boxes
MAKE A DAY OF IT: Stop by Mamma Mia's pizza on Lanza Ave for a slice and a soda for the perfect afternoon play date.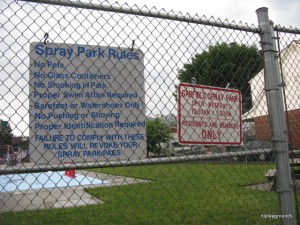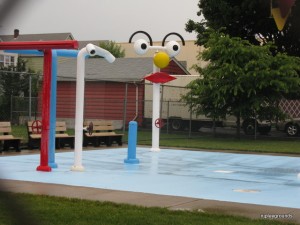 Division Avenue and Jewell St., Garfield, NJ. (I use 137 Division Avenue as an approximate address) Playground is open to the public but sprinkler park is only for Garfield residents. We don't live in Garfield so we didn't experience it, but managed to take pics of it, (it was after hours when we went). Looks really neat though. The hours are 10:30AM- 5:30pm for the Spray Park for residents and members only. I'm not sure how you can be a member, maybe a Garfield resident can comment below.