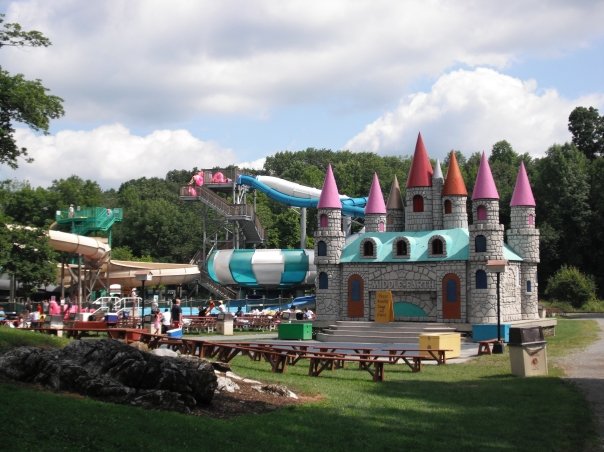 This guest post about Land of Make Believe and Pirate's Cove (and our first Amusement Park entry) has convinced me I have to go. I absolutely know for certain now that my kids will love it!!! Thanks to my extremely brilliant friend and mother Sue M. for taking the time to get great pictures and provide a mom's perspective on this NJ attraction for young ones.
354 Great Meadows Road – Rt. 611, Hope, NJ 07844.
The Land of Make Believe is located in Hope, NJ (Exit 12 off Route 80). It was really easy to get to. It took us just over an hour to get there from where we live in Clark, NJ (Exit 135 off GSP). This makes the facility perfect for a day trip with the kids.
I was actually surprised to see that the admission fee for Adults ($21) was cheaper than the admission fee for Children ($23). We were able to get a coupon from the Kid's Stuff coupon book for a free Adult admission
with the purchase of an Adult admission. We did make one mistake. Though I checked their website before going to the park, I did not realize that they only accept cash or Discover card to pay for admission. I would
have brought more cash if I had known that. But it will be a mistake that we won't make again.
I really liked the fact that parking was free. I was also surprised to see that they allowed coolers into the park. Basically, they want to give everyone a great experience without charging and arm and a leg for it. While we saw many people take coolers into the park with them, we opted to leave ours in our car. It was just less to carry around. My husband made one trip back to the car around lunch to replenish drinks and get the sandwiches we brought with us.
It was just nice to be able to bring anything we needed into the park that we needed. The only things not allowed are grills, glass containers, and alcoholic beverages. I was happy to bring healthy snacks that I knew my kids enjoyed as opposed to typical junk food. This is also great for moms whose kids have food allergies. No need to worry about ingredients or how things were prepared.
The park has a number of arcade games and a lot of rides. The rides are geared towards younger kids. My kids loved the carousel, the balloon ride, the canoe ride, the flying dragons, the mini-roller coaster, the frog
ride, among many more. We really enjoyed the train ride to see the entire facility. There is also a hay ride, but we did not have a chance to ride it. Older kids may not find the thrill they seek from the rides there. My kids are 4 1/2 and 2 1/2. They loved the rides. There were very few rides that my younger daughter was not able to ride, even with a parent.
There was also a live performance that involves audience participation. Basically, all of the kids are encouraged to dress up in the many costumes they have and participate in the show. Some of the adults (including
me) got roped into helping out with the show as well. My older daughter actually enjoyed the dress up and pretending, so I was willing to go thru the humiliation for her.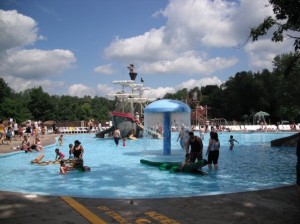 The best feature is the waterpark called Pirate's Cove. There is a large wading pool with some water slides and a play pirate ship. There were a few larger water slides. There is also a fort with a lot of ways to get wet,
including a 1000 gallon dumping bucket. We also loved the lazy river ride (only 28 inches deep) to just float around in a single or two-person float (there are some waterfalls and such, but most of them can be avoided if
you didn't want to get soaked). It was a great way to stay cool and relax with the kids.
Overall, this was a great day for our family. We were able to give our kids a fun experience without breaking the bank. On the way home, my husband and I were trying to plan when we could go back again. We can
definitely see ourselves going there every year for a few years to come.
Sue M. from Clark, NJ is a freelance writer, Sybase DBA, and extraordinary mom of 2 girls. Thanks Ned too, for getting some good shots!