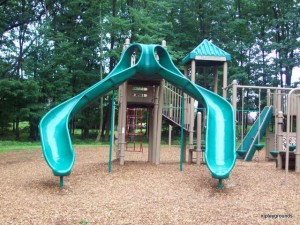 Thanks Sara R. again for getting us great pictures and a thorough report on these Central Jersey playgrounds! here's another one by Sara R.
Intersection of Top of the World Way and Green Valley Dr., Green Brook (Somerset Co.) is a fairly small, very shady park with two tall, fast slides my older children love. There is also a climbing wall, swings and a section for younger kids. Tennis courts, a pavilion with bathrooms that are sometimes unlocked, and playing fields are next door.
On the other side is Green Brook's 9-11 memorial with a shard of the World Trade Center and very detailed timelines in a little, pleasant park.
It's not a "destination playground," but is very nice if you are in the area. And if you take Top of the World Way north to Washington Valley and turn west, there are 4 restaurants in a strip mall less than half a mile away: Italian, Mexican, Indian and a bagel place, all very good.
Addition: Wanted to include also that there are 2 drainage basins perfecct for sledding..
Note from Editor- Agree on the restaurants, I've eaten at the Mexican (same owner of New Providence's Jose's Mexican Cantina) and the Indian place (Pooja Exotic Indian Cuisine)Â  has a great buffet. Used to work in Warren. More pics from Sara R. below!