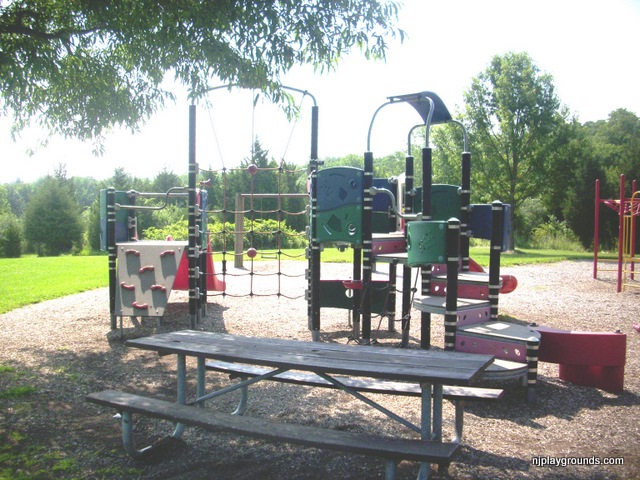 Chimney Rock Rd., 3 blocks south of Washington Valley Rd., Martinsville, Somerset Co.
Admin Note: More from Sara Rall, thanks for the great pictures, and recommendations on the food establishments in the area.  I just saw the site for Gabriel's Fountain and we will stop by next time we are in the area.  We are also huge fans of Chimney Rock, the restaurant, known for their awesome thin crust pizza, love the 3 alarm 🙂
Chimney Rock is a mid-sized playground far from the road (behind the tennis courts). They have an unusual climbing structure for younger kids, with two slides and a "store" beneath. Then there is a larger structure for bigger kids,
with a plastic jungle gym, mushrooms, a fire pole, and three large slides. They also have – what are they called? – handles (zip lines?) that you dangle from while sliding down a track. There are monkey bars, 2 regular and 2 baby swings, a tunnel, and two rocking animals.
Also at the park are numerous playing fields, a street hockey course, basketball and tennis courts, and a fairly overgrown but popular Frisbee golf course. There is a walking path leading away from the playground to a
set of stairs, small bridge and a brook. There's also a huge hill just right for rolling down (or sledding in winter). Not much shade at the playground.
Bathrooms that are usually locked. Porta-potties.
During the school year a hot dog truck often sets up in the parking lot. Just up the street at the corner with Washington Valley Rd. is Pizza Brothers, with great pizza, and about three blocks west of that on Washington Valley is Gabriel's Fountain, which sells decent "American" food, and FANTASTIC homemade ice cream.