Corner of Liberty Corner Rd./Church St. and Somerville Rd. in Liberty Corner, Bernards Twp., Somerset Co.
Guest Post by Sara Rall:  Huge, new, sunny playground on the top of a hill.  There is a large structure for little children with several slides, bridges, tubes and gadgets.
There's a large bouncy dinosaur and some bouncing vehicles, balance beams, and a huge beach volleyball court that is usually used as a giant sandbox. Lots of swings, too.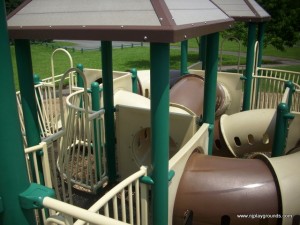 But the highlight is the structure for older kids, with a several slides off a walk-through dinosaur, and many intertwined tunnels and bridges to climb through.
There are tents set up to try to deal with the lack of shade, but this park gets very hot mid-day in the summer. There are several pavilions and a
bathroom complex that is clean and open year-round. There are also lots of paved paths perfect for bike riding, a disc-golf course, and a street hockey rink.
One of the best playgrounds in the area.