From "The Bergen County Playground Guide"
ADDRESS: Forest Ave & Continental Ave
DIRECTIONS: NJ-4 E to Forest Ave. Turn right off of the exit and merge onto Forest Ave. Entrance to the park and zoo is approximately 2 miles down on the right.
DESCRIPTION: Van Saun Park is one of the largest playgrounds we've been to. There are 4 different structures with one being bigger than the next. The latest edition is an inclusive playground with handicap accessibility. The two larger structures are tall towers full of ramps, bridges, tunnels, slides, and playthings all along the way. There is two areas that are designed for toddlers, one is smaller than the other. This is a great playground to plan to spend the day with a picnic and a play date.
PARKING: Large lots across the street from the playground
PICNICKING: Large pavilion with 30+ tables and BBQ grills
HANDICAP: The entire new section is handicap accessible. There are ramps to every level and playthings along the way. There is one handicap swing..
CLIMBING: Corkscrew poles, traditional climbing wall, triangular poles, rock wall, chain steps, rappeler, rings, suspended spinner, monkey bars, parallel bars
PLAYTHINGS: Tic-tac-toe, story boards, math matching game, steering wheels, animal matching
Race car rockers, looking glass, mirrors, tunnel slides, drums, puzzles
SANDBOX: Large sandbox area but you must bring your own toys
SLIDES: One corkscrew, one metal, two tube, three chute, three toddler
SPORTS: Horseshoes and bocce, bring your own equipment, baseball, tennis concession, fishing and ice skating during appropriate seasons
SWINGS: Eight full size, two toddler, one handicap
WATER: There is a small stream just beyond the playground and a spray ground
MAKE A DAY OF IT: A simple walk across the street brings you to Van Saun County Zoo where there are tons of animals to see and a train to ride. Stop by the Zoo office and inquire about becoming a Zoo member through Friends of the Zoo.
POKEMON GO at Van Saun Park UPDATE: 3 Gyms here, see our map, thank to Donny (DrippyGrunt) for providing the pokemon map.

3/4/2011- Another Update- Adding some photos contributed by Pictures by Joel, a great sponsor, who visited a few months back. Thanks Joel!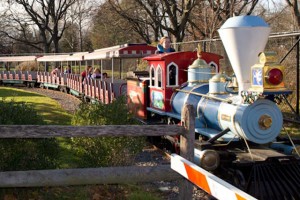 The entrance to the train station: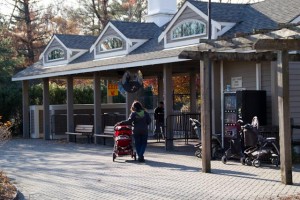 One of the favorite attraction at Van Saun is their zoo. We have visited numerous times and the kids always have fun.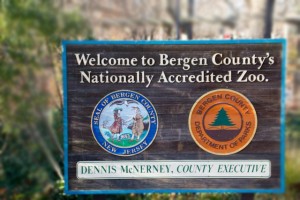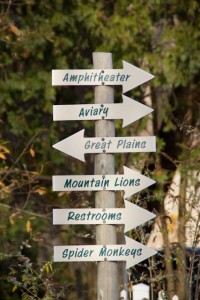 Great picture of the carousel and other nice shots: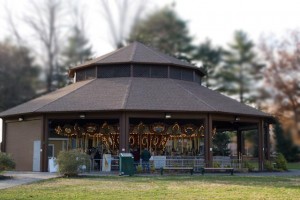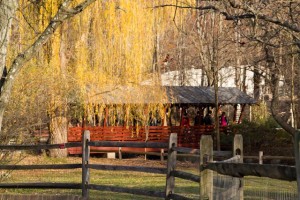 Playground Pictures: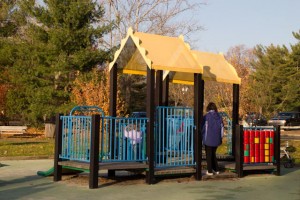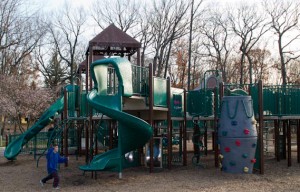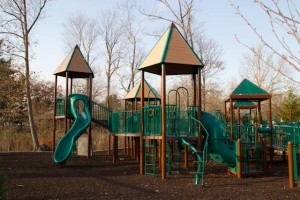 5/30/2009- Update, Van Saun Park is half renovated, there is one section that is ADA accessible (above panoramic photo), and the old part of the playground is still open too(photos below panoramic of old one too) Some pictures are from Amy Lamperti's playground guide.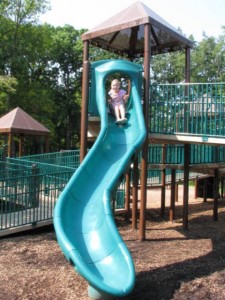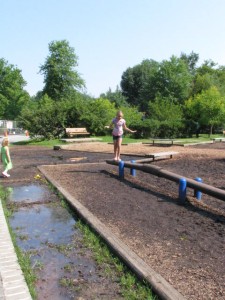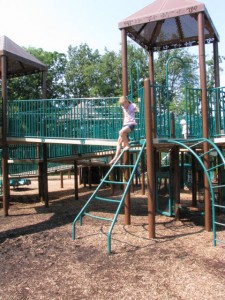 Another new addition:
A wonderful park that offers train rides, carousel, and a zoo. Link from official site- http://www.co.bergen.nj.us/parks/parks/Van%20Saun%20Park.htm
5/25/09- The pictures below were done before the playground renovation. I will be updating the pics soon, for now here's a great review from hobokenmetromom: Van Saun Park Review
6/25/09- Here is another link to one of my favorite bloggers, doublelattemama. What is it with the gals from Hoboken, they rock! June Trip Report- Van Saun Park
My parents love taking the kids to this park, a classic park that's been there forever.. Thanks Mom and Dad for getting these great pictures!
Do you like playgrounds but not the crowds? Here is a hidden treasure not too far from Van Saun in Hackensack, but only open after school hours.
Also check out all our Bergen County Playgrounds
and if you just want the Biggest and Best in Northern NJ visit our map of 5 star playgrounds.