Editor's note: Update from "Playgrounds of Bergen County", a Facebook Page by Kim who made detailed reviews of some great places to play in this area! Make sure you check out her page, and we look forward to indoor reviews as well in the future!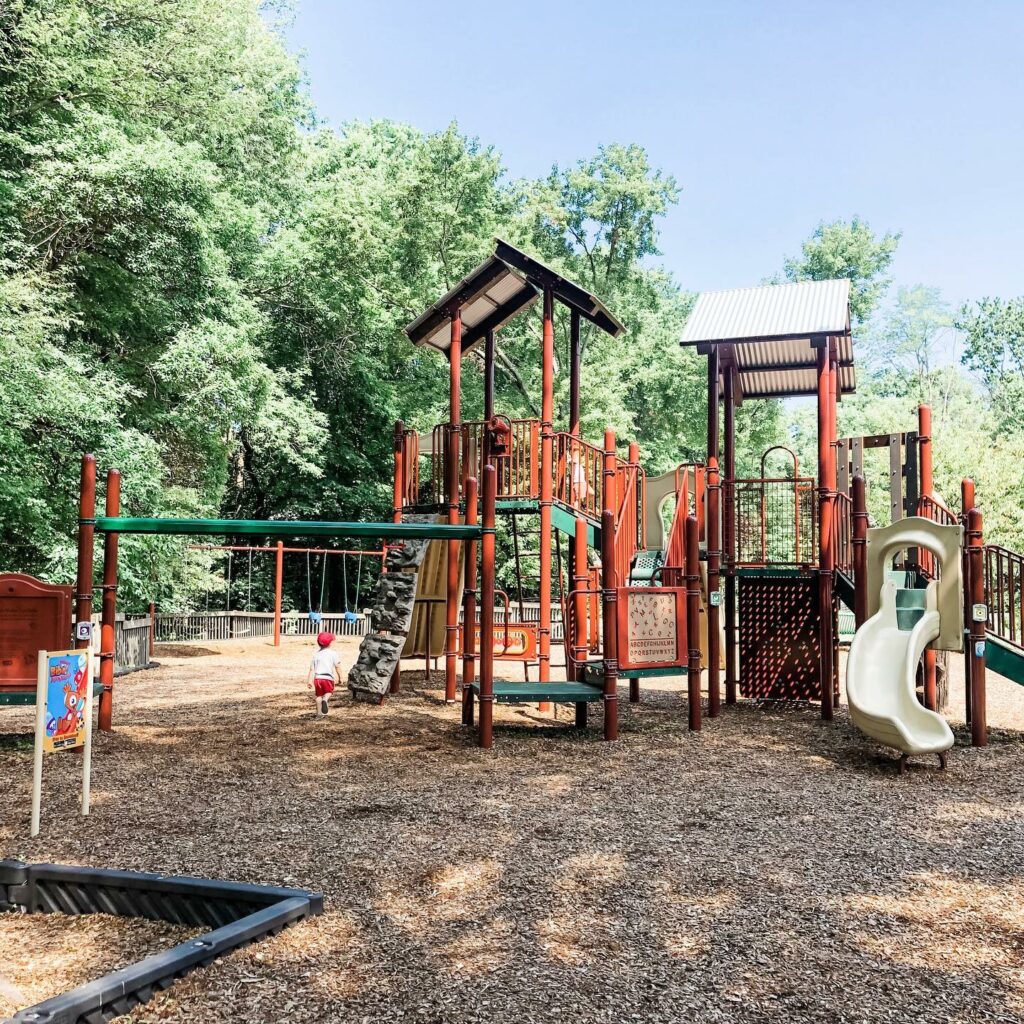 Memorial Field Playground • Haworth, NJ • Growing up in Haworth so I always knew this as "Castle Park," where several wooden castle structures once stood but now stands a new, modern playground. Renovations to the 25+ year old wooden playground were initially supposed to undergo two phases, the first one being a structure for older kids and the second being one for younger kids. However, there were rumors of budgetary issues so I'm not sure if phase 2 is still in the works or not, so the majority of this playground is currently best for kids 3 and up. Unfortunately, the new structure is also significantly smaller, but it at least includes several unique areas that I have yet to see elsewhere!
More pics from Kim!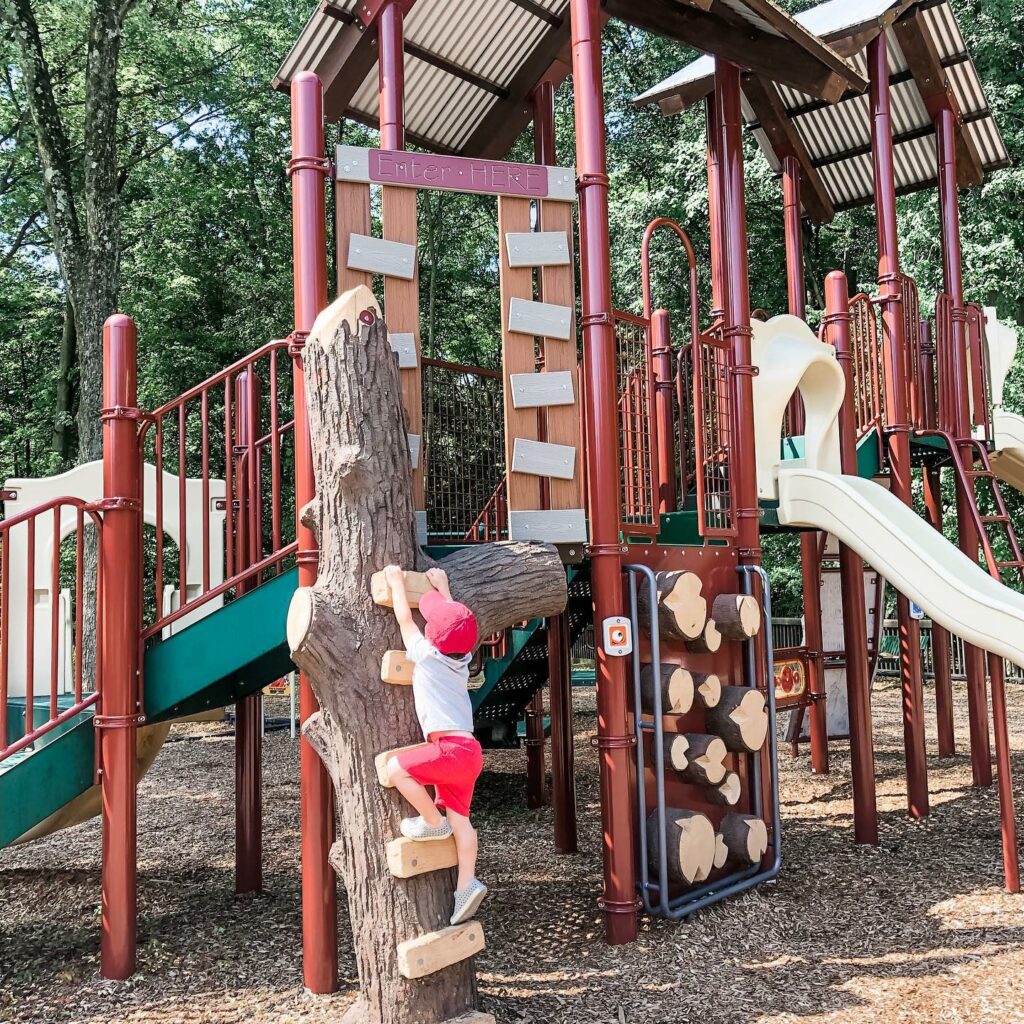 There is a rock wall made out of actual solid rock that although looks a bit intimidating at first, my 3 year old was able to climb (with some nervous spotting by mom
). There's also a mock treehouse style ladder that reaches up to a higher level as well as a tree stump climber that my 3 year old found challenging but I imagine is perfect for older kids. There are 3 slides, one is a very tall double slide, one wavy slide, and one spiral. There are also 4 swings, 2 standard and 2 bucket, a zip-line, as well as a little frog to climb and sit on
⠀Upon entering is a sign stating "Welcome to a Biba Playground" which after Googling I learned is an app that allows you to play interactive games while in the playground using your phone as an augmented reality tool, similar to how Pokémon Go works if you're familiar with that. The concept sounds interesting but I don't know about you, but I bring my kids to the park to get away from screen time, not add to it, so we didn't end up using it. Call me old fashioned but I'm not sold on the idea of bringing screen time into our sacred outdoor time
The playground is partially fenced in (the non-fenced in area leads to various playing fields adjacent to the playground) and there are bathrooms near the parking lot. It's on a wood-chip base and is very well shaded and small enough that it's easy to manage and great for a quick trip.
Check out Kim's COMPLETE post on her Facebook Page link here– She does an incredible job with documenting playgrounds and look forward to future collaborations!
HISTORICAL REFERENCE BELOW
Shady Haworth Memorial Park
Thanks Elizabeth L. for sending us this description and great photos!:
"Entrance to Park at corner of Whitman St. and Hoover Way (off Madison Avenue), Haworth, NJ
Great wooden castle playground. Huge. Areas for older and younger kids. Minimal entrances/exits. TONS of shade. Swings, slides, etc.
It's got pebble ground cover, so I would suggest that kids wear sneakers, rather than sandals, to minimize rocks in the shoes"
From "The Playground Guide"- Bergen County Edition:
ADDRESS: Whitman St & Hoover Way
DIRECTIONS: GSP N to exit 168 Washington/Westwood/HoHoKus. Bear right off of the exit onto Washington Ave. Stay on Washington Ave for approximately 2 miles and bear right onto Broadway in the center of Westwood. Continue on Broadway for about 3 miles and make a right onto Schraalenburgh Rd. Make a left onto Madison Ave and then a left onto Whitman St. Follow Whitman St to Hoover Way to park close to the playground.
DESCRIPTION: Supereenio is like no other playground in this book! Two large castles sit in a partially shaded and quiet area. The play structures are full of steps and tunnels and it's all made out of wood and tires. There are very cool rubber ramps and climbers. Take a trip to the tallest towers and see if you can find an enchanted princess!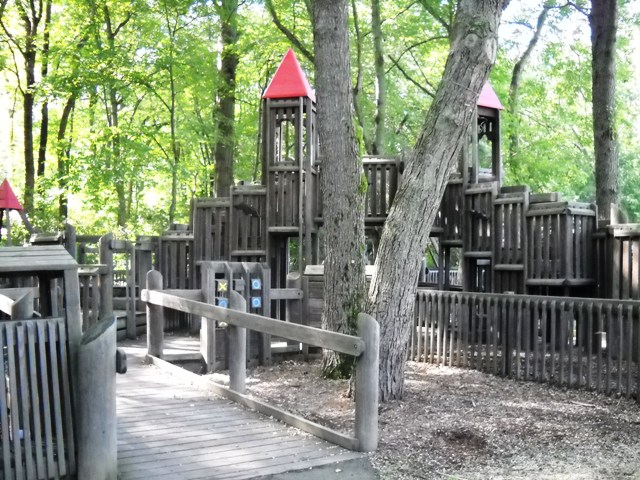 PARKING: Large paved lot close to the playground
PICNICKING: There are tables throughout the play area, even some built into the actual structure
CLIMBING: Tons of steps through these enchanted castles, chain steps and rubber poles leading to the castle areas, stacked tire steps, rings, balancing ropes, tire rocket flyer, parallel bars
PLAYTHINGS: Double tunnels, bridges, race car, stacked tires
SLIDES: All the slides are metal with one corkscrew, two toddler and one chute
SPORTS: Baseball, soccer, basketball, batting cages
SWINGS: Two full size, two full size tire, two toddler
WALKING PATHS: Paved to the playground area
OTHER COOL STUFF: Barbeque grill pits are available by permit, contact the town for information
MAKE A DAY OF IT: Visit Cresskill Performing Arts located at 300 Knickerbocker Rd (at the circle). They offer a wide variety of classes including ballet, jazz, hip-hop, funk jazz, modern, theater dance and tap. New programs include acting/improvisation, voice, fencing, and belly dancing for every age. Stop by and speak with the owner, Betsy Daly, for more information about all of their great programs.